The Zeal is a simple electric scooter with no extravagant gizmos. How does it fare on our streets?
It was just over a year ago that Greaves Cotton, an engineering conglomerate, bought a majority stake in the Coimbatore-based Ampere Vehicles. And a few months ago, Ampere launched the new Zeal, which is its most powerful model to date and is the first to offer what should be realistic performance for a big-city life. Here's how it fits into today's rapidly increasing crop of electric scooters.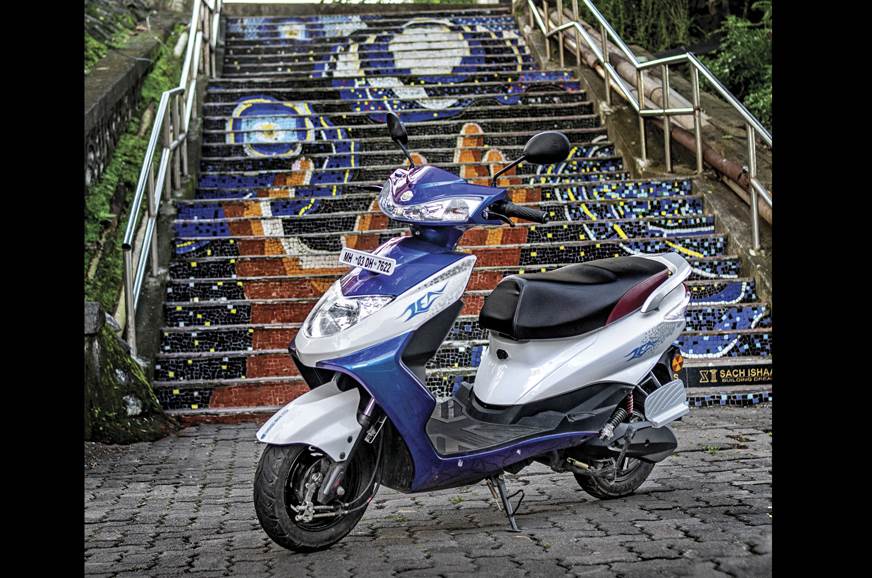 Field distribution
The Zeal's design isn't new. In fact, it's exactly the same as that of the Reo, an older scooter from the Ampere line-up. But far more interestingly, it's also the same as that of the Okinawa Ridge Plus, which raised a lot of questions. We understand that Okinawa scooters are rebadged Chinese EVs from a manufacturer called Luyuan, and sure enough, the Ampere Zeal looks the same as the Luyuan MN2. We reached out to Ampere to understand how this has happened and if the product has been locally developed. Those questions remain unanswered as of sending this article to print.
Now, onto the scooter itself. Unlike the Okinawa Praise Pro that we rode last month, it doesn't take long to understand that the Zeal's ergonomics are in line with those of most conventional scooters in our market – you don't sit too low, the floorboard isn't too high and the handlebar doesn't come in contact with your knees. I also liked the Zeal's paint finish, which almost looks like it changes colour at different angles. It gets a decent amount of underseat storage, but you still won't be able to fit a helmet in there because of the battery pack underneath. Build quality is subpar in areas like the switchgear, the display is dim, and getting the seat to shut was a task as well.
Display is dull and hard to read.
Static electricity
The Zeal scores with its conventional ICE scooter looks and feel, but unfortunately, it doesn't perform as well. Our tests revealed that the company's claims of a 0-50kph sprint in 6sec is a little hard to achieve, because the Zeal we rode could only reach a Vbox indicated top speed of 48.02kph, and it took nearly 20sec to get there. The load-carrying capacity on the scooter isn't great either. With a pillion, I found myself struggling up a steep slope in Bandra at single-digit speeds. Granted, it was a rather steep incline, but it's a factor to consider.
The Zeal offers two 'ride' modes – Economy and Sport. While both offer similar rates of acceleration, Economy limits top speed to a speedo-indicated 39kph, while Sport will take you to 53kph. Speedo error is acceptably low, but there was still a noticeable drop when performance was tested, with just two bars of charge remaining. In these tests, the 0-30kph acceleration time was 8.95sec, while the same run took 6.19sec with a fully charged battery.
Decent storage space above battery.
The biggest concern, however, is that the Zeal has the most sensitive accelerator I've experienced on a scooter. Even with the steadiest hand I could manage, and regardless of the riding mode, the scooter still lurched forward every time I opened the accelerator. Another issue is that, like many electric scooters, the power delivery is cut off the instant you press the brakes. This gets particularly annoying and can even be dangerous during tighter turns where you tend to lightly apply brake pressure to increase stability.
Li-ion battery is bolted into place.
True power
Ampere says that the Zeal uses a portable lithium-ion battery, but getting the battery out isn't entirely easy. The battery is held in place by a brace that is bolted in across the top. The right side gets a winged nut that you can unscrew with your hand. If you don't want to go through the hassle, this isn't a serious concern as the Zeal has an external charging socket in the footboard area under the seat. A full charge took a little over four hours, and that's decently quick. However, range isn't fantastic and when ridden at realistic city speeds, keeping with the flow of traffic, each bar in the battery guage lasted for about 8-9km. With a total of 6 bars, range should be around 45-55km.
Circuit breaker?
The Zeal is the best that Ampere has to offer at the moment. That said, the range and performance aren't at what we consider sufficient levels for it to qualify as a viable replacement for a conventional ICE scooter. At Rs 69,599, the Zeal is almost on par with today's crop of rather impressive 125cc scooters, but it does not offer a similar experience.