It sports more basic underpinnings than Ola's flagship S1 Pro. Here's how that translates into the real world.
The S1 Air has been promised for about a year now and a lot has changed since it was first announced in 2022. The original idea was for a scooter with a 2.5kWh battery and a sub-Rs 80k introductory price tag that would 'end the ICE age'. Instead, what actually ended was a significant chunk of the FAME-2 subsidy handout, which forced most two-wheeler EV manufacturers to rethink their strategies. In Ola's case, the production-spec S1 Air has ended up with a Rs 1.2 lakh price tag (Rs 1.1 lakh till August 15) and a 3kWh battery pack.
Ola S1 Air design
On the outside, this scooter looks similar to existing Ola scooters, but there are a couple of things that suggest significant differences under the bodywork. The first is that Ola has ditched its single-sided front suspension (despite strong claims that it was a superior design) for a traditional telescopic fork. That move will surely bring some much-needed peace of mind, and customers will also be pleased to see that the floorboard is now flat.
Further back, the neat, horizontal single-sided rear shock has been swapped for a more rudimentary twin-shock set with a steel box-section dual-sided swingarm. Finally, the mid-mounted motor on the S1 Pro is replaced with a simpler hub-motor on the S1 Air's rear wheel. Speaking of, the wheels are now steel instead of alloy and there are drum brakes at both ends.
All these changes are aimed towards bringing costs down and that can also be seen in the colour schemes. Ola calls it dual-tone, but essentially, the lower bodywork is unpainted black plastic. Nevertheless, the S1 Air comes in a range of bright and fun colours, which the scooter's inherently cheerful design pulls off very well. The signature matt neon green on our scooter looked very nice from a distance, but up close there was quite a bit of orange peel visible. The gloss colours will also be easier to maintain in the long term.
Ola S1 Air features
Ola terms this its Gen 2 platform and tells us that this is a scalable chassis that will be used on more products over time. It claims that the chassis is lighter and stronger, as is its new battery pack design (still a plastic housing). The company also claims new electronics systems and a centralised computing architecture that is five times faster.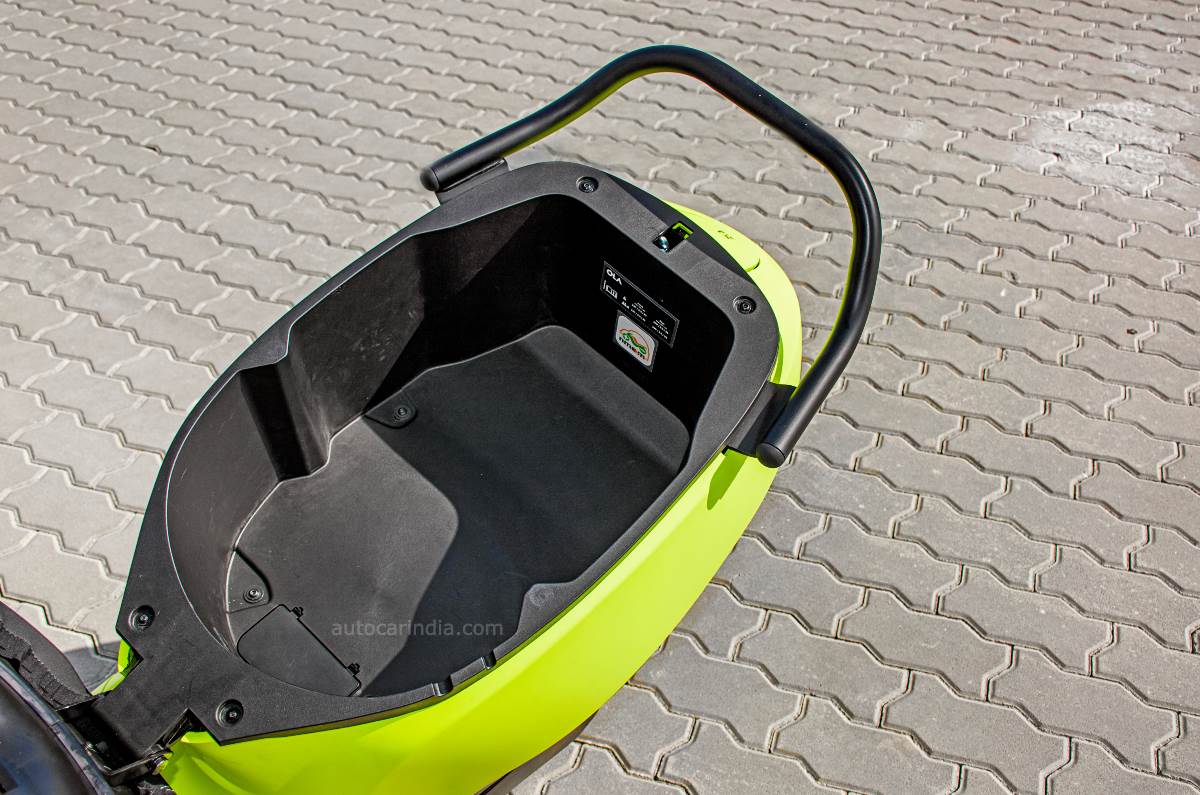 Boot space is now slightly smaller at 34 litres, but it's still huge and a big selling point. The two storage areas behind the apron-mounted speakers have been enlarged and can now accommodate those giant, Pro Max-sized slabs that we call phones.
In terms of what the rider will interact with, it all feels very familiar. You still get the 7-inch TFT and the fantastic feature set of the more expensive S1 scooters. That includes the music playback, moods, riding modes, cruise control, digital key with proximity unlock and more, although the Air doesn't have the Hyper mode.
Ola S1 Air performance
At its launch, we were told that the S1 Air's wheel hub-mounted motor produces a peak power of 4.5kW. However, the company now says that it actually produces a peak output of 6kW. This is lower than the S1 Pro's 8.5kW, but the company still claims a top speed of 90kph. On the move, the riding experience is a very familiar affair. The performance is strong and this is still one of the quickest e-scooters on the market – most people really won't need much more.
The motor is a little quieter than the S1 Pro although it makes a high-pitched electronic sound that some may not like. It also has a strange jerk when you open or close the accelerator, which can clearly be felt in the seat at low speeds – I actually opened the boot to check if there was something loose rolling around inside.
The familiarity to the faster Olas also extends into the negative aspects, and this scooter still has rather iffy accelerator responses. The S1 Air takes a little time to respond when you twist the accelerator and continues to accelerate for about half a second after you close it. Also, like the older Olas, the power gets cut the moment you even lightly touch the brakes. Combined with the unnatural accelerator response, this borders between being annoying and mildly dangerous while trying to make u-turns or tight manoeuvres in traffic.
Unfortunately, other negative aspects also remain. After around ten to fifteen minutes of fast riding in 31-degree afternoon heat, the display flashed a warning – "Reduced performance, cannot switch modes" – and the scooter switched itself from Sport mode to Normal mode.
We experienced something very similar when we first rode the S1 Pro two years back.
In the pre-ride briefing, Ola officials repeatedly mentioned that 'this is an urban scooter, so please ride it appropriately'. However, the company sells this scooter with strong performance claims and those who commute longer distances on faster roads will expect the S1 Air to consistently deliver the performance it promises. At the moment, it does not do that.
Ola S1 Air ride comfort
As we have reported with previous Ola products, fit and finish needs to improve, and different scooters had varying and uneven panel gaps. The welds on the new, more utilitarian grab handles also looked quite basic. It would also appear that the scooter is not entirely bug-free; we had multiple occasions where the boot would refuse to close and the TFT was sometimes slow to respond. Ola claims that these are pre-production units so we'll have to see how this pans out on customer vehicles.
In terms of comfort, we only got to ride it on a short stretch around the company's factory where the roads are quite excellent. Still, from what we could tell, the suspension comfort is quite nice and it does seem like an improvement over the S1 Pro.
The riding position is very familiar with a comfy seat, but tall riders will still find the floorboard to be a bit too high. Nevertheless, the true test will come when we thoroughly review it in Mumbai, and the same goes for the battery and range.
Ola S1 Air range
Once again, at launch we were told that the S1 Air's 2.98kWh was good for a certified range of 125km, but the company now claims that the certified range actually stands at 151km. Ola claims a true range of 125km in Eco mode, 100km in Normal mode and 87km in Sport mode. Home charging times are quoted at 3.8 hours for 0-80 percent and 5 hours to full.
The overall Ola S1 Air experience is very true to the brand. You get amazing features, the promise of great performance and unparalleled sales availability, almost quite literally anywhere in the country. That, with tempting prices, is what has led to Ola's rapid rise to the top of the two-wheeler EV market.
The S1 Air offers a very close experience to the S1 Pro, and if you want to buy an Ola S1 scooter, this is the one that makes more sense. However, the S1 Air has some significant bugs and flaws, and we would suggest that you wait until the company has clearly shown that these issues have been ironed out.

Also see:
Quick News Video: August 20, 2023
3114 Views|3 months ago
Ola electric motorcycles, Ola S1 X and S1 Pro Gen 2 first...
11454 Views|3 months ago
Ola S1 Air video review
15988 Views|4 months ago