This happens to be the very first electric motorcycle to officially go on sale in India. We ride one on a go-kart track to give you the first impression.
Revolt who? Bring up the name Revolt Intellicorp just four months ago, and that's the response you'd have gotten. But Revolt has already become a widely talked-about name in the EV space, without anyone having actually ridden the bike. You can thank a clever publicity campaign for that, which shouldn't come as a surprise given that Revolt is the brainchild of the same man who co-founded Micromax in India. It's also no surprise then that Revolt follows a similar business strategy as well – begin with a Chinese product, Indianise the components, throw in a heap of features and sell the end product at a very competitive price.
So far, we already know that the RV 400 started life as a Super Soco TC Max and that it now wears restyled bodywork that has been designed by Revolt. We also know that it packs a world of smart features, which we'll get into later. Revolt has also let slip that it has an ARAI-certified range of 156km and that the top speed is 85kph, both respectable numbers that are partly responsible for the excitement in the interwebs. What we haven't known so far though are two rather important things – what it's like to ride and what it's going to cost. Today, we discover those crucial details, as well as the price!
What does it look like?
With a name like Revolt, you'd expect that the bike has got to stand out, and it does. The headlamp design with its LED DRL is catchy, but the main reason you'll notice the RV 400 is because it's sized like no traditional motorcycle out there. Despite its tiny dimensions, I find the seating position accommodating, but there's no escaping the fact that in some images, the bike looks comically small with me on top of it. Strangely, despite the small dimensions, the seat height is quite tall at 814mm but that doesn't change the fact that if you're the sort who isn't fond of small, fun-sized machines, this isn't for you. The RV 400 is clearly aimed at the young, college-going segment of the market, and that's the kind of crowd you entice with electronic toys – something that this bike is stuffed with to the gills.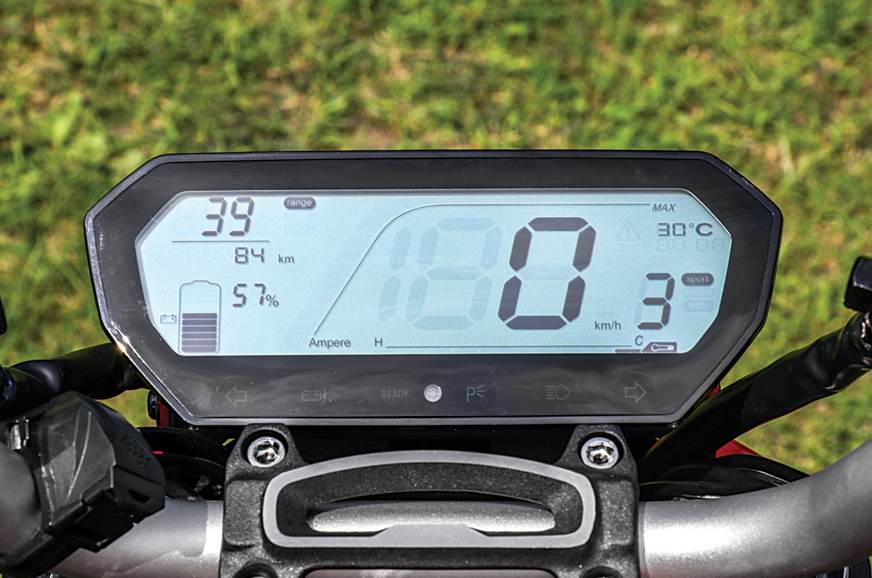 LCD display is straightforward and easy to read.
If you go solely by what's on the bike, there's three riding modes, which can be selected by a slider button on the right. One nice feature is the keyless-start function where you keep the key in your pocket and simply hit the power button that resides behind the handlebar. The display itself is a rather simple black-and-white unit without any touch functionality and you have to use the high-beam switch to toggle between the trip modes – quite fiddly, that. And then, of course, there's the artificial exhaust note which can be activated by a button on the right switchgear. This works via a speaker hidden away within the bodywork and, to be honest, it's quite gimmicky. It could be fun to 'blip the throttle' for your friends a few times when the bike is parked, but on the go it just doesn't feel very natural and I turned it off after the first minute or two.
Heaps of features in the app.
That's a good set of features for any motorcycle in general, but it's just the start of what's on offer with the Revolt. There's much more to exploit via the app Revolt has devised to work with this machine. For starters, you can literally start the RV 400 from the app if the SIM installed in the bike is connected to the internet, or even via Google Assistant using voice commands. I simply can't see why you'd need to, but perhaps my analogue-loving brain isn't qualified to comment on what the RV 400's target audience will like. The app also offers the ability to set-up a Geo-fencing barrier beyond which the bike will not run. You can use it to select from four 'exhaust sounds', monitor the battery and vehicle statistics in real time and order a replacement battery.
What is the claimed range?
Some of the big buzz generated around the RV 400 has been about Revolt's multiple solutions to keep its batteries charged. You can use a standard wall charger which plugs into the right side of the bike, below the seat. Or you can remove the battery altogether (emerges from the top of the 'fuel tank') and take it home to charge, but this is something I can promise you you won't want to do, because the battery weighs 19kg. Thankfully, Revolt has plans to enable home delivery of fully charged batteries or even mobile battery vans that can deliver to your location if you order via the app – so you'll be happy to know that the actual task of swapping the battery will not be something for you to worry about. We assume there has to be some battery-leasing system planned for these options, but Revolt has saved that information for the launch.
The battery is removable, but weighs 19kg!
So how far will a 19kg, 3.24kW lithium-ion battery take you? Revolt claims about 156km in Mode 1 (40kph top speed), 110km in Mode 2(60kph top speed) and 80km in Mode 3 (85kph top speed). Charge time from empty will take 4.5hr, while 3hr will get the battery to 75 percent. We're just quoting what we've been told for now, because we only got to ride the e-bike on a go-kart track and still need to put the numbers to test on public roads.
What is it like to ride?
Riding at a go-kart track isn't what most customers will end up doing, but it has given us a fair idea of what to expect on the street. The RV 400 is sufficiently quick and its riding modes increase performance and response as you move from Mode 1 upwards. In Mode 3, it feels close to as quick as an Ather 450, and hitting the top speed of 85kph should happen quite easily on the street. With a claimed 50Nm of torque (that's more than an Interceptor 650!), the motor has that typical instant response that makes EVs so appealing, but it certainly isn't anywhere close to as fast as the aforementioned Royal Enfield. I think also there is still some scope to further smoothen the noise and mild vibrations from the 3kW frame-mounted motor. Refinement levels are decent, but one area that definitely needs improvement is the response when the rider opens the accelerator. The power comes in abruptly, no matter the riding mode, and while this was an issue when trying to be smooth through the corners, I imagine it will also be irritating when moving in heavy traffic. I also dislike the fact that applying the brakes deactivates the accelerator – it also means all those burnouts you see in Revolt's promos aren't possible with the stock bikes.
The chassis proves to be quite nice. The tubular frame and the aluminium swingarm not only look good, but work well too. Revolt has tuned the 37mm USD fork and monoshock to offer a good balance between sportiness and comfort, and with its 17-inch wheels, the bike felt confident on the track. A big factor in what makes this a cheerful thing to ride is that it weighs "around 108kg", which is the same as a typical 110cc scooter. The MRF Nylogrips also play a role in ensuring the Revolt is fun to ride and just like we've seen on bigger bikes, they prove to be impressively grippy. Revolt uses equally-sized 240mm disc brakes, one at each end, and safety is provided by CBS, not ABS. Braking is adequately strong and while ABS would have certainly been nice, this setup works well enough.
Should I buy one?
Quality levels on the RV 400 seem acceptable and all the critical electrical components are IP67 water resistance rated. Revolt has achieved 70 percent localisation to keep the cost low, but that's just the start of things, because the company is attempting a disruptive approach to the pricing strategy.
Essentially, you can't buy the bike outright and instead, you have to pay a monthly sum of Rs 3,999 per month for a period of three years. There is no down payment and this is not a lease or rental system either. The ownership of the vehicle will be yours, but instead of one big payment, you pay small amounts as you go along.
For Rs 3,499 a month, you can get a lower RV 400 variant that we're told misses out on the fake exhaust sound and the app enabled remote-start features, which aren't features we'd miss. However, Revolt then sprung a surprise on top of this of a more basic and lower spec RV 300 model that comes with a 1.5kW motor and a smaller battery as well. The RV will cost Rs 2,999 per month for a period of three years.
As part of an introductory offer, Revolt says it will cover the maintenance costs as well as consumables like tyres and brake pads for 3 years or 30,000km. Further introductory offers include a 5 year/75,000kmn warranty on the vehicle, an 8 year/1.5 lakh km warranty on the battery and Revolt will even take care of the government mandated insurance requirements. However, there isn't any clarity yet on how long this introductory offer is valid for or what will be offered once it expires. What we do know is that both the RV 400 and RV 300 qualify for these offers. We don't really blame you if all of this information is quite confusing and it would be worth visiting a Revolt dealership to get a clearer picture.
Revolt seems to be offering a very interesting and accessible approach to owning one of its vehicles. While that is nothing short of disruptive, there's no escaping the fact that the bigger challenge this brand new company faces is to establish a reputation for reliability, quality and to set up a genuinely dependable battery swap ecosystem in every city it is present in. That's something time will reveal.
Also see:
Revolt RV 400 video review
13472 Views|4 years ago
2019 Revolt RV 400 first look video
27781 Views|4 years ago