Almost a year since its launch, we get a chance to jump aboard this promising new e-scooter.
It appears to have become the norm that new-age EVs coming from two-wheeler start-ups are far from ready when launched. Bengaluru-based Simple Energy 'launched' its One electric scooter in August 2021, but at the time the scooter was actually very much in the prototype stage. Almost a full year later, we're finally getting to ride this hotly anticipated electric scooter.
As it turns out, the company only let us ride its scooter on a very short loop within a gated housing society outside Bengaluru. That means we'll only be able to share a first impression of this scooter for now and a detailed road test will only be possible when Simple lets us ride its scooter on public roads. In a way, that's a good thing, because the scooters we experienced still do not come across as fully finished products. But, there is some good news, because the fundamentals on the Simple One in terms of motor and chassis do seem to be in a good place.
Simple One: performance
Simple Energy claims that this will be the fastest electric scooter when it goes on sale, and the specifications certainly back that up. The in-house developed motor produces similar power figures to the Ola S1 Pro (4.5kW continuous/8.5kW peak), but it's the 72Nm torque figure that is unrivalled in the e-scooter space. The company claims a segment leading 0-40kph acceleration time of 2.77s and a top speed of 105kph.
Those figures are impressive, but what stood out to me is that the accelerator response in all four of the riding modes is smooth, predictable and easy to use. That being said, the top two modes did display a slight overrun where the scooter continues to accelerate for a fraction of a second after you close the accelerator. To their credit, a well-tuned accelerator response is something many EVs seem to struggle with and the Simple One is already much better than most EVs we have tried. The company says that this will be fully fixed by the time the scooters go into production.
Even in the limited space that we had to ride, the scooter quite easily crossed an indicated 80kph in its top Sonic mode. The overall performance feels just as quick as an Ola S1 Pro in hyper mode, which means that this should be up there with the fastest scooters in the country. But the Simple One's real trump card is its range.
Simple One: battery range
With a 4.8kWh battery, the Simple offers vastly more capacity than any other two-wheeler EV on sale today. The company claims a real world range of over 200km in the lowest Eco mode, but that's not the only tempting detail. Simple has also come up with a system where the battery capacity is split into a 3.3kWh fixed battery under the floorboard and a 1.5kWh removable battery that slots in under the seat. This will help address charging anxiety issues to some extent and it also means that the company can easily offer a cheaper version of the scooter in the future without the removable battery pack.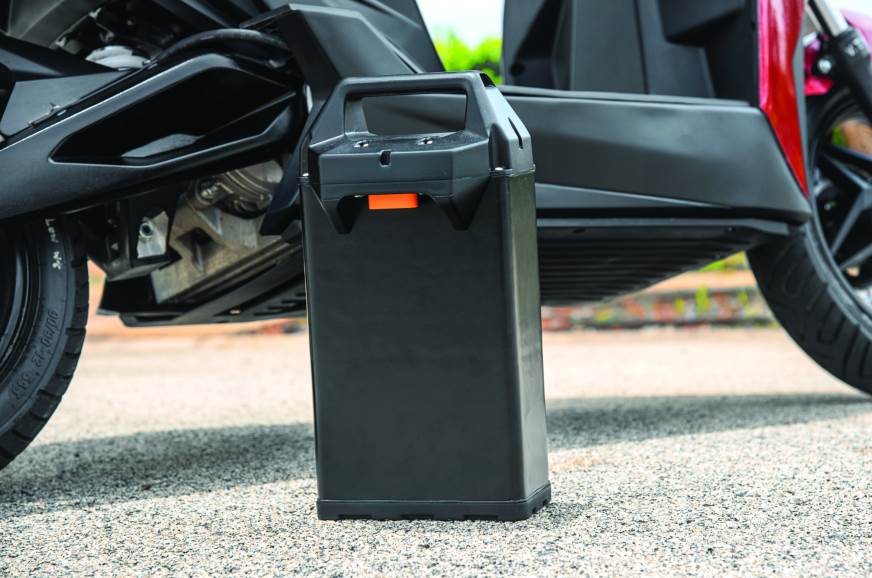 This is a clever thing Simple has done, but there is something to consider. Because of the design of this 7kg removable pack, it doesn't have the same thermal management abilities of the main pack, so it can only be used to power the scooter in its slowest Eco mode. Which means about 30 percent of the overall possible range will have to be in Eco mode, limiting the top speed to 45kph.
Simple One: battery charging
As for charge times, the scooter will take about a claimed 4 and half hours to charge from 0-100 percent on the standard home charger. In an industry first, Simple says that it will sell an accessory fast charger (Rs 15,499) that doubles the home charging rate and brings the time down to about 2 and half hours. It's worth noting that the removable battery will only start charging once the main battery has charged up to 80 percent.
Simple One: comfort and handling
So the performance is strong and Simple promises market-leading levels of range. Another thing that comes across as quite impressive in most areas is the chassis. This tubular steel chassis is also an in-house design by Simple and the company has done a good job in the suspension and braking departments. The brakes are powerful, but easy to modulate, although we did notice quite a bit of chassis flex at the steering headstock under hard braking. The company says that this will be fixed by the time the scooters go into production.
That issue aside, the scooter handled quite well around corners and it manages to do so while also coming across as rather comfortable in the suspension department. The scooter currently wears 90 section tyres at both ends and the company says that the promised variant with fatter tyres will only be offered at a later stage. As for the suspension, there were no bad roads for us to properly test it, but it's clear that Simple has gone for a nice, plush set-up. In fact, the softly sprung suspension reminds me of the TVS Ntorq 125, and that's a good thing because the TVS manages to be very comfortable while also being sporty and really fun to ride. The Simple One seems to be able to pull off that same trick.
Simple One electric scooter: seating position
As for the seating position, the handlebar is just high enough for tall riders to manage and it's definitely not as cramped as the Ather 450, but also not as spacious as the Ola S1 Pro. The 775mm seat height is good for short riders, but the shape of the seat could improve because it makes the rider slide forward and doesn't leave much room for bigger folks. Simple says they are working on this.
As for what's under that seat, the storage space (26 litres with the battery and 30 litres without) is not segment leading, but it's quite good nonetheless. The company's portable charger design isn't complete yet, so we can't tell you how much space it will occupy in the boot.
Simple One: changes and features
Those of you keenly following the Simple One's journey since August last year would have noticed that the scooter does look a little different from the launch event. That's because the company has made quite a few modifications since — some rather drastic.
Changes in the last one year include new LED lights at the front and rear and some design tweaks to the bodywork. That alone is quite significant, but the company didn't stop there and they also made a 2-degree adjustment to the steering rake angle as well as modifications to the swingarm pivot angle.
Those are serious chassis changes, but that's not all either. Last year, this scooter was running a chain drive system, but the company has now wisely moved to a belt drive that will prove to be quieter and lower on maintenance. In all of this, the scooter has gained five kilos taking the total claimed weight to 115kg, which is still about 10 kilos lighter than the Ola.
But it turns out Simple Energy still has more work planned for this scooter. For example, the belt drive will be enclosed on the final scooters and the company is still working on the motor regen functionality which was almost fully turned down on our test scooters.
Simple's smartphone app is not yet ready either and the 7-inch TFT display might have a slightly different layout with bigger icons for the ride modes when the scooter goes on sale. The display software itself was still in beta test mode and a number of features like Bluetooth, cruise control and some basic touch functionality were not functional on our scooter. The battery charge indicator was also quite buggy and would sometimes jump back to 100 percent.
Simple One: issues
Another thing that needs to change quickly is the level of quality and finish. Design wise, I think this is a handsome scooter with sharp, aggressive lines and a good sense of proportion. The Simple One's silhouette certainly reminds of the Ather 450, which is no bad thing. Just like the Ather, this also has a premium-looking sidestand, a nice front number plate mount and a beautiful aluminium swingarm. However, there's a lot of improvement that needs to happen in other places and things look quite rough when you start to examine the details.
The body panels had rough and unfinished edges, there were large panel gaps in places and some of the plastics were coming loose altogether. Simple's charging flap design looked unfinished and felt flimsy to use as well. Moreover, it was also very strange that the company did not want us to ride the scooter in the rain, or even let it get wet.
Now some of these issues should stabilise once production begins, but clearly, there is still a lot of work to be done here and seemingly not a lot of time. The company says that it wants to open test rides soon and estimates that the first customer deliveries should begin by September or October.
Simple One: launch and price
On the bright side, Simple says that despite massive supply challenges, it is holding onto its initial quoted price of Rs 1.1 lakh, ex-showroom, and that the first customers will get the scooter at that same price. That is a fantastic price for this level of promised performance and range. When it is ready, the Simple One will undercut its rivals for as long as the company can afford to sell it at that price.
There are a lot of things going for the Simple One and the company is clearly trying to solve the issues of usability, range and price, all in one go. I do believe that the basic fundamentals mostly seem to be in place, but from what we've experienced, Simple still has a huge amount of work cut out if they want to address all of this before customers start getting scooters.
There's also the fact that this completely new company has to prove that it can smoothly and consistently scale up its manufacturing process, especially since it claims to be sitting on over 60,000 bookings. That in itself can be a gargantuan mountain to climb, even before the world plunged into an unprecedented supply crisis — just ask Ather Energy. For now, I'm waiting until we get to properly test this scooter in its final form that will go out to customers.
Also see:
Simple Energy One video review