The Citroen C3 and the Tata Punch woo you with their SUV-like styling but which of these high-riding crossovers is right for you?
The C3 is Citroën's 'hatchback with a twist' and the Punch is Tata's 'sub-compact SUV'. Classify them as you will but, in essence, these are two tough little cars of great interest. Their SUV-like styling cues make them distinct from like-priced hatchbacks, and both models back the style up with some degree of SUV-ness too. Nope, they won't take you far into the wild, but in the pothole-laden urban jungle, these relatively high-riding models have their appeal.
What makes the pairing even more interesting is the different approaches they take to win you over, something we'll uncover over the next few pages.
Citroen C3 vs Tata Punch: exterior design
The Citroën C3 and Tata Punch are both attractive in their own right. The C3 is more a hatchback on the crossover scale but it's not lacking in road presence. It looks like a fairly substantial car, the appearance helped by its relatively long wheelbase and high roof. Styling is chic, especially up front where the split headlamps and X-shaped scuff plate on the bumper grab your attention.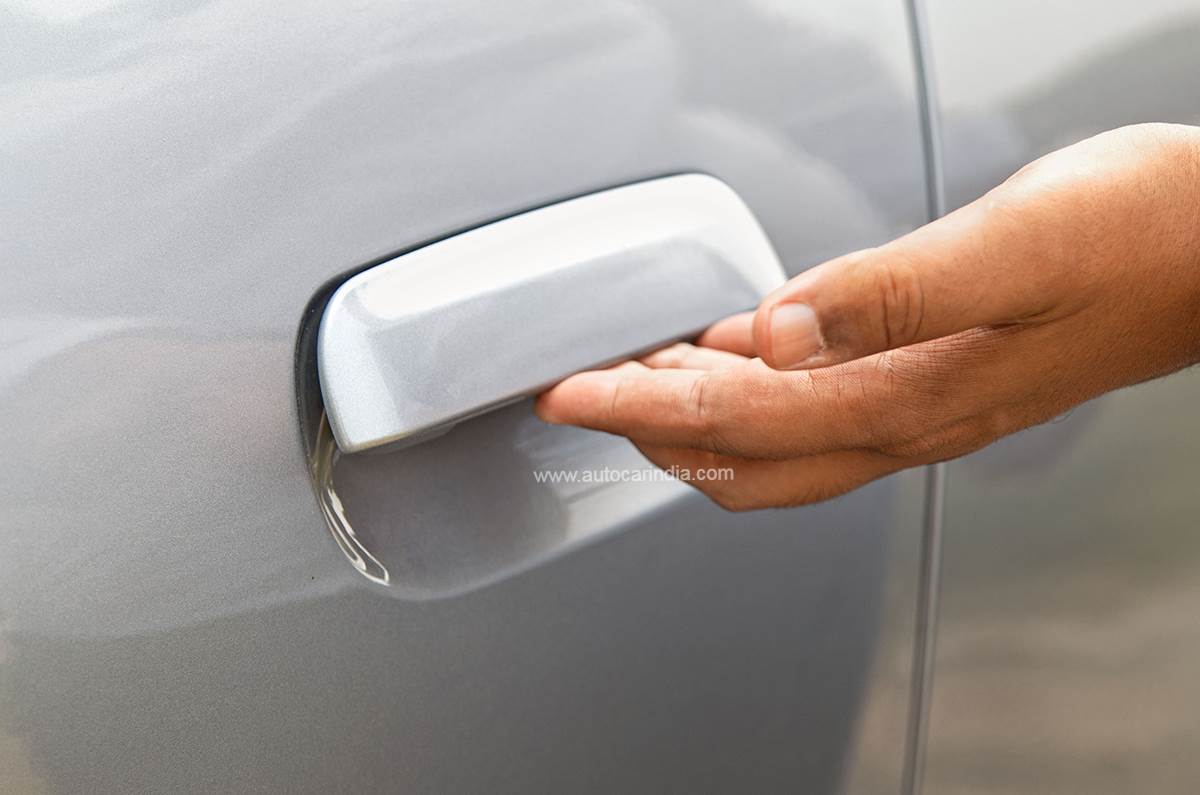 C3's lift-type door handles look and feel basic.
You can jazz up your C3's look further with customisation packs. Our test car has the Vibe Pack that adds orange fog light surrounds, mirror covers and rear reflector surrounds, as well as side door moulding. The contrast roof is also an option. However, the basic lift-type door handles aren't very 2022.
90-degree door openings on the Punch eases entry.
The Tata Punch has a wider variant mix and the top-spec Creative trim featured here sure looks upmarket with its dual-tone paint, diamond-cut alloy wheels and halogen projector headlights. Do note, lower versions of the Punch that are comparable to a C3 on price do wear a relatively de-glammed look. In its basic appearance, the Punch is all about chunky styling, and really does look like a shrunken SUV. The Harrier-like split headlamps, high bonnet and distinctive tail-lamps with tri-arrow LEDs are styling highlights.
Citroen C3 vs Tata Punch: interior design
Stylish C3 dash can be jazzed up with customisation packs. Quality is a mixed bag, though.
Both cars carry their exterior personalities into their cabins too. From behind the driver's seat, the C3 feels like the elevated hatchback that it is, offering a good view out. And just like the exterior, there's scope to personalise the interior, too, with a vibrant orange or subtle grey for the dash top.
Digital instrument cluster is basic, misses tachometer too.
The C3's dash itself is stylish, but on the whole, the interior is a mixed bag. For instance, the landscape-oriented 10-inch touchscreen has a wow appeal, while at the same time the basic digital instruments display looks like it's been plucked from a budget scooter.
10-inch touchscreen is vibrant, slick and great to use.
Then there are things like the premium anodised dash top and scratchy, hard plastics lower down that could very well belong to two separate cars. The slim front seats also don't look particularly premium but seating comfort is actually good. Sadly, the headrests are fixed and might provide inadequate head support to taller occupants.
Punch dash echoes chunky exterior styling. Upright pillars, large windscreen give SUV vibe.
The Punch seats you slightly higher than a C3, but it's the Tata's more upright pillars and larger windscreen that give you the feel of piloting a junior SUV, and this subconsciously adds to confidence at the wheel.
Top versions get informative part-digital instruments.
The Punch feels airier too, offering more space between driver and passenger. The chunky dash, with its squared-out air-con vents works well and Tata's effort to up the perceived quality is visible with the different textures and colours used harmoniously on the dash.
Tata's 7.0-inch touchscreen is behind the curve in size and feel.
Panel fit is acceptable for this class but on the whole, the quality of materials is more consistent in the Tata. The Punch's front seats are also more accommodating for larger occupants.
Citroen C3 vs Tata Punch: features list
Both cars score well on practicality, with ample storage spaces inside the cabin. The C3's centre console has a nifty cut-out to guide your phone wire and there's also a large tray to keep your phone. USB slots, one up front and two at the back, should cater to all passengers' charging requirements.
USB chargers at the back of the C3 are handy.
The Punch is down on USB slots (there's only one at the centre console), but the Tata does get you a much larger glovebox with handy compartments. A cooled glovebox is also one among many features on the Punch that the C3 doesn't get.
Other features exclusive to the top-spec Punch Creative (Rs 8.42 lakh, ex-showroom) include alloy wheels, auto headlights and wipers, projector headlamps, cruise control, an informative part-digital instrument cluster, a reversing camera and powered mirror adjust.
Top versions of the Punch get a rear wiper and defogger.
The thing is, the C3 is only sold in two variants, the higher of which is actually at par with a mid-spec Punch on price. Compare a C3 Feel (Rs 7.1 lakh) with a similar-priced Punch Adventure (with Rhythm Pack, Rs 7.05 lakh) and the feature set is actually quite close. The C3's 10-inch touchscreen with wireless Android Auto and Apple CarPlay is leagues better than the Punch's 7.0-inch unit. The Punch goes one up with a reverse camera and powered wing mirrors.
Rear window button position in the C3 is inconvenient.
Both cars comply with the latest Indian crash test regulations and get mandatory safety features like anti-lock brakes, dual airbags and rear parking sensors. The Tata Punch also packs in ISOFIX child seat mounts, and has bragging rights with a 5-star Global NCAP rating, albeit in the older testing protocol.
Equipment
Citroen C3 Puretec 82 Feel Vibe Pack Dual Tone
Tata Punch 1.2 Revotron Creative MT
Airbags
2
2
Rear parking sensors/camera
Available/NA
Available/Available
Rear defogger & wash/wipe
NA
Available
ISOFIX child seat mounts
NA
Available
Headlamps
Halogen with LED DRLs
Halogen projector with DRLs
Wheels
Alloy (optional)
Alloy
Push button start
NA
Available
Auto headlamps/wipers
NA
Available
Instrumentation
Digital
Part digital
Apple CarPlay/Android Auto
Wireless
Wired
Steering audio controls
Available
Available
Climate control
Manual
Auto
Mirror adjust
Manual
Powered
Power windows
All
All
Cruise control
NA
Available
Rear armrest
NA
Available
Adjustable headrests
NA
Front and rear
Citroen C3 vs Tata Punch: space and comfort
C3 has comfier cushioning, better seat position. It's roomy too but best for two.
The C3's long wheelbase translates into a pleasant rear seat experience. There's enough kneeroom for six-footers to sit in comfort and the spacious seating position is another highlight. What is an irritant is the position of the power window switches at the centre console rather than at the doors; auto down for all windows is a small consolation. Adjustable rear headrests are sorely missed.
Tata offers more room for three; top-spec gets armrest, adjustable headrests.
Doors that open to 90 degrees allow easy access to the Punch's cabin, especially to the rear seat. Legroom at the back is comparable to the C3, the headroom is marginally better and seating three abreast is comfier too, thanks to a near-flat floor and a backrest that's flatter at the sides.
Flat floor in the Punch helps middle passenger comfort.
The top-spec Punch also packs in the safety of height-adjustable headrests and the comfort of a rear centre armrest.
You can pack plenty into a C3. Loading isn't as easy (left). Punch has the edge with lower, wider lip (right).
There's not much between the two in terms of luggage space. The Punch does have the slightly wider and lower sill, which makes loading luggage that bit easier. Both cars offer the option to fold the rear seats to make more room for luggage.
Citroen C3 vs Tata Punch: performance
The C3 and Punch are petrol-only models but where Citroën offers the choice of two 1.2-litre engines (naturally aspirated and turbocharged, both with manual transmissions), the Tata is available with just the one 1.2 naturally aspirated engine, albeit with manual and AMT options. To keep things close, we've considered the C3 with the 'base' naturally aspirated engine and the Punch in manual gearbox avatar.
The C3's Puretech 82 engine doesn't quite have the bottom-end pep of the older Suzuki K12 units nor is it as refined as Hyundai's 1.2, but it's still a very pleasant engine. It builds speed with ease, power delivery is smooth and it feels responsive enough. It's in faster environments such as the highway that the 82hp Citroën engine has the edge, feeling a lot freer and livelier than the Tata unit. The light clutch makes life easy in town, though the 5-speed gearbox is a touch notchy.
Performance is at par in everyday city driving, but the C3 is livelier at higher speeds.
After a go in the C3, it's easy to zero in on the Tata's weak link – its engine. The 86hp Revotron unit offers adequate performance for easy driving and ambling around town, and the smooth gearbox and light clutch do help to this end. However, ask any more of the engine and it feels out of its comfort zone. Power delivery is flat and the timid build of power means you'll have to plan overtakes out on the highway. The engine also gets quite noisy at higher RPM.
Unique to the Punch are drive modes – City is the default setting and while Eco helps save fuel, it only dulls performance further. There's also auto engine stop-start on top versions of the Punch. The Tata has an ARAI-rated economy of 18.97kpl, which is just shy of the Citroën's 19.8kpl figure. You will need to make more stops for fuel in the C3 though. Its fuel tank can hold all of 30 litres versus the Punch's 37-litre capacity.
Technical Details
Citroen C3 Puretec 82 Feel Vibe Pack Dual Tone
Tata Punch 1.2 Revotron Creative MT
L/W/H
3981/1733/1604mm
3827/1742/1615mm
Wheelbase
2540mm
2445mm
Ground clearance
180mm
190mm
Tyres
195/65 R15
195/60 R16
Weight
982kg
1035kg
Engine
3cyl, 1198cc, petrol
3cyl, 1199cc, petrol
Power
82hp at 5750rpm
86hp at 6000rpm
Torque
115Nm at 3750rpm
113Nm at 3300rpm
Gearbox
5-speed manual
5-speed manual
Fuel economy
19.8kpl
18.97kpl
Fuel tank capacity
30 litres
37 litres
Boot
315 litres
319 litres
Citroen C3 vs Tata Punch: ride and handling
They aren't off-roaders but ample ground clearance helps tackle worst of roads and even mild trails.
An area where both the C3 and Punch score big is ride and handling. Both models feel tough and that quasi-SUV nature really comes through on bad roads. There are differences though: the Punch feels a bit stiffer whereas the C3 comes across as better damped. Up the pace, and it's the Punch that feels more surefooted; the C3 is stable but there is more vertical movement on straights and roll in corners. The Punch drives flatter throughout and its nicely weighted steering only adds to the experience. In isolation though, it's the C3's more feelsome steering that keen drivers will like better. Both cars brake confidently and are easy to manoeuvre at low speeds.
Citroen C3 vs Tata Punch: verdict
The C3 and Punch have their draws but the choice of a better car eventually boils down to your priorities. If you value big-car-like comfort features and don't mind paying a big premium for them, the fully-loaded Punch is the one for you. Fact is, there really isn't an alternative in the C3 line-up. On the other hand, if you're someone who loves to drive, you'll find a good match in the C3 Turbo. Yes, it's down on features but to many, the driving experience will more than make up for the absence of frills.
Things get more complicated for buyers on a strict budget. Tata easily has the wider reach across India and there's comfort in buying an established product. Thing is, the Punch loses its feature advantage lower down the price ladder. For the same money, the C3 Puretech 82 gets you similar features, with the added advantages of a slicker infotainment system and a better engine. You'll have to consider the proximity to a Citroen facility near you, but rupee for rupee, it's the C3 that makes more sense.
Price and Verdict
Citroen C3
Tata Punch
Variant
Puretech 82 Feel Vibe Pack
1.2 Revotron Creative MT
Price (ex-showroom, Delhi)
Rs 7.10 lakh
Rs 8.42 lakh
Verdict
Gets the basics right, with nice engine, good infotainment. Down on frills but is the better car for the money.
Engine is the weak link in the tough and practical Punch package. Top-spec variants well equipped but are too pricey.
Rating
8/10
8/10
Citroen C3 Turbo: worth the extra premium?
The C3 Turbo (Puretech 110 in Citroën speak) gets no feature additions over the equivalent trim Puretech 82, so the Rs 1 lakh premium is solely for the engine. Is it worth it? In a word, yes! The 110hp and 190Nm, 1.2-litre three-cylinder turbo engine is tuned for low and mid-range power, and what that gets you is an energetic little car. The brisk 10.7sec 0-100kph time is quick for a car of this size. It feels eager, the 6-speed gearbox is great to use and the steering is nicely tuned too. It's not the slickest handler but in the absence of Fords, the C3 Turbo is among the most fun cars you can buy under Rs 10 lakh.
Also see:
Citroen C3 vs Tata Punch video comparison
Maruti Suzuki Celerio vs Tata Tiago comparison: Compact impact
Hyundai Exter vs Tata Punch comparison video
37919 Views|3 months ago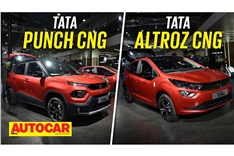 Auto Expo 2023: Tata Punch, Altroz iCNG walkaround video
11513 Views|10 months ago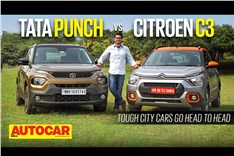 Citroen C3 vs Tata Punch video comparison
22624 Views|1 year ago