These two hatchbacks are among the most affordable family EVs on sale in India.
Electric vehicles (EVs) have evolved into 'almost' practical alternatives to internal combustion engine (ICE) vehicles, and now, with greater awareness and a steadily developing charging infrastructure, especially in and around metro cities, more buyers are gravitating towards EVs than ever before. Yes, on account of their batteries and motors, EVs are still expensive, but from once being a niche, EVs are finally trickling down to the more mainstream, budget end of the Indian car market.
With an attractive ex-showroom price of Rs 8.69 lakh-11.54 lakh, the Tiago EV is the most affordable electric family hatchback on sale. Yes, the MG Comet you saw earlier has a lower starting price, but it's nowhere near as practical, and at the time of going to print, we don't know what the rest of its range is priced at. The Tiago's sensible packaging is complemented by an electric powertrain that takes smoothness and refinement to a whole new level, while keeping running costs to a bare minimum.
EVs are finally trickling down to the more mainstream, budget end of the Indian car market.
Keen to make an impression, French carmaker Citroen launched its first electric offering, the eC3, that's larger than the Tiago EV, gets a bigger battery and is priced at Rs 11.50 lakh-12.43 lakh. So, in a way, it offers much more car for not a whole lot more money. But does that make it the better electric hatchback?
Citroen eC3 vs Tata Tiago EV: exterior
Both these EVs are based on ICE cars that have been modified to fit an electric powertrain, and they look very similar to their petrol counterparts too. The eC3 is funky, stylish, and its upright stature and body cladding lend it a desirable SUV-like appearance. The two-tone paint and alloy wheels on our test car are attractive, but both are optional. Moreover, EV-specific badges and a charging flap on the front right fender are the only visual cues that give away its green credentials.
The Tiago EV is better distinguished from its petrol counterpart thanks to a closed-off front grille and air dam panels, as well as light blue highlights. Even though the Tiago nameplate has been around since 2016, it still looks quite handsome thanks to its clean lines and an unfussy design language. However, in this comparison, the little Tata comes across a full size smaller; after all, it is 112mm shorter, 50mm lower and is 56mm narrower too.
Not only can the eC3 carry more cargo, it also packs in a spare tyre beneath its boot floor.
Interestingly, the way the eC3's battery is placed in the floor means that while its 170mm ground clearance is just 10mm less than the petrol C3's, inside the cabin, the floor is raised by a whopping 70mm. On the other hand, the Tiago EV's battery is placed in a split format, partially in place of the petrol tank and partly beneath the boot floor. Despite that, ground clearance has dropped from 170mm to 165mm. Appreciably, both cars have more than adequate clearance to tackle the worst our roads have to offer.
Citroen eC3 vs Tata Tiago EV: interior and features
Equipment Checklist
Citroen C3 FeelDual Tone
Tata Tiago EV XZ+ TechLuxLR
Price (ex-showroom)
Rs 12.43 lakh
Rs 11.54 lakh
Touchscreen
10.2-inch
7-inch
Android Auto/Apple CarPlay
Wireless
Available
Automatic climate control
NA
Available
Auto headlamps
NA
Available
Cruise control
NA
Available
Rear wiper and washer
NA
Available
Drive modes
Available
Available
Spare tyre
Available
NA
Reversing camera
NA
Available
Alloy wheels
NA
NA
The eC3's flap-type outside door handles feel rather old-school, but from there on, the cabin looks modern and stylish. The pièce de résistance is undoubtedly its superb 10.2-inch touchscreen, which packs in wireless Android Auto and Apple CarPlay and is slick to use. What also comes as a pleasant surprise is the impressive sound output from the audio system.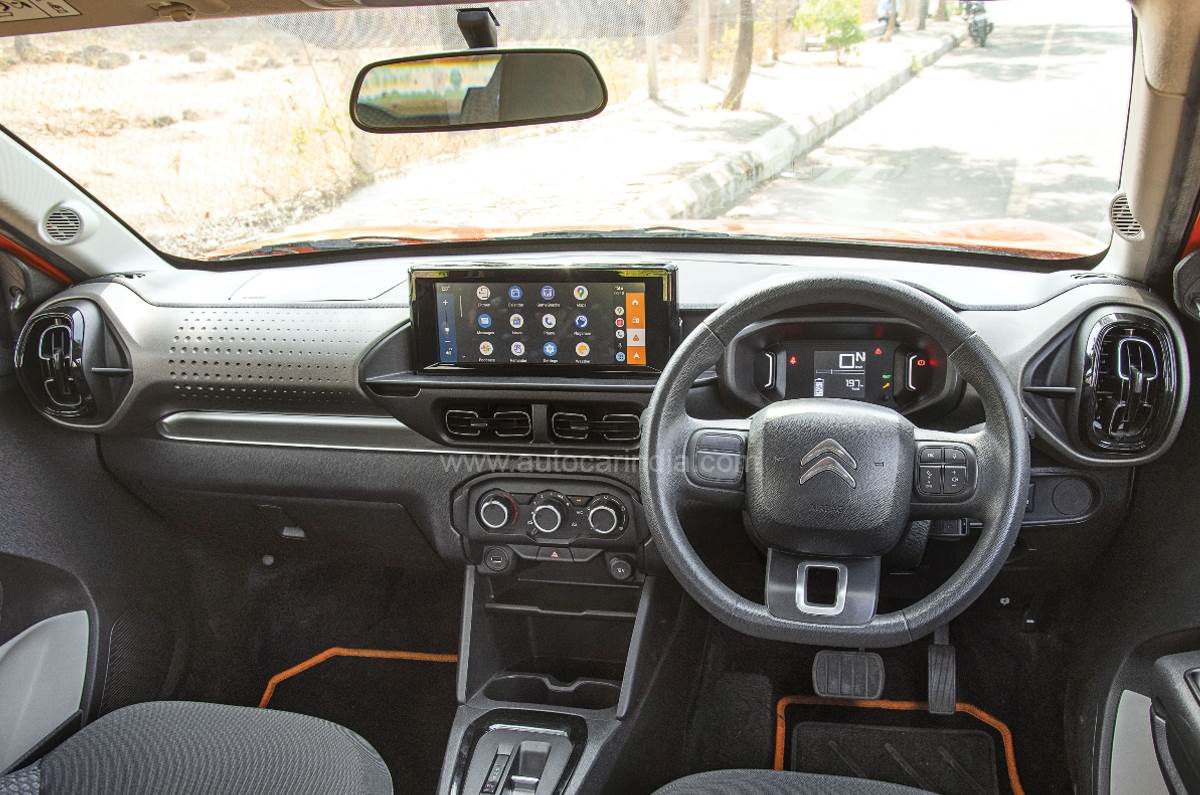 The Citroen's interiors feel modern.
Storage areas are aplenty too, and even the toggle-switch-like drive selector looks and feels like it has been lifted from Citroën's C5 Aircross flagship SUV. A one-touch-down function for all four power windows is a welcome addition, but beyond this, the feature list is scant, skipping on automatic climate control, a start/stop button and even basics like electric outside mirror adjustment, a rear wiper and washer and a reversing camera.
Citroen gets a nicer, larger touchscreen.
Thankfully, though, its seats are very comfortable, and even in their lowest setting, the driver is seated high enough to get a great view of the road. In fact, because the bonnet is so clearly visible from the driver's seat, new drivers are likely to get acquainted with the edges of this car very easily. What's also nice is the sheer space at the back and due to the car's broad width, even a third passenger won't feel unwelcome.
Tata's small touchscreen isn't as nice to use.
The raised floor height, however, results in a knees-up position, and almost no thigh support for tall occupants. And while neither car in this comparison has adjustable rear head restraints, the eC3's are quite tall, and are hence more likely to provide some protection from whiplash in the event of a rear collision than the Tiago's almost nonexistent head restraints. At 315 litres, the Citroen's boot is more accommodating than the Tata's 240-litre boot, and it also packs a spare tyre beneath the boot floor, whereas the Tiago EV makes do with a tyre inflator kit.
Textured bits feel nice, but dash design looks dated.
The Tiago EV gets a well-appointed interior with clever use of textured plastics, and what particularly lifts the cabin's appeal is the off-white colour theme. In comparison to the eC3's modern design, the Tata's dashboard looks dated, as does its small 7-inch touchscreen. But what it lacks in modernity, the Tata makes up for with equipment. The Tiago EV features automatic climate control, automatic projector headlamps, cruise control, electric folding mirrors, a reversing camera, rear wiper and washer, leatherette upholstery and a fantastic 8-speaker Harman sound system. Its coloured digital instrument cluster, although a bit cluttered, looks far better than the eC3's basic monochrome unit, which looks like a mobile phone display from the early 2000s.
Space isn't as generous in the Tata.
The Tiago EV's front seats are nice, although not as comfy or supportive as the Citroen's, and the leatherette material can induce sweaty backs on hot days. Space at the rear is much tighter too, but because the floor height remains unchanged due to the clever positioning of the batteries, the seating position feels more natural than in the eC3.
Citroen is more spacious, but the floor is raised due to the battery.
Citroen eC3 vs Tata Tiago EV: performance
The Citroen eC3 is driven by an electric motor that makes 57hp and 143Nm of torque, and draws energy from a 29.2kWh battery. Its motor delivers performance in an unhurried manner, and while first-time EV users will find little to complain about, you don't get that zippy acceleration synonymous with modern EVs. It will keep up with the flow of traffic, and feels perfectly acceptable for intra-city commutes, which is what most owners will subject it to. Notably, the eC3 accelerates from a standstill up to 50kph, the legal city speed limit in most places, as quickly as the Tata. There is an Eco mode too, but it feels identical to the standard mode. Strangely, there are mild vibrations felt at low speeds, and refinement isn't as nice as in the Tiago.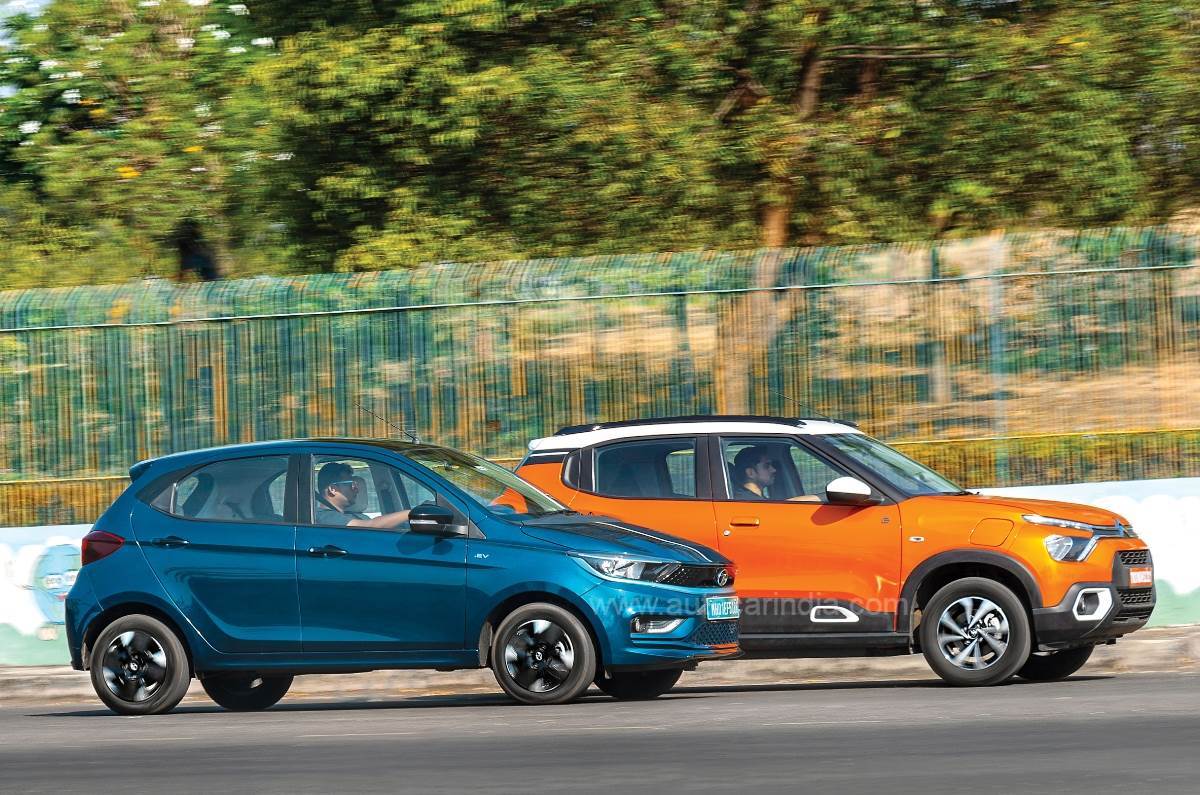 The Tiago EV will hit a higher top speed of 120kph, whereas the Citroen is limited to 107kph.
Tata offers a choice of two battery packs with the Tiago EV – 19.2kWh and 24kWh, and for this test, we drove the latter, which powers a 74hp, 114Nm motor. The Tiago EV gets two drive modes – City and Sport, the former being the default mode where torque is restricted to only about 75 percent, whereas the motor unlocks its full potential in the latter. But even in City mode, the Tiago EV feels more responsive and eager than the Citroen, with crisper responses. Being 166kg lighter also helps the Tiago's case. Dialling it up to Sport mode makes performance even more entertaining, and it will scoot to 100kph almost 3 seconds quicker than the eC3. It will even hit a higher top speed of 120kph, whereas the Citroen is limited to 107kph. Unlike the eC3, which doesn't get adjustable brake energy regeneration, the Tiago EV has four levels of regenerative braking, with level 0 allowing the vehicle to coast freely, and Level 3 giving the strongest deceleration when you lift your foot off the accelerator.
Both brands offer similar three-year or 1.25-lakh-kilometre standard warranties. The eC3 gets a five-year or 1 lakh kilometre warranty on the electric motor and seven-year or 1.40 lakh kilometre on its battery, whereas the Tiago EV's battery and motor are backed by a longer, eight-year or 1.60 lakh kilometre warranty.
Citroen eC3 vs Tata Tiago EV: range and charging
After topping up the battery to 100 percent, we drove both these cars back to back in similar conditions with periodic driver swaps, and at the end of our drive, both cars proved to be equally efficient and returned 7.8km/kWh, which translated to a real-world range of around 228km for the eC3 and 187km for the Tiago EV.
At the end of our range test, the Citroen was left with 35 percent battery charge, while the Tiago EV had 21 percent remaining. On plugging both into a 30kW DC fast charger simultaneously, it was the Tiago EV, with its liquid-cooled battery that charged to 100 percent quicker, in 87 minutes, consuming 19.36kWh. The Citroen eC3's air-cooled battery, meanwhile, reached full charge in 94 minutes and consumed 19.78kWh of power.
Both cars come with a portable charging cable that can be plugged into a 15amp socket for a slow charge. However, Tata goes a step further and provides a 3.3kW AC wallbox charger along with the car as standard, and owners also get the option of a 7.2kW AC fast charger at an additional cost of Rs 50,000. Citroen doesn't provide an AC wallbox charging option.
Citroen eC3 vs Tata Tiago EV: ride and handling
The
eC3 feels more SUV-like with an upright driving position; Tiago EV is zippier to drive, especially in Sport mode.
Like other Citroens, the eC3's standout quality is its ride comfort. It irons out road imperfections and rounds off sharp-edged potholes really well, and even though its suspension is tuned for comfort, body movements are nicely contained, and the eC3 doesn't pitch or roll excessively. Appreciably, its steering is light and effort-free, and with a turning radius of less than 5 metres, it makes parking in tight spots a breeze.
In isolation, even the Tiago EV's suspension is quite absorbent, but in comparison to the eC3, it feels a tad firmer. On the flipside, the Tiago EV feels nimbler and relatively sportier to drive.
Citroen eC3 vs Tata Tiago EV: verdict
The eC3 is the bigger car with SUV styling, while the Tiago is a more conventional hatch.
The Citroen eC3 is the bigger car with the more desirable SUV-like styling. It is more spacious inside, gets a larger boot, and has a longer real-world range. Even though Citroen's service network is limited, that might not be a deal breaker because few things go wrong with EVs to begin with, so visits to the service station are likely to be few and far between. However, what will dampen the ownership experience, especially for techy EV buyers, is the eC3's barren features list, which might make you question the premium it commands over the generously equipped Tata Tiago EV. The Citroen lacks the strong, instantaneous response synonymous with modern EVs and performance is dull in comparison to the Tiago EV. It's also slower to charge and does not have an option of an AC fast charger, something you can purchase with the Tiago.
And that's where the Tiago EV moves ahead in this contest. It's quicker to charge and offers livelier performance, making it nicer to drive. Plus in its top-spec, it packs in loads of kit. What cements its case is that in all these areas, the Tiago EV is ahead by an appreciable margin and in areas like comfort and battery range, where it falls behind the eC3, the Tata is still pretty good. Furthermore, there are multiple variants with a sub-Rs 10 lakh starting price on offer, which gives buyers more choice. On the whole then, while the eC3 is genuinely a likable car, it is the Tata Tiago EV which checks more boxes as an all-rounder.