EVs are expensive and diesels are disappearing. So, are hybrids the answer for saving fuel? We compare three midsize SUVs with three different powertrains.
With EVs on the horizon, hybrids might seem late to the party. But EVs are expensive, and with few diesels left in the market, there is a need for fuel-efficient vehicles. So, how do hybrids fair? To find out, we put the Grand Vitara strong hybrid to the test, and for some perspective, we pit it against the bestselling midsize SUV, the Hyundai Creta – with a naturally-aspirated petrol engine – and also added its cousin, the diesel-powered Kia Seltos. To keep things level, the Hyundai and the Kia are both automatics, as is the case with the Grand Vitara hybrid. So, is hybrid the new diesel, and does it make financial sense over its petrol or diesel counterparts? Before we get to the rest of the cars, let's tackle that right away.
Grand Vitara vs Creta vs Seltos: powertrain
The Grand Vitara's strong hybrid powertrain comprises of a 92hp, 122Nm, 1.5-litre three-cylinder petrol engine and an 80hp, 141Nm electric motor that draws energy from a 0.74kWh Lithium-ion battery. Combined, the strong hybrid powertrain generates 116hp, which might seem par for the course, but the way it responds in the real world is quite a revelation. Having an EV mode gives it the ability to potter around using energy purely from its battery, with light throttle inputs or under light load.
1.5-litre petrol in Grand Vitara is quite refined and runs the more efficient Atkinson cycle.
However, the moment you squeeze your right foot, the petrol engine instantly kicks in, which, when combined with the electric motor's instant torque, provides a strong surge. It does a great job to close gaps in traffic or make quick overtakes, but keep your foot pinned to the throttle and its torque delivery flattens soon after that initial spike, and you will notice a disconnect between the engine sound and the actual speed of the vehicle, akin to a regular CVT. The company says the Vitara has an e-CVT, which is actually a planetary gear system, so it's odd to see this rubber-band effect. For the most part, this three-cylinder is refined, although you will hear it when it fires up either to power the car or recharge the depleted battery (at idle).
Creta's 1.5-litre petrol engine is the most refined of the three.
The Hyundai Creta's silky smooth 1.5-litre four-cylinder engine, thus, stands out and is the most refined in this comparison. You'll barely hear it at idle and city speeds, and even when you spin the engine faster, it emits a rather sporty purr, and revs freely. This 115hp, 144Nm engine is pleasing in its character and performs very smoothly. Adding to its relaxed manners is the continuously variable transmission, which Hyundai has calls IVT ('I' for 'intelligent'). Incidentally, the IVT with predefined steps lends a sporty aural experience when driven with verve, simulating gearshifts. And this is the reason why the Creta 'feels' fast, even though it is the slowest amongst the trio.
For a diesel, the Seltos is very refined, but is the most audible in this company.
As far as diesels go, Kia's 1.5-litre unit is easily among the smoothest and most refined engines out there. However, in company of the petrols, the diesel Seltos is the most audible and, at higher revs, a fair bit of clatter filters inside the cabin. But what's nice is the ease with which this 115hp, 250Nm diesel performs its duties, and its 6-speed torque converter automatic complements the engine well by masking lag from this turbo-engine to a great extent. It is the heaviest car in this contest, but the diesel has the most torque, and as a result, it is as quick as the Vitara hybrid, taking a whisker under 13 seconds to accelerate from 0-100kph.
Performance (Acceleration from rest)
Grand Vitara Hybrid
Creta 1.5P IVT
Seltos 1.5D AT
0-20kph
1.59 sec
1.78 sec
1.12 sec
0-40kph
3.14 sec
3.87 sec
2.81 sec
0-60kph
5.37 sec
6.27 sec
5.53 sec
0-80kph
8.61 sec
9.52 sec
8.79 sec
0-100kph
12.84 sec
13.73 sec
12.91 sec
Rolling acceleration
20-80kph (in kickdown)
7.11 sec
7.68 sec
7.54 sec
40-100kph (in kickdown)
10.37 sec
9.67 sec
10.04 sec
Braking
80-0kph
28.85m
28.42m
27.20m
Fuel economy
City
23.77 kpl
10.31 kpl
12.9 kpl
Highway
20.39 kpl
13.78 kpl
17.8 kpl
Grand Vitara vs Creta vs Seltos: fuel efficiency
The hybrid's ability to run purely from its battery under light loads is the secret to the Grand Vitara's impressive real-world efficiency. Maruti (and its cousin, the Toyota Hyryder) claim that 50-60 percent of city commutes can be in full EV mode, so it isn't a surprise that in urban conditions we achieved 23.77kpl, the highest we have achieved in our tests. At highway speeds, its petrol engine is active far more often and it goes into EV mode only occasionally, hence efficiency is 20.39kpl, which although lesser than its city efficiency, is still much higher than most cars. This is because its engine also runs the more efficient Atkinson Cycle, where the intake camshaft delays the closing of the valves on the compression stroke, resulting in a lower air-fuel mixture being burned inside, thus reducing fuel consumption.
Grand Vitara's staggering fuel efficiency and relatively cleaner footprint hit the spot.
The Hyundai Creta, with its continuously variable transmission, managed 10.31kpl in the city and 13.78kpl on the highway, because the CVT is quite reactive to gentle flexes of your right foot, which takes a toll on efficiency. Kia's diesel-auto, as expected, does a better job than the petrol-CVT, achieving 12.9kpl in the city and 17.8kpl on the highway.
Grand Vitara vs Creta vs Seltos: doing the math
Having tested all three as per our road test standard and defined city and highway cycles, their average efficiency stands at 22.08kpl, 12.05kpl and 15.35kpl for the Vitara, Creta and Seltos, respectively. Hence, their average fuel cost per kilometre works out to Rs 4.38, Rs 8.03 and Rs 5.84, respectively, with the cost of petrol being Rs 96.72 per litre and diesel being Rs 89.62 per litre in Delhi at the time of the test.
With the introduction of strong hybrid, buyers now have more choice of powertrains.
As a result, by opting for a Vitara hybrid over a petrol Creta, your fuel costs will be Rs 3.65 per kilometre lower, and if you pick a diesel Seltos, you'll save Rs 2.19 per kilometre over its petrol cousin.
If its purchase price was at par with rivals, the Toyota hybrid would have a clear advantage, but that's not the case. Diesels are more expensive than petrols, but hybrids are pricier still, because of the technology they pack in. The Hyundai Creta 1.5P IVT (SX O), priced at Rs 17.07 lakh, is the most affordable; the Kia Seltos 1.5D AT (GTX+) is Rs 1.28 lakh pricier; while the Grand Vitara Hybrid (Alpha+), at Rs 19.49 lakh (ex-showroom), commands a Rs 2.42 lakh premium.
So, when we analyse the financials from a broader perspective, despite savings every kilometre, you'll need to drive the Grand Vitara hybrid for 66,284km and the Seltos D AT for 58,363km to recover the initial premium you've paid over a Creta IVT, before you even begin benefitting from lower running costs. If you don't plan to drive much, the petrol will make better financial sense, and the Vitara hybrid will only be viable if you intend to cover distances in excess of 66,284km over your ownership. Now, we move on to other aspects of this comparison.
Cost analysis: Hybrid vs Petrol vs Diesel
Grand Vitara Hybrid Alpha+
Creta 1.5P IVT SX (O)
Seltos 1.5D AT GTX+
Variant
Price
Rs 19,49,000
Rs 17,07,100
Rs 18,35,000
Premium over Creta petrol
Rs 2,41,900
-
Rs 1,27,900
Efficiency
City
23.77kpl
10.31kpl
12.90kpl
Highway
20.39kpl
13.78kpl
17.80kpl
Average fuel efficiency
22.08kpl
12.05kpl
15.35kpl
Cost of fuel
Rs 96.72
Rs 96.72
Rs 89.62
Running cost per km
Rs 4.38
Rs 8.03
Rs 5.84
Cost/km advantage over petrol
Rs 3.65
-
Rs 2.19
Break-even point
66,284km
-
58,363km
Grand Vitara vs Creta vs Seltos: dynamics
Built on Suzuki's Global C platform, the Vitara's tough underpinnings showcase its mettle in the way it flattens bad roads. It drives with a certain maturity, which gives it an edge over its Korean rivals, it feels safe and secure at high speeds, and it is this driving confidence that owners will appreciate on long drives.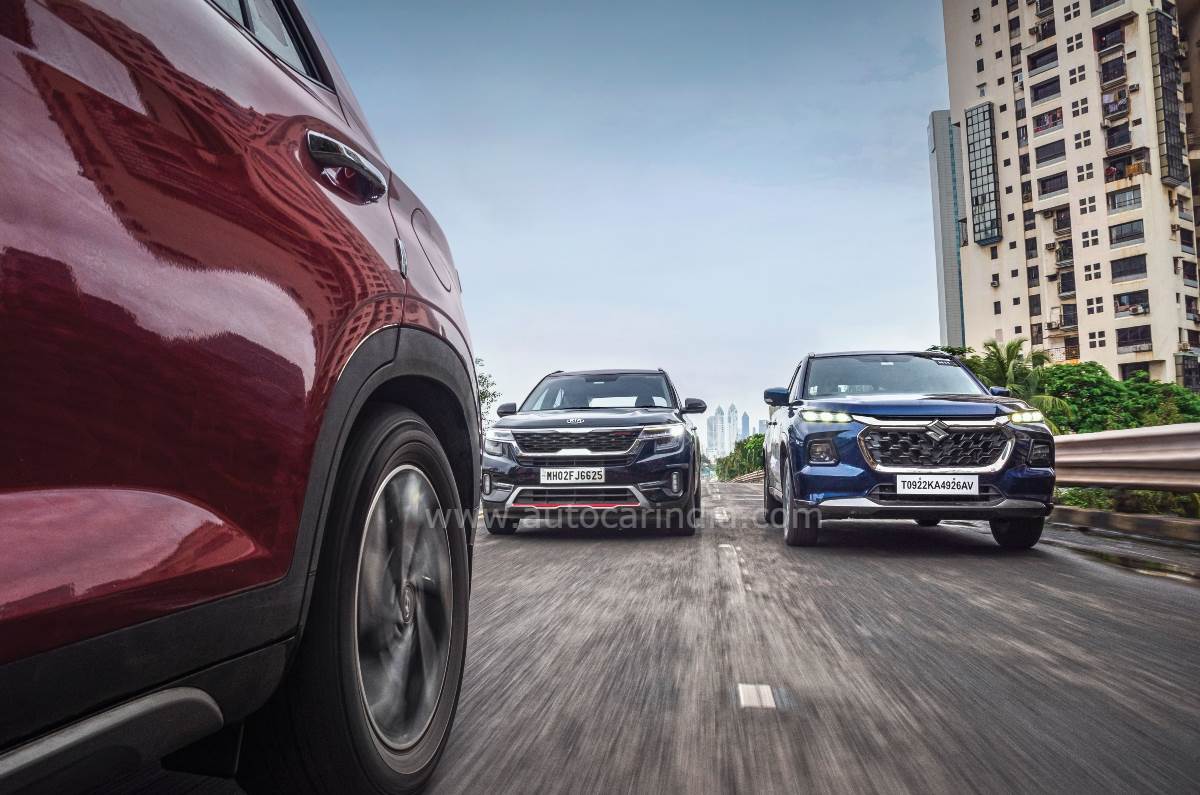 Creta feels comfortable but bumps and road shocks are felt more than in the Grand Vitara.
The Hyundai feels quite comfortable too, and it nicely smoothens out the rough at low speeds. Passengers will notice some rocking and lateral movements over bumps, and road shocks are felt more in the Creta than in the Maruti. Its high speed manners have significantly improved over the previous generation and its steering has gained some heft as well, which has made it a nicer long-distance tourer than before. However, the Vitara feels more stable and sure-footed in comparison.
Grand Vitara is the most expensive SUV here, costing Rs 2.42 lakh more than the Creta.
Even though the Kia shares its underpinnings and most skeletal components with the Hyundai, the Seltos feels a bit sportier, thanks to a stiffer suspension set-up. While it tackles bad roads as competently as the Hyundai, road shocks and lateral movements feel a bit more pronounced in its cabin, and its steering is also heavier. It, however, feels more engaging to drive than the Creta – body roll is well-contained and direction changes feel confidence-inspiring. The Seltos' braking performance is also the best of the lot, and in our panic braking tests from 80-0kph, it stops in the shortest distance.
Grand Vitara vs Creta vs Seltos: design and styling
Maruti has incorporated all the attributes that most SUV buyers seek, like an imposing front design and a tall stance, along with a long bonnet, clean lines and squared-out wheel arches. Its sloping roofline looks distinct, and its standout design features are its split head-lamps with Nexa's new signature three-dot LED DRLs and its unique LED tail-lamp set-up. The Grand Vitara is longer than the Korean duo, but its height, width and wheelbase are similar to rivals.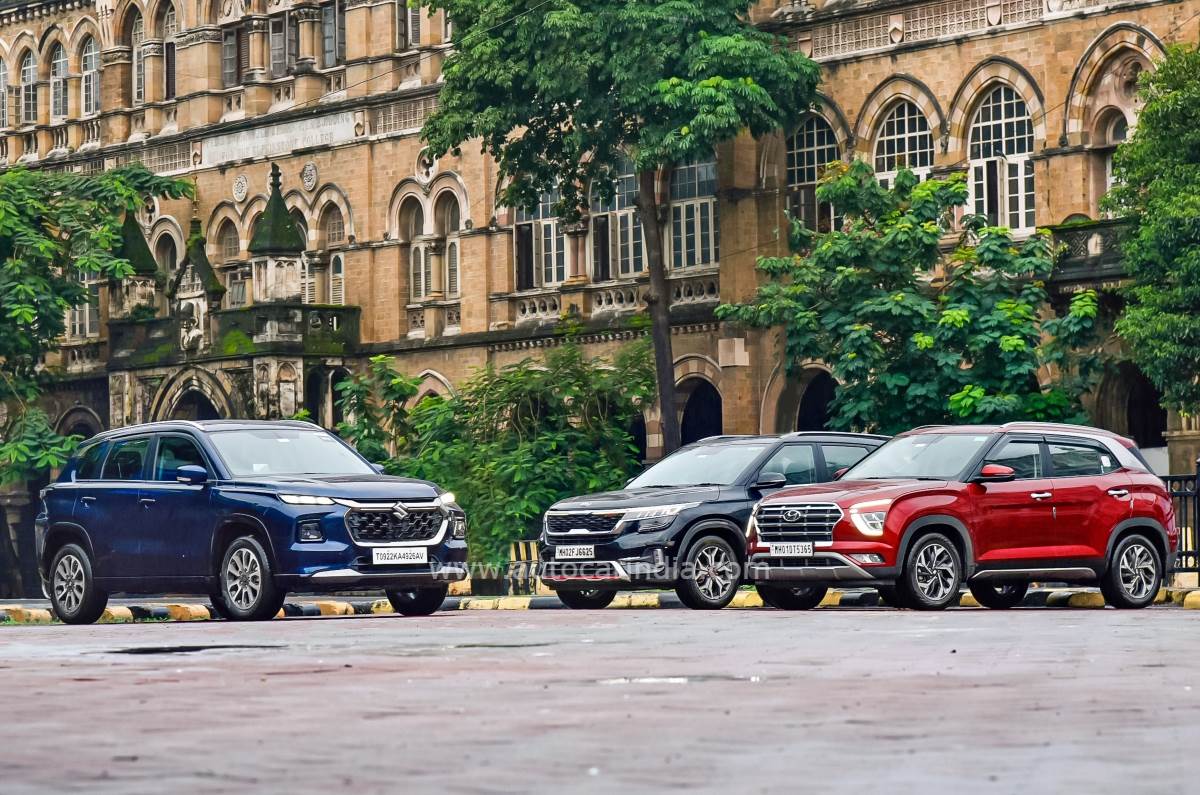 Grand Vitara looks the most SUV of the lot; Creta's front styling still divides opinion; Seltos design has plenty of cuts and chrome bits.
Both Hyundai and Kia are the same beneath the skin, but in appearance, they're as different as chalk and cheese. Now, while the Creta's split headlamp set-up and front styling continue to divide opinion, it appears rather well-proportioned and conservatively styled when viewed from other angles. The Kia Seltos wears a more flamboyant suit, with a plethora of cuts, chrome touches and characterful shapes, all of which are neatly executed.
Grand Vitara vs Creta vs Seltos: interiors
If you've been inside the new Brezza, the Grand Vitara will seem familiar, as it shares several bits with its smaller sibling. Maruti has nicely dressed the Vitara's cabin with soft touch bits and leatherette upholstery, with tasteful copper coloured elements and a redesigned centre console, adding some much needed differentiation. Flooding its cabin with light is its unique panoramic sunroof. Why unique? Because both its panes slide backwards, thus opening up a larger area than rivals.
Soft touch bits and copper highlights distinguish it from Brezza's interiors; nicest Maruti cabin yet.
Drivers will enjoy a good view of the road with its high-set seating. Its seats, however, aren't the comfiest, due to firm cushioning; and some might also find thigh support a bit lacking in the front. Step into its rear and while knee, legroom and width are par for the course, its darker cabin robs away the sense of space. Headroom for tall rear passengers is tight, due to its sloping roofline and panoramic sunroof, and the large central hump eats into foot room for the middle passenger.
Commendably, Maruti hasn't skimped on safety, and all five passengers get individual, adjustable head restraints as well as three-point seat belts. With its Lithium-ion battery located in the boot, space there is just 255 litres, 100 litres less than the mild-hybrid version. That's smaller than some premium hatchbacks in absolute capacity, and it can only accommodate a large suitcase and a soft duffle bag, with some room below the boot floor to tuck smaller items.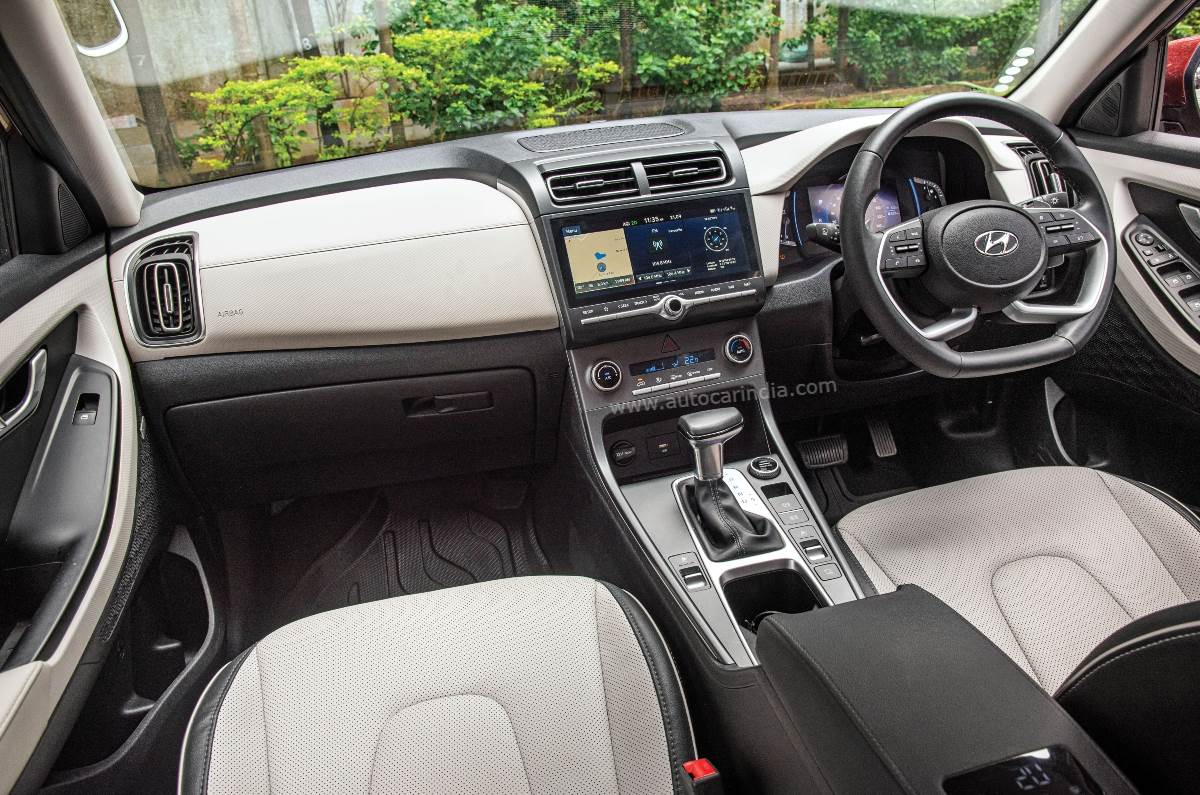 Bright colours and large glass area add to the sense of space in the Creta.
Coming to the Creta, clever use of bright colours and large glass area lends its cabin a roomier and airier ambience. Interior fit-finish and quality of materials is a notch better than the Maruti, and in this comparison, its seats, both at the front and rear are more comfortable; they're broad with nice and soft cushioning, and they also offer ample support. What also wins the Creta points is its 433-litre boot, which is not only voluminous, but, because it is well-shaped, also gobbles up the most cargo.
Seltos gets the sportiest interiors of the three, and build quality, fit and finish are also the nicest.
What immediately impresses in the Kia is its richly appointed cabin, with high-quality materials and top-notch fit-finish. Kia has lent the Seltos' GT-line interiors a sportier appeal with a dark theme, however, the all-black interiors and a small sunroof rob its cabin the sense of space, particularly at the rear. Compared to the Creta, its seats are a touch firmer, and aren't as supportive either. All three cars get reclining rear seats, but the Seltos' reclines in three steps, whereas the other two offer just two steps. And while the Kia's boot boasts of the same 433 litre capacity as the Hyundai, it isn't as deep.
Grand Vitara vs Creta vs Seltos: features
All three cars are quite evenly matched in terms of safety equipment, with six airbags, all-wheel disc brakes, ESP, hill-start assist and tyre pressure monitor; the Vitara goes a step forward, offering three-point seat belts and individual, adjustable head restraints for all five passengers.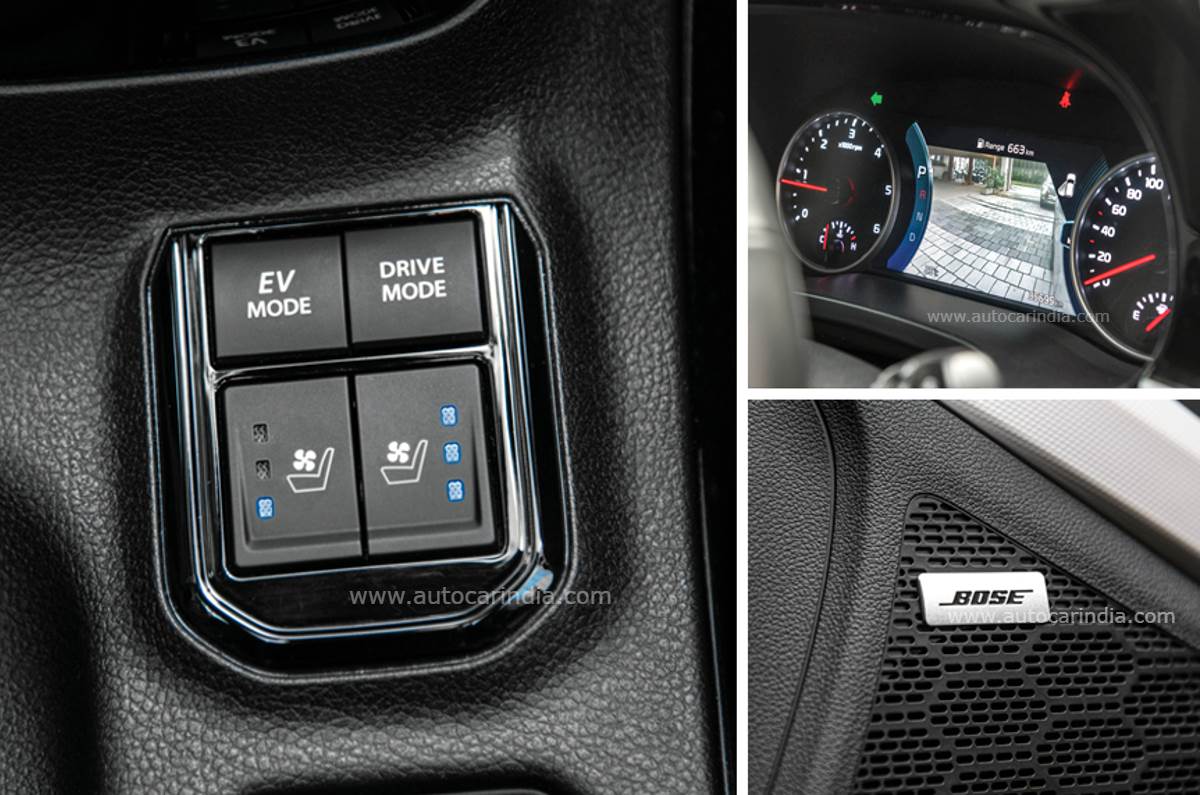 Full EV mode manually selectable in Grand Vitara; Lane watch camera in Kia helps minimise blind spots; Creta's Bose sound system, also shared with Seltos, sounds really good.
They offer similar comfort and convenience features, too, like auto LED headlamps, 17-inch alloys, leatherette upholstery, front seat ventilation, auto climate control, cruise control, wireless charging and a reclining rear backseat. The Vitara and Creta get digital instrument clusters and panoramic sunroof, while the Seltos and Creta get electric driver's seat adjustment, a 10.25-inch touchscreen with Bose speakers and paddle shifters. Both, Kia and Maruti offer a head-up display and 360-degree camera, but only the Seltos gets a blind view monitor. The Vitara is the only one which boasts of wireless Android Auto and Apple CarPlay. Curiously, Hyundai and Kia get wireless smartphone integration in their lower variants, which feature an 8.0-inch touchscreen, but their top-variants only get a wired set-up.
Equipment
Grand Vitara Hybrid Alpha+
Creta 1.5P IVT SX(O)
Seltos 1.5D AT GTX+
Auto headlamps
LED
LED
LED
Alloys
17-inch
17-inch
17-inch
LED tail lamps
Available
Available
Available
Sunroof
Available (Panoramic)
Available (Panoramic)
Available
Ventilated front seats
Available
Available
Available
Digital instrument cluster
Available
Available
Available
Touchscreen
9.0-inch
10.25-inch
10.25-inch
Apple CarPlay/Android Auto
Available (Wireless)
Available
Available
Drive modes
Available
Available
Available
Electric driver's seat
NA
Available
Available
Reclining rear seat
2-step
2-step
3-step
360-degree camera
Available
NA
Available
All-wheel disc brakes
Available
Available
Available
Airbags
6
6
6
Grand Vitara vs Creta vs Seltos: is hybrid the new diesel?
Hybrids are incredibly fuel efficient, even more than diesels in most cases, and owners will benefit from low fuel costs per kilometre. However, like diesels, hybrids are pricier than petrols, to begin with, so you'll need to drive greater distances to recover the initial premium, but from thereon, your savings will be proportional to the kilometres you cover.
Like diesels, hybrids are pricier than petrols, and only make financial sense if you drive a lot.
So, whether hybrids make financial sense over a petrol or diesel purely depends on how much you drive. If you don't plan to clock more than 50,000km during your ownership period, a petrol will be the more sensible and relatively affordable choice. But if you drive a lot, a hybrid or a diesel would be better. Over a petrol-auto Creta, as far as the initial price premium goes, you'll break-even driving 66,284km – if you opt for the Vitara hybrid – and 58,363km if you opt for a diesel-auto Kia Seltos, which is a negligible difference for heavy mile munchers, thus building the hybrid's case.
Plus, apart from being staggeringly fuel efficient, hybrids are smoother and more refined than diesels. And being relatively less polluting, it gives owners a satisfying feeling of doing their bit for the environment. So, to answer the question, is hybrid the new diesel? Yes, with efficiency better than a diesel and refinement close to a petrol, we certainly think so.
Price and Verdict
Maruti Suzuki Grand Vitara
Hyundai Creta
Kia Seltos
Variant
Hybrid Alpha+
SX (O) 1.5P IVT
GTX+ 1.5D AT
Price
Rs 19.49 lakh (ex-showroom, Delhi)
Rs 17.07 lakh (ex-showroom, Delhi)
Rs 18.35 lakh (ex-showroom, Delhi)
For
Incredibly efficient; drives with confidence
Smooth and refined; space and comfort
Well appointed interiors; diesel's performance and efficiency
Against
Expensive; small boot
Not very fuel efficient; not engaging to drive
Limited boot space; diesel gets clattery when revved hard
Also see:
Maruti Suzuki Grand Vitara vs Hyundai Creta vs Kia Seltos comparison video

2020 Hyundai Creta vs Kia Seltos comparison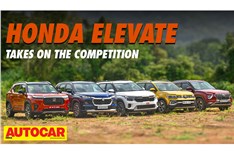 Elevate vs Seltos vs Creta vs Grand Vitara vs Taigun: Mid...
17761 Views|1 month ago
Autocar Awards 2023 video: Maruti Grand Vitara, Bajaj Pul...
9961 Views|9 months ago