Punch has carved a dominant position for itself in the micro SUV segment, but does the Exter have enough to challenge it?
Having carved a niche within the sub-4-metre compact SUV segment, the Tata Punch has made quite an impression on the sales charts. With its SUV-esque styling and clever packaging, it has become Tata Motors' second-bestselling car (after the Nexon).
Hyundai now wants in on the action too and has launched the Exter to grab a share of the Punch's pie. With six airbags as standard, ESP (optional) from the base variant, and stuffed with modern niceties, the Exter is well-armed to take on the Tata, and customers have already taken notice. The car hit a milestone of 50,000 bookings within a month of its launch, but it has also persuaded Tata to introduce more equipment in the Punch (like a sunroof), to defend its position. We pit the AMT variants of these two sub-compact SUVs to find out which one deserves your money.
Hyundai Exter vs Tata Punch: performance
Right off the bat, the Exter's 1.2-litre, four-cylinder petrol engine impresses with its smoothness and refinement. Due to its linear power delivery and freer-revving nature, it delivers effortless performance. And complementing it is a smooth-shifting 5-speed automated manual transmission. What's unique is that unlike conventional AMTs, Hyundai has deployed electrical actuators to perform gear shift duties rather than hydraulic actuators, and as a result, shifts are relatively seamless. Although slow, they flow smoothly into each other.
If you want performance, it is the Exter that packs in a Punch.
This gearbox is also nicely reactive to inputs, and it also doesn't hesitate to hold high revs helping you extract the best out of this petrol engine. Those who enjoy driving will particularly appreciate the presence of paddle-shifters, for greater control over the transmission and a higher degree of engagement. Appreciably, even in manual mode, if you forget to upshift or downshift, the AMT will do it for you.
Being a three-cylinder unit, Tata's 1.2-litre has a rougher idle and emits some vibrations into the cabin. Sure, these smoothen on the move, but there is no getting away from the gravely engine note and its louder thrum at higher revs. On the plus side, the Punch's engine makes more power, and also feels more responsive and stronger lower down the rev range. Bring the 5-speed AMT into the equation, and things are vastly different. The transmission is tuned for efficiency, so upshifts are early, and downshifts are conservative too. Even the pause between gearshifts is more pronounced. Thus, overall performance is lacklustre resulting in unimpressive acceleration times.
Punch AMT's brake locking differential can help in sticky situations.
In our instrumented acceleration tests, the Exter AMT sprints from 0-100kph in 15.59 seconds, nearly 4.5 seconds quicker than the Punch AMT. Even the Hyundai's rolling acceleration times from 20-80kph and 40-100kph are around 2 and 3.5 seconds quicker, respectively.
In our previous reports, we've had only praises for the way Tata tuned the Punch's suspension, which not only exudes an underlying toughness, but gets the balance between ride and handling spot on. Seen back to back, the Punch's stiffer suspension shines, the Tata feels relatively more planted and sure-footed at speeds, and its handling feels sharper too. Expectedly though, a trade-off to its excellent high-speed manners is that at city speeds, ride quality is firm and it feels a bit jittery over bad roads.
With good ground clerance, both cars easily handle a light trail.
On the other hand, the Exter's softly setup suspension is tuned for comfort, so it swallows road shocks and absorbs bumps very nicely. And while it feels comfier in the city, on the highway, the Exter pitches and bobs more. Another point of difference between them is their brake pedal feel – while stopping performance is similar, the Exter's feel more natural, whereas the Tata's are a bit too sharp and take some getting used to.
Hyundai Exter vs Tata Punch: exterior design
Measuring 3.8m in length, these cars are shorter than most sub-4m compact SUVs, hence they're categorised as sub-compact SUVs. What's interesting is that they are quite similar in every dimension, and their wheelbase is also within millimetres of each other, as is their ground clearance, with the Exter's being 185mm and the Punch's being 187mm.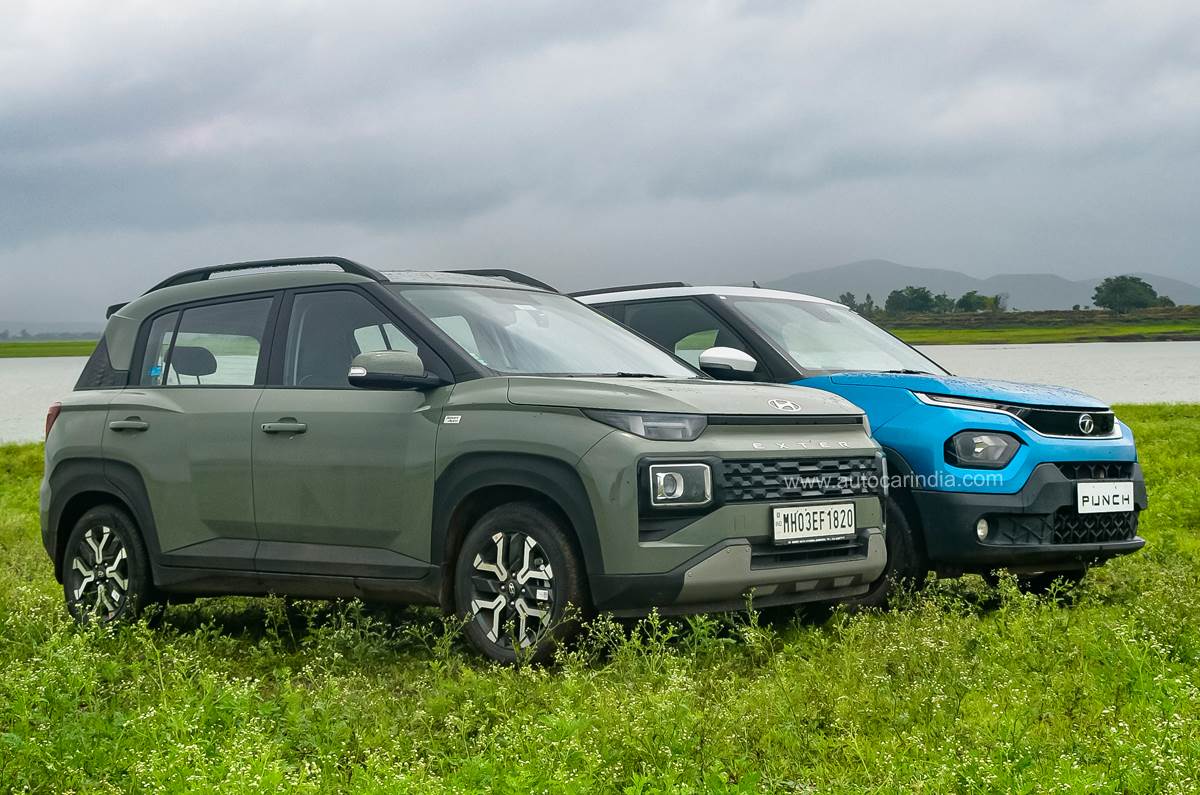 Dimensionally, they are smaller than the regular crop of sub-4m SUVs.
The Exter is based on the Grand i10 Nios, but there's nothing that visually links ties to its hatchback counterpart, on the outside at least. Hyundai has done well to give it the much-needed 'SUV' flair; so its bonnet has been flattened, its stance has been elevated and it also sports chunky body cladding and roof rails. And wearing a snazzy design language with unique elements such as H-patterned DRLs, multi-dimensional panels (on the front grille, C-pillar and boot) and exaggerated haunches, the Exter has a lot going for it.
The Punch isn't based on a previous car and is underpinned by the ALFA platform. The car is a well-proportioned, handsome one that strikes some resemblance to the Harrier when viewed head-on. In addition, its larger 16-inch alloys and relatively cleaner bodywork add to its appeal.
Both Exter and Punch get their own distinctive 'SUV' styling elements.
Another talking point is the Punch's good performance in Global NCAP tests in 2021, where it secured 5 stars for crash safety. While the Exter hasn't been crash tested, Hyundai claims to have strengthened the structure over the Nios, which was awarded 2 stars by Global NCAP in 2020. Hyundai is confident now that its stronger structure and safety features like six airbags and ESP will equate to a respectable crash safety score.
Hyundai Exter vs Tata Punch: interior, seating
In contrast to its snazzy exteriors, the Exter's cabin is familiar to the Grand i10 and is monotone in shade. Thus, it feels a bit drab. Hyundai has cleverly positioned the seats low to liberate a feeling of space inside, and its sunroof plays a huge role to brighten up this space. But the talking point is undoubtedly the quality of bits and fit-finish on the inside, and that sets a benchmark in this segment; even the knobs, buttons and stalks operate with great finesse.
Sets a segment benchmark for quality and fit-finish, but all-black colour looks a bit dull.
Ergonomics are friendlier than the Tata's and while its front seats are comfortable, those with larger frames might find them a bit lacking in terms of bolstering and support. Like the front, even its rear seat is lower-set, so this is a car that you sit inside, and not walk into, like the Punch (more on that later). Space at the rear is ample for two adults, and the backrest is nicely angled. Rear AC vents add to passenger comfort, but a rear armrest is missing.
Exter's angled seat is very comfy; misses rear armrest.
The Punch's doors open 90 degrees and its seats are higher-set than the Exter's, which eases ingress-egress. What also makes a positive impression is the cabin's vibrancy and airiness thanks to the white fascia on the layered dashboard, as well as a splash of body colour around its air vents. You're sat in a more 'SUV' position with the bonnet in your field of vision, and even its front seats are broader and more accommodating than the Hyundai's.
Layered dash with splashes of colour looks vibrant and feels welcoming.
In its latest iteration, Tata has also introduced Land Rover-like armrests for the front seats, to enhance seat comfort. At the back, you are seated in a very chair-like position, with the backrest that's relatively more upright. While space is comparable with the Hyundai, the Tata gets a centre armrest, although it lacks rear AC vents. While on paper, the Tata's boot is much smaller than the Exter's, and even though it isn't as deep, usable luggage space is quite comparable.
Chair-like, high seat is easier to get in and out.

Hyundai Exter vs Tata Punch: features
Both the Exter and Punch boast of features like a sunroof, automatic climate control, reverse camera, cruise control and Android Auto/Apple CarPlay, among the notable ones. The Punch gets larger 16-inch wheels (versus the Exter's 15-inch), great-sounding Harman speakers, auto headlamps, rain-sensing wipers and a clever Traction Pro feature (brake locking differential) to pull you out of some sticky situations.
Clockwise from left: larger touchscreen on Exter is slicker to use; Screen on Punch is smaller, but sound quality is better; Paddles are quick to respond and fun to use on Exter; New front armrests on Punch add to seat comfort.
On the other hand, the Exter gets six airbags across the range, ESP as well as modern niceties like a larger and slicker 8-inch touchscreen (versus Punch's 7-inch), dash camera, digital instrument cluster, wireless charging and rear air-con vents.
Equipment checklist
Hyundai Exter SX(O) DT
Tata Punch Creative Flagship (DT)
Projector headlamps
Yes
No
Alloys
15-inch
16-inch
Touchscreen
8-inch
7-inch
Android Auto/Apple CarPlay
Yes
Yes
Wireless Charging
Yes
No
Sunroof
Yes
Yes
Dash Camera
Yes
No
Rear AC vents
Yes
No
Auto headlamps/wipers
No
Yes
ESP
Yes
No
Airbags
6
2
Price
Rs 10.10 lakh
Rs 10.10 lakh
Hyundai Exter vs Tata Punch: verdict
The Tata Punch has its strengths: it looks smart, drives confidently, and, on account of its elevated seating, it is the better choice for the elderly.
However, in every other way, the Hyundai Exter is better than the Tata. Its engine is more refined, performance is stronger, gearbox is smoother, and space and practicality are marginally better. And, typical to a Hyundai, it is well-equipped and packs in many modern niceties that the Punch misses. With so much going for the Hyundai Exter, it wins this comparison quite convincingly.