Does the new Verna have what it takes to dethrone the formidable Honda City and rule the segment?
The Honda City and Hyundai Verna are the oldest, longest running nameplates in the midsize sedan segment, and incidentally, they are also the bestselling midsize sedans. Now in 2023, their rivalry gets fiercer as they battle for a larger slice of the sales pie in their new avatars. Honda has freshened the City's outlook with a minor makeover and some new features, although it continues with a 1.5 petrol engine with a manual or automatic transmission, and a 1.5 hybrid powertrain.
Hyundai has introduced an all-new generation of the Verna, so expectedly, it is larger, better equipped and more modern than the car it replaces; and it is offered with a 1.5 petrol or a powerful 1.5 turbo-petrol engine, with manual and automatic transmissions. We pit the petrol-automatic iteration of the Verna against its oldest rival, the Honda City, to find out whether it has what it takes to dethrone the latter and rule the segment.
Hyundai Verna vs Honda City: exterior
Like it or loathe it, the Verna's radical styling is eye-catching, with its bold, 'in-your-face' LED lights at the front and rear. A sloping roofline with a fastback-like silhouette and sharp cuts on its body work certainly add a lot of character to its design. Having grown in size, it is now wider than the Honda City and has a longer wheelbase too.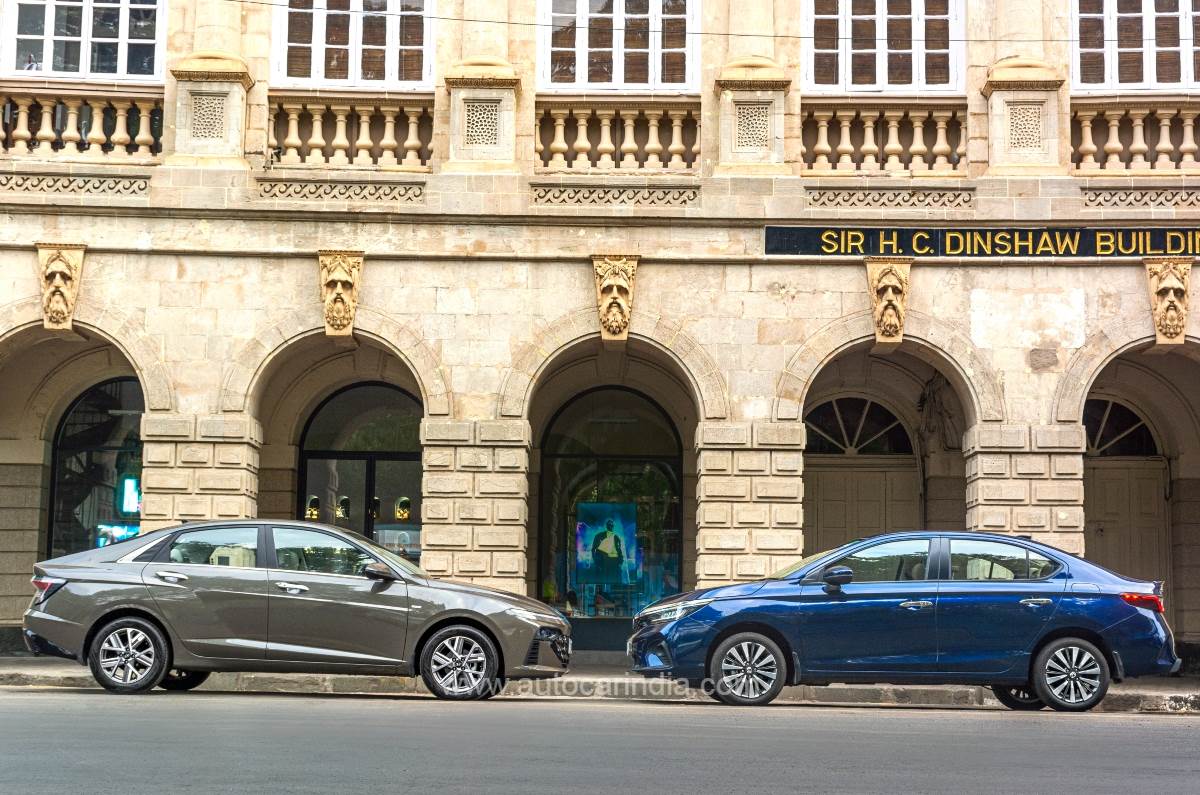 City is longer and taller, whereas the Verna is wider and has a longer wheelbase.
The Honda City is longer overall and taller than the Verna, and its elegant design is likely to have a more universal appeal. Even though styling tweaks are minor, the facelift gets aggressively sculpted bumpers and a lip spoiler, lending a sportier touch.
Hyundai Verna vs Honda City: interior and features
The Verna's interiors exude a techy vibe on account of its twin-screen set-up – one for the instrument cluster and the other for the infotainment system. The ivory coloured upholstery looks appealing and even the addition of ambient lighting as well as a nifty touch-operable climate control console – which at the touch of a button doubles-up to a shortcut menu for the infotainment system – makes the Verna feel up-to-speed with the times.
City's backseat is more spacious and comfier, and remains the one to beat.
The front seats pamper you with ventilation and heating function; and the driver's seat is part-electrically operable, making it a nice place to be in. Space at the back is huge and it even matches the City in terms of headroom and width. No longer can the Verna's rear seat experience be described 'cramped' like the earlier generations; in fact, it is far from it. The seat itself is quite supportive, and feels quite comfortable to be in. The cabin is well thought out with ample storage areas and charging provisions, and impressively, its boot is a bit larger and has a wider opening as well than the Honda.
Verna's rear seat is much more spacious than ever before, and feels bright and airy.
In comparison, the Honda's cabin design appears rather mundane, particularly due to the dated 8-inch touchscreen. Unlike the Verna, there isn't a screen for the instrument cluster, but a part-digital analogue-themed dials. This looks relatively old school, to be sure, but the execution is superb. It also gets a traditional climate control console with knobs and buttons, but these feel high quality and operate with a very satisfying 'click'.
Honda's touchscreen feels too basic and oldschool in this comparison.
The cabin's massive greenhouse area makes it feel brighter and airier, and enhances the sense of space. Then there are its seats, which are so well sculpted and cushioned that they are comfier to be in, however, seat ventilation function is sorely missed. Its rear seat remains a benchmark, and with a slightly angled floor, ample foot space for the middle passenger, and three non-adjustable (but tall) headrests, it remains the one to beat in terms of comfort. Not all is perfect though; the rear centre armrest feels flimsy, there are no USB charging ports at the rear like the Verna (instead Honda provides 12V sockets), and its boot is a bit smaller too.
Verna's techy infotainment screen is intuitive and feels great to use.
Both cars are equipped with camera-based autonomous driving assistance systems (ADAS), which add a higher degree of safety while on the road with features like emergency braking, forward collision warning, lane keeping assist/lane departure warning and blind spot monitor, to name a few. The Verna identified lane markings better for the lane assist function, while the City performed erratically. What the City also packs are adaptive cruise control and leading vehicle departure alert, which are available only with the turbo version of the Verna that gets the more expensive, radar-based ADAS.
Hyundai Verna vs Honda City: engine, gearbox
These cars are powered by 1.5-litre petrol engines mated to continuously variable transmissions (CVTs). However, the difference between the way they perform is night and day. In this contest, the Verna's engine feels quieter and more refined. It is a smooth powertrain, which rewards an easy-going driving style, however, it is quick to step out of its comfort zone when you demand more out of it. On tap responses are unhurried, and as you prod the accelerator further, the transmission begins to show its 'typical CVT' character, where the vehicle speed and engine revs don't feel in sync, making the engine sound boomy in the process. Like in the City, paddle shifters are available, which offer greater engine braking, particularly useful while going downhill. It also gets drive modes to sharpen the throttle responses as well as add weight to the steering (artificially) in Sport mode for a more spirited drive. However, going by the nature of this engine-transmission combination, it is best to dial down to Eco mode, lighten up the steering, and enjoy its laidback character.
Its ADAS detected road markings better for its lane assist function, while the Honda was a bit erratic.
With 121hp/145Nm, not only is the City more powerful, but with a kerb weight of 1,153kg it is also 55kg lighter than the Verna. This performance advantage is amplified on account of the Honda engine's more eager and responsive nature. To further sharpen acceleration, the transmission also gets a Sport mode, but even in its standard setting, performance feels strong and enjoyable, and this high-revving Honda keeps pulling harder as the engine spins faster. The engine gets quite vocal as the revs climb, and it isn't as nicely muted as the Verna.
Its 121hp petrol feels far more responsive, and performance is much stronger too.
In our tests, the City accelerates to 100kph from a standstill over 2 seconds quicker than the Verna, and the gap widens further thereon. Rolling accelerations from 20-80kph and 40-100kph also reveal similar results.
Performance
Hyundai Verna IVT
Honda City CVT
0-20kph
1.76s
1.32s
0-40kph
3.70s
3.09s
0-60kph
5.79s
4.93s
0-80kph
8.44s
7.31s
0-100kph
12.05s
10.32s
Rolling Acceleration
20-80kph
6.97s
6.16s
40-100kph
9.48s
7.86s
Braking Distance
80-0kph
24.69m
26.48m
In its latest iteration, the Hyundai Verna's dynamics have significantly improved compared to earlier generations, and driving manners are no longer a deal breaker, even for driving enthusiasts. However, the Honda City feels nicer to drive thanks to a more direct steering, and a nicer suspension calibration. Its ride quality is also far more compliant and absorbent than the Verna's, which is acceptable in isolation. The Verna, on the other hand, feels a bit stiffer and busier than the City.
Hyundai Verna vs Honda City: verdict
In its current avatar, the Hyundai Verna feels thoroughly modern and is more practical than ever before. Typical to a Hyundai, it is bundled with a laundry list of features, and even though the petrol-automatic's ex-showroom prices of Rs 14.24 lakh-16.20 lakh makes it a bit pricier than the City (Rs 13.62 lakh-15.97 lakh), the Verna gets you better bang for your buck.
The well-rounded Verna is a value-for-money sedan; whereas the Honda City is better to drive and be driven in.
The Honda City, on the other hand, feels more mundane and business-like in its approach compared to the extroverted Verna, and its equipment list isn't as expansive either. But the City petrol-automatic is the bestseller in the range for a reason. Its engine performance is livelier, suspension is comfier and seats are plusher, so Honda has got its fundamentals spot on. And even though the new Hyundai Verna, with its well-roundedness comes very close, the Honda City still remains the better car to drive and be driven in.
Technical Specifications
Hyundai Verna SX(O) IVT
Honda City ZX CVT
Price (ex-showroom Delhi)
Rs 16.19 lakh
Rs 15.97 lakh
Length
4535mm
4583mm
Width
1765mm
1748mm
Height
1475mm
1489mm
Wheelbase
2670mm
2600mm
Engine
1.5-litre NA petrol
1.5-litre NA petrol
Gearbox
CVT
CVT
Power
115hp
121hp
Torque
143.8Nm
145Nm