After weeks of quarantine, both the car and its driver were on a mission to stretch their legs.
It's been a few months of little to no driving for me, and that's not just because of the lockdown imposed in the state of Maharashtra, where I live. As the second wave of COVID-19 descended on the country with a newfound fury, it managed to find me too, and though I thankfully got off relatively easy, I was quarantined at home, as per protocol, for quite some time.
BLARE SWITCH PROJECT: Locking and unlocking the car honks the loud horn.
Restlessness is a common side effect of quarantine, but for someone who otherwise spends so much of his time on the road, there was an added layer on top – a twitchy right foot. I could just about see where the Aura sat parked from a window in my apartment, and I'd catch myself 'checking on it' for no apparent reason, ever so often. I'd even lock and unlock it via the key fob, resulting in a loud 'parp' from the horn. My neighbours probably didn't like it, but it gave me a strange sense of reassurance.
GRAND TRUNK EXPRESS: Big boot for a small car; can pack in way more than you think.
As you might imagine, the moment I was cleared to leave home, I took the keys and bolted. We were in a lockdown, so all I could really do was go shopping for essentials... to the furthest permissible grocery store. As if it were the last grocery store on Earth and I was in a race against time. The trip computer's 13.1kpl readout I'd carefully worked my way up to started rolling back before my eyes like a countdown timer. The thin, 175-section tyres squealed after every gearshift and around every corner, as 172Nm of turbo torque overwhelmed their tiny contact patches. I even checked to make sure the handbrake was working properly (around a few right-angle turns).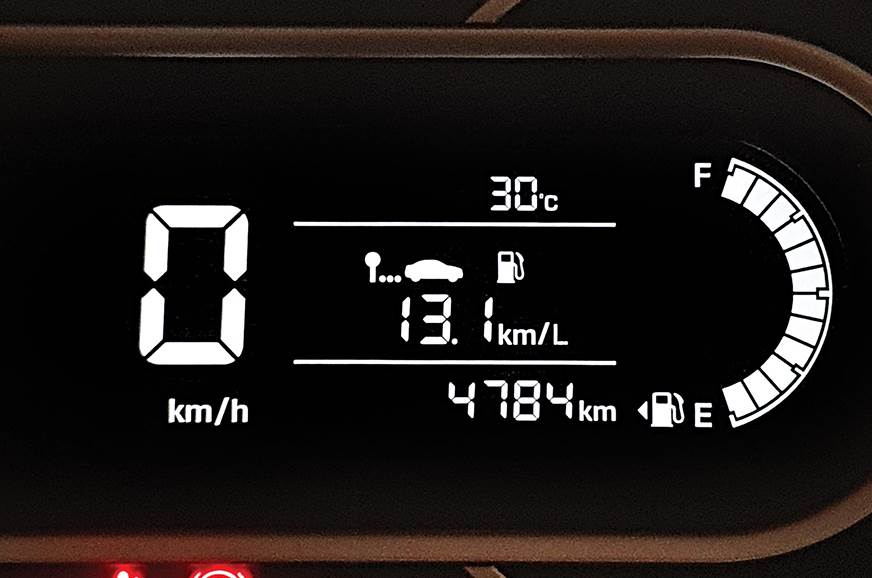 FUEL PROOF: Capable of superb city fuel economy. If you tread lightly.
But like someone who, after three weeks of sitting at home, immediately decides to go for a 10km run, metaphorically speaking, some lessons were quickly learnt. Like reacquainting myself with the bite of the brakes – it comes in a little late, and doesn't feel strong enough for the power, or reminding myself that with great power comes great responsibility – for the chassis and steering, which don't quite match up. On the other hand, the satisfying click with which each gear slots in makes rowing through the 5-speed manual an absolute joy.
WAY TOO EASY: Loose, disconnected steering in an otherwise fun-to-drive car
Much pent-up energy was released on this and the next few drives in the Aura Turbo, and then, though driving still hasn't returned to being an everyday practice, the little Hyundai has been pressed into some rather important duty. It shuffled my dog up and down to the vet for surgery (he really likes sprawling across the long rear seat squab), and it took my parents to get both vaccine shots.
Our dog, who is quite large, was comfortable stretching out on the long rear seat squab.
On a side note, I recently spent two days with Nikhil's long-term Hyundai i20, which uses the same 1.0 turbo engine (with 10hp more) and is also very red. It's a brilliant car and in many ways feels like a significant step up from the Aura. But three things irked me – the dreary black cabin, the lack of physical controls for the infotainment, and most of all, the iMT gearbox, whose shortcomings I'm still trying to reconcile with. Oh well, nothing like another blast out in the manual-gearbox Aura for a bit of reaffirmation.
Also see:
Hyundai Aura long term review, third report
Hyundai Aura long term review, second report
Hyundai Aura long term review, first report