The new Brezza enters our long-term fleet and is immediately put to work in the city.
New to our fleet this month is the Maruti Suzuki Brezza in its manual form. Having reviewed the SUV at launch, I was pretty sure about what to expect from it as my daily driver – light controls, spacious interior, fuel-efficient engine, but with a weak mid and top end. So, on the days that I did take it to the office, it would do just fine.
Most of my drive – Dahisar to Byculla – is done amidst crazy amounts of traffic, and so the light controls would certainly help, as would the efficient engine, while the weak mid and top end performance wouldn't be too much of an issue – most of this held true. The steering and clutch are light and the gearshifts are smooth and easy, so even though I was working the controls a lot, it wasn't as stressful. That's a big saviour if you own or want a manual car and have traffic to contend with.
Brake energy recuperation hinders coasting, limiting fuel efficiency potential.
The weak mid-range did prove to be an issue though. Driving during non-peak hours on Mumbai's north-south Western Express Highway, you can cruise at around 60kph and it's here, when you need to overtake a slower car, that you have to downshift to fourth. Of course, even when you do downshift, it's not a rocket, but it lets you go quicker.
The other unexpected bit was fuel efficiency. Normally, I can eke out impressive figures, but with the Brezza, I don't think it will be that high, at least not to the expectations and standards of a Maruti. The issue is that, during overtaking – where you downshift and push the throttle more than you typically do – it ends up using more fuel. More importantly, my biggest fuel saving technique – lift and coast – is just not as effective here.
Shows how much fuel auto stopstart has saved, and the time you've wasted in traffic.
With the mild-hybrid charging the battery during coasting, you end up with more engine braking and less coasting. Thus, most often, the efficiency gain from the battery assist is not comparable to what you would have gained while coasting without the mild-hybrid set-up.
On the few trips that I did check the trip computer, it showed nothing more than 12kpl. In similar conditions, I have eked out more from larger engines and heavier cars. I haven't depleted enough fuel as yet for a tank-full measure, but we'll know soon. Plus, we will also have it tested under our rigorous and instrumented city and highway cycles.
Toggles are large, easy to use, and flip up and down with a nice feel to them.
What I appreciated inside were the new dashboard and controls. It looks nice and functional too, with the Brezza now getting a larger 9.0-inch touchscreen. And thankfully, the company has bucked the trend and kept physical controls for the HVAC unit. They are pretty neat ones as well, with large toggle switches that make adjusting the temperature quite easy, as you don't have to look down for long like on touchscreen-based controls. In fact, I noticed that I would use the controls irrespective of the road conditions, as opposed to waiting for a smooth patch to do so.
Onboard voice assistant switches on even without saying "Suzuki".
The new touchscreen has also brought along the 'Hi Suzuki' onboard voice assistant, which, given that I rely completely on Android Auto, I did not use at all, other than to say "exit" every time it switched on to ask me if I needed help. It didn't happen often – perhaps half a dozen times – but it's pretty odd as it comes on even when nothing remotely "Suzuki" sounding is said. This should be fixable via a software update I'm sure. What will also require a fix is the audio mic, which goes on and off quite often when using the hands-free system.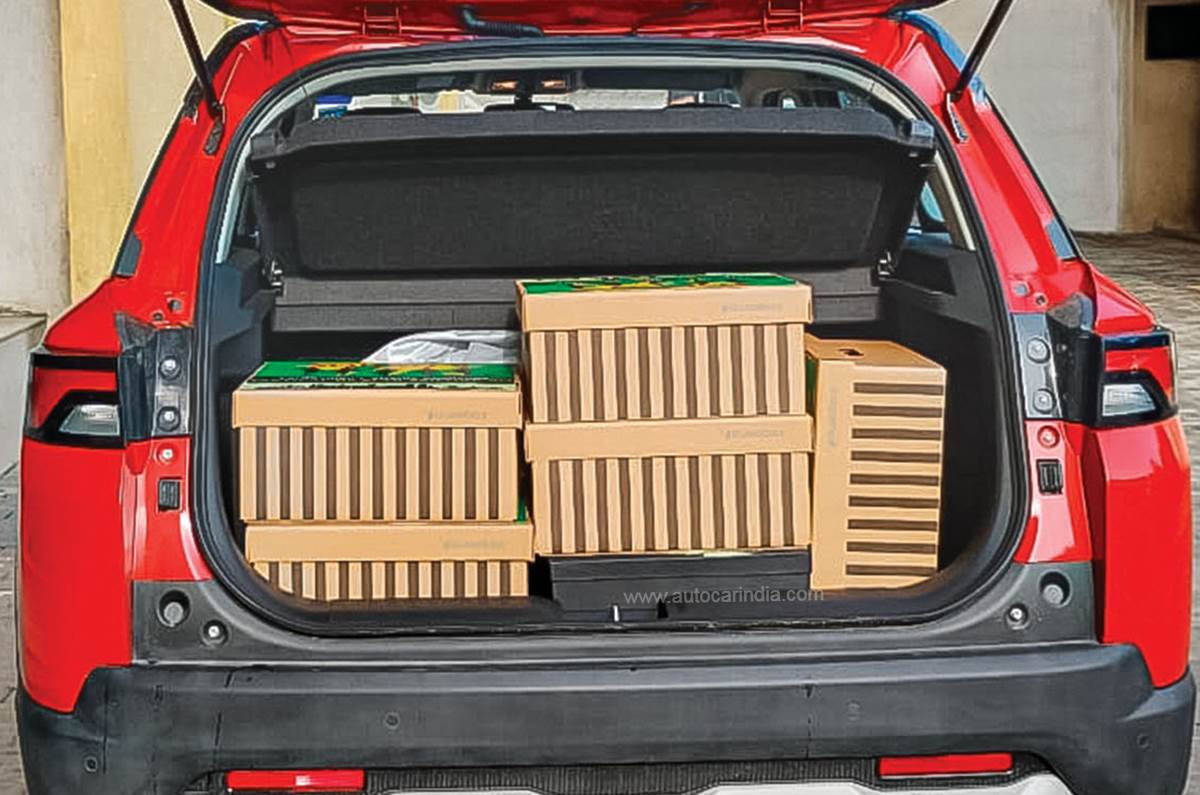 Tall boot makes it easy to stacks large boxes.
As I knew from before, space is excellent, and that came in handy during a run to Ikea, as well as when delivering some party supplies for my wife's business. The boot, at 328 litres, is dimensionally smaller than a few of its rivals, but it's nicely shaped and tall, thus enabling me to keep a lampshade box upright with the parcel tray in place. Passenger space is also good and there's plenty of rear seat room, enough for my now taller-than-me son. I have a trip to Goa coming up and the Brezza would make for a good long-distance car, but the softly sprung suspension makes it roll through high-speed corners and in the ghats, which makes my daughter queasy. So, I'm going to use it in the city only, where the suspension nicely soaks up the bumps and potholes.
Also see:
2022 Maruti Suzuki Brezza review: Topped up with new tech