Maruti Suzuki's Creta rival bowls us over with its strong-hybrid tech.
To go or not to go, that's the question. Thing is, the quarry is seriously tantalising. No less than Porsche's Cayman GT4 RS, the best-driving Cayman yet. And what makes it even better is that I have to drive out and take some pictures of the Grand Vitara anyway. Time for some quick mental maths. It will take approximately 45 minutes to drive out to the shoot location, and around the same on the way back. Tag on another 20 minutes and I will be with the Porsche, on what is the perfect road. And a longer drive in the Grand Vitara will also give me more wheel time. Done deal.
Tap the throttle and acceleration is near instant; overtaking is easy.
It's just after lunch when I leave the office. Our new long-termer has already impressed me with the strong-hybrid tech, silent running in EV mode, and its elevated levels of efficiency. But, as I set off on the freeway that leads out from Mumbai's docklands, I'm even more impressed. Yes, the e-boost delivered in city traffic via the electric motor and engine is sharp and near-instant, and that makes this a great city car. But what I discover, and very quickly, is that scything past traffic even at higher speeds is also done with plenty of resolve. It clearly isn't as quick as an SUV with 150hp, but what sharp, instant responses. No delay shifting down to a lower gear, no waiting for the engine to re-engage, no lag waiting for the engine to respond; just 80hp or 141Nm of instant e-motor response.
Toyota's strong hybrid tech blends the best of petrol and electric in one package.
The surprising pace and the fact that traffic is thin at this time of the afternoon helps me make good time on the roads out of Mumbai. And as long as I don't need maximum acceleration, where the GV feels strained and thrummy, it motors along very effortlessly.
Once past Vashi, I hook right onto an even faster section, the new JNPT port road. Stepping up the pace here quickly puts the spotlight on another area, stability at speed. Yes, this is one of Suzuki's legacy platforms, but it just tracks straight, and this makes driving on the highway such a pleasure. Wish the brake pedal feel and servo assist were better though. While the brakes transition reasonably well between regen via the e-motor/generator and the discs, you do need to step up the pedal effort when you need to stop quickly. And this, at times, is a bit disconcerting.
Brake pedal needs more bite, especially when you need to stop in a hurry.
While I've made good time, the last bit of the journey is likely to be the slowest. This is partly because the roads that lead to the shoot location are in terrible shape. You regularly come across broken sections, and even the good bits in between are often littered with patchwork and potholes. The Grand Vitara, however, takes so well to the 'gravel stage', I soon find myself going quicker and quicker, the GV swallowing even the really bad sections with a nonchalance that makes me smile. Yes, there is a hint of stiffness, but the set-up isn't brittle, lumpy or uncomfortably stiff over bad roads.
Seats offer plenty of shoulder support, are cooled and are great on long drives.
Needless to say, I'm early for my 'speed date'; time to look around the cabin. I like how robust everything feels, and that's especially true of the centre console. I like the design of the dash and I think the design of the centre console works well. Still, can't help feeling that the cabin isn't as well put together as rivals. There are plastic bits lower down in the cabin and buttons and switches that clearly seem carried over from more affordable cars. And that's especially true when you compare it with other SUVs in the class – those from Skoda or Volkswagen – which, despite being stepped down in quality for India, are still a cut above. Other niggles include still unresolved bugs in the infotainment system, audio quality on the car phone is poor at times, the reversing camera isn't clear in low or high contrast light and the gear selector lever at times needs you to use a bit of muscle.
However, you quickly forget all these when you visit the pump. A quick back-of-the-envelope calculation tells me the car has given me upwards of 18kpl, and that's just nuts. I haven't been going easy on the right pedal. At all.
Also See:
Skoda Kushaq Monte Carlo 1.5 TSI long term review, 3700km report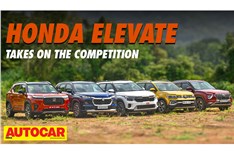 Elevate vs Seltos vs Creta vs Grand Vitara vs Taigun: Mid...
17756 Views|1 month ago
Autocar Awards 2023 video: Maruti Grand Vitara, Bajaj Pul...
9961 Views|9 months ago