Second report: Our car of the year proves it is a great all-rounder.
Early morning start to catch an early morning flight. I leave a bit early, expecting a nice relaxed morning drive, but up ahead is a jam. Yeah, at 4:30 am! It's due to a nakabandi and it seems to take forever. Ten minutes later, I'm through; but I'm also 10 minutes behind on a 20-minute drive. No more trying to keep the fuel economy number on the dash above 19kpl; time for some flat-out acceleration.
Remove the parcel tray and you can fit quite a bit.
The Grand Vitara with the strong hybrid engine, as ever, responds well. Acceleration is delivered the instant I put my foot down and the strong push from the electric motor initially feels great. However, once out on open roads, that initial burst of acceleration doesn't last. The rate of acceleration flattens, I have to wait for the power to come in and since there's no traditional gearbox, I can't even go down a gear. Still, once up to speed, we make good time, and what's nice is that my press-on driving style doesn't seem to have made too large a dent in my fuel economy numbers.
The centre button on the steering wheel is raised; can be used without looking down.
On the way into the tight parking lot, I'm really happy this car has a 360-degree camera. It isn't the sharpest or the best in low light, but it does help me park with more confidence and speed and delivers plenty of peace of mind.
The other feature I've only recently started using, as summer is well and truly here, is the cooled seats. They are especially effective after the black seats have been soaking up the sun and offer plenty of respite. And you don't need them once the cabin has cooled.
Blowers on the cooled seats work well; drop the temperature of the seats quickly
What's also causing quite a bit of summer distress is the fact that the sunroof's shroud or sunshade, which insulates the cabin from the hot glass, is too thin and allows too much light in. More in line with the ones used in Europe, where it doesn't get quite as hot, big sunroofs are new for Maruti and from what we hear, the company is correcting this. Another niggle on this car is something quite unexpected. The doors don't close easily; they often bounce open when you shut them, halfway between fully closed and the 'stop' that keeps them slightly ajar. So you have to open the door, and close it again with more force.
Light doors don't close easily, you need to push harder for them to close fully.
Of late, I've also been really exploiting the quick responses of the Grand Vitara in Sport. It really is quick to respond in traffic and the rapid change in pace means you are past your 'quarry' before you expect. Fuel economy, however, hasn't dipped below 16.9kpl despite this. A 1.5 turbo-petrol driven in this manner would struggle to get into double digits. Have to love the strong-hybrid tech, especially the fact that you can use more performance without a corresponding dip in the economy.
Also see:
Maruti Suzuki Grand Vitara long term review, 6,500km report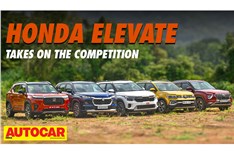 Elevate vs Seltos vs Creta vs Grand Vitara vs Taigun: Mid...
17767 Views|1 month ago
Autocar Awards 2023 video: Maruti Grand Vitara, Bajaj Pul...
9962 Views|9 months ago