Third report: Will broken roads and heavy rains convert one of the biggest sedan lovers over to SUVs?
Here in Mumbai, we've just been through one of the worst monsoons in recent memory, and while that's put a huge dampener on most aspects of our lives, it also presents a unique opportunity for us car reviewers. Any extreme weather is a pressure test for a car, and given how badly gouged-out the roads get each year, my unabashed preference for sedans over SUVs is sure to be put to the test too.
Strong 1.5 TSI helps you power through bad weather and worse roads.
Though, when you think about it, the most sought-after feature of an SUV in these conditions – high ground clearance – has been more than replicated in the Virtus. At 179mm, it's higher than what even some crossovers offer. And that comes via a robust and very 'European' suspension setup that – while it might come across as a bit stiff – steamrolls over potholes so effortlessly, they should give it a job in the municipal corporation's roadworks department. Jokes aside, the ride quality gets better the faster you go, so you will find yourself powering through while others tiptoe across.
Tall suspension, 179mm ground clearance eats up potholes.
Speaking of powering through, the 1.5 TSI engine with its 150hp and 250Nm, not to mention an eager (at times overly so) DSG transmission, launching myself headlong into puddles and potholes has been a surprisingly regular occurrence. That, combined with the tough suspension, means the Virtus GT ploughs through confidently, emerging victorious at the other end, having cleared a path for the car behind.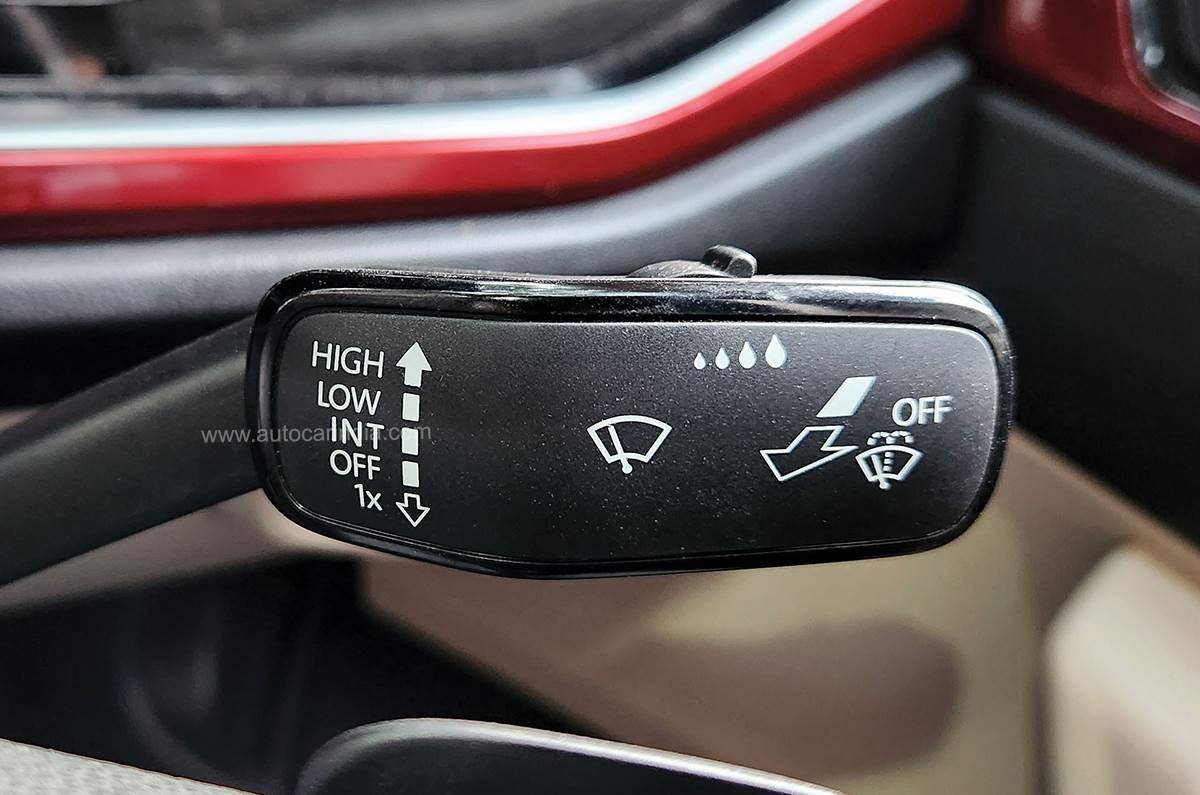 Rain-sensing auto wiper function works erratically.
My monsoon experience hasn't been entirely rosy, however, and there are a few little things that irk in an otherwise well-engineered package. Take the wipers – I love the way they will return to their resting position at the base of the windscreen, even if you turn off the ignition mid wipe; a small but premium touch. However, the preceding seasons – particularly a scorching summer – seem to have eaten away at the blades, meaning they leave streaks across the glass.
Then there's the erratic rain-sensing wiper function. At times, when it's absolutely pouring, they won't activate, and other times they'll start wiping on a sunny day; I often found it easier to just activate them manually. What's more, this 'auto' function has replaced the traditional 'intermittent' function (despite what it says on the stalk), so you can't have a slow, occasional wipe unless the car feels like it.
Water drips through into the driver's footwell in heavy rain.
Finally, and only in extremely heavy rain, some water makes it through all the layers and drips onto your toe, somewhere near the brake pedal, which is never good. While these aren't deal breakers and most could probably be patched up pretty easily, it does speak to that final degree of quality of these India 2.0 cars, which doesn't seem to be up to the lofty standard of VWs of old. What absolutely it has, however, is solid underpinnings – chassis and suspension in particular – that will endure more than a few Mumbai monsoons.
Also see:
Volkswagen Virtus 1.5 TSI GT long term review, 6,000km report
Volkswagen Virtus long term review, 4,300km report
2022 Volkswagen Virtus image gallery
36765 Views|1 year ago
2019 Volkswagen Virtus image gallery
53657 Views|4 years ago