Maruti Suzuki has added another safety feature to its popular Grand Vitara SUV. The carmaker has announced that the strong-hybrid variants of the SUV now come with an Acoustic Vehicle Alerting System (AVAS). Prices for the Grand Vitara variants equipped with this tech are up by Rs 4,000.
Grand Vitara hybrid gets AVAS pedestrian safety tech
Upgrade in line with government regulations
More hybrid and all-electric vehicles could get this feature
Maruti Grand Vitara: now with AVAS pedestrian safety alarm
Maruti says that the AVAS works by emitting a low-level alert sound that can be heard up to five feet away from the car, giving pedestrians and other nearby drivers a heads-up that a vehicle is nearby. The addition of AVAS is in line with the Automotive Industry Standard (AIS) 173, which is required for approval of Quiet Road Transport Vehicles (QRTV) with regard to their reduced audibility.
What are Quiet Road Transport Vehicles?
According to the AIS 173 draft notification, QRTVs are vehicles that have at least one electric motor, or an electric motor generator. This would include all-electric vehicles, hybrid electric vehicles like the Grand Vitara hybrid, fuel-cell vehicles, and also fuel-cell hybrid vehicles.

While the Grand Vitara hybrid is the first to get this feature, expect more vehicles to get updated with this system soon.
Maruti Grand Vitara hybrid prices up by Rs 4,000
Thanks to the addition to this safety feature, the Grand Vitara hybrid sees a price hike of Rs 4,000, and now starts from Rs 18.29 lakh and goes up to Rs 19.79 lakh (ex-showroom). The non-hybrid Grand Vitara prices remain the same.
Also See:
Maruti Fronx CNG launched at Rs 8.42 lakh
"We are extensively testing ADAS in India": Maruti Suzuki CTO
Maruti Suzuki at pole position in Rs 10 lakh-20 lakh SUV segment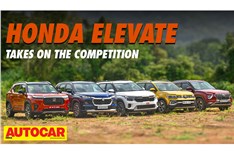 Elevate vs Seltos vs Creta vs Grand Vitara vs Taigun: Mid...
17764 Views|1 month ago
Autocar Awards 2023 video: Maruti Grand Vitara, Bajaj Pul...
9962 Views|9 months ago