MG Motor India has increased the prices for the Hector SUV, with the price hike ranging between Rs 27,000 to Rs 61,000. Additionally, MG has reintroduced the Shine trim to the Hector line-up that sits just above the base Style trim, and is available with all existing powertrain options.
This is the first price hike for the Hector range since the launch of the facelifted model in January this year.
MG Hector prices have gone up by up to Rs 61,000
Price for new Shine trim starts at Rs 16.34 lakh
MG Hector Plus prices hiked by up to Rs 71,000
MG Hector prices hiked
MG Hector price (ex-showroom)
Variant
New Price
Old Price
Difference
Style 1.5 MT
Rs 15.00 lakh
Rs 17.73 lakh
Rs 27,000
Shine 1.5 MT (New)
Rs 16.34 lakh
-
-
Shine 1.5 CVT (New)
Rs 17.54 lakh
-
-
Smart 1.5 MT
Rs 17.16 lakh
Rs 16.80 lakh
Rs 36,000
Smart 1.5 CVT
Rs 18.35 lakh
Rs 17.99 lakh
Rs 36,000
Smart Pro 1.5 MT
Rs 18.35 lakh
Rs 17.99 lakh
Rs 36,000
Sharp Pro 1.5 MT
Rs 19.81 lakh
Rs 19.45 lakh
Rs 36,000
Sharp Pro 1.5 CVT
Rs 21.14 lakh
Rs 20.78 lakh
Rs 36,000
Savvy Pro 1.5 CVT
Rs 22.09 lakh
Rs 21.73 lakh
Rs 36,000
Shine 2.0 MT (New)
Rs 18.59 lakh
-
-
Smart 2.0 MT
Rs 19.67 lakh
Rs 19.06 lakh
Rs 61,000
Smart Pro 2.0 MT
Rs 20.71 lakh
Rs 20.10 lakh
Rs 61,000
Sharp Pro 2.0 MT
Rs 22.12 lakh
Rs 21.51 lakh
Rs 61,000
As you can see in the table above, the price for the base Style 1.5-litre petrol-MT has gone up by Rs 27,000, while prices for all other petrol variants have gone up by a uniform Rs 36,000. Meanwhile, the diesel variants see a more significant price hike of Rs 61,000 each.
MG Hector Shine launched
With this update, MG has also brought back the Shine trim to the Hector line-up that was available with the pre-facelift model, but was not offered with the facelift at launch.
Bridging the gap between the Style and Smart trims, the Shine trim gets several additional features over the base model such as a reverse parking camera, an electronic parking brake (CVT only), LED headlamps and tail lamps, fog lamps, 17-inch alloy wheels, 10.4-inch touchscreen infotainment system, Apple CarPlay and Android Auto, cruise control and a single pane sunroof.
However, features such as the connected LED tail-lights, larger 18-inch wheels, voice commands, remote and connected car tech only come in from the Smart trim.
MG Hector powertrain options
There have been no mechanical updates to the Hector line-up. That means it continues with the same 1.5-litre turbo-petrol engine that is available with either a 6-speed manual or a CVT automatic gearbox. This unit produces 143hp and 250Nm of peak torque. The diesel engine also remains the same 170hp, 350Nm, 2.0-litre unit, and is offered only with a manual gearbox.
MG Hector Plus prices hiked
MG has also hiked prices of the 6- and 7-seater Hector Plus SUV. The price hike ranges between Rs 36,000-Rs 76,000, although there's no introduction of the Shine trim on the Hector Plus. There's also no change to the powertrain line-up, and it continues to be shared with the 5-seater Hector. Here's a detailed look at how the prices for the Hector Plus have gone up.
MG Hector Plus price (ex-showroom)
Variant
New Price
Old Price
Difference
Sharp Pro 1.5 MT 6-str
Rs 20.51 lakh
Rs 20.15 lakh
Rs 36,000
Sharp Pro 1.5 CVT 6-str
Rs 21.84 lakh
Rs 21.48 lakh
Rs 36,000
Savvy Pro 1.5 CVT 6-str
Rs 22.79 lakh
Rs 22.43 lakh
Rs 36,000
Smart Pro 2.0 MT 6-str
Rs 21.41 lakh
Rs 20.80 lakh
Rs 61,000
Sharp Pro 2.0 MT 6-str
Rs 22.82 lakh
Rs 22.21 lakh
Rs 61,000
Smart 1.5 MT 7-str
Rs 18.00 lakh
Rs 17.50 lakh
Rs 50,000
Sharp Pro 1.5 MT 7-str
Rs 20.66 lakh
Rs 20.15 lakh
Rs 51,000
Sharp Pro 1.5 CVT 7-str
Rs 21.99 lakh
Rs 21.48 lakh
Rs 51,000
Savvy Pro 1.5 CVT 7-str
Rs 22.94 lakh
Rs 22.43 lakh
Rs 51,000
Smart 2.0 MT 7-str
Rs 20.52 lakh
Rs 19.76 lakh
Rs 76,000
Sharp Pro 2.0 MT 7-str
Rs 22.97 lakh
Rs 22.21 lakh
Rs 76,000
Also See:
MG Comet full price list revealed
MG Comet EV India review: Box of Tricks
MG Comet EV India video review
MG Hector facelift video review
14956 Views|9 months ago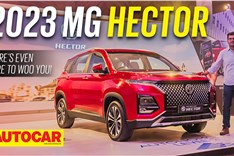 MG Hector facelift walkaound video
11398 Views|11 months ago