With accomplished smaller siblings like the Creta and Alcazar, you can bet Hyundai's new flagship SUV has upped its game.
Some of our younger readers might not remember this, but the Tucson first came to India in 2005, when the Indian car market was a whole different beast. The first-generation SUV, which also used a 2.0-litre diesel engine with AWD, was a CBU import and cost a princely Rs 14.3 lakh, ex-showroom. It was a niche product for Hyundai, but it set the groundwork for what we're driving today.
The 2022 Hyundai Tucson is assembled in India, costs Rs 34 lakh, and uses a 2.0-litre diesel engine with AWD, but it's no longer a niche product for the brand, whose status as a maker of premium vehicles has since been well cemented. In fact, with strong competition and buyers with more spending power than ever before, the time is ripe for this flagship SUV to shine. So, can it?
2022 Hyundai Tucson gets radical exterior design
It gets off to a great start just with the way it looks. Edgy designs can be polarising, and this might alienate traditional buyers with more conservative tastes, but Hyundai's new Parametric Dynamics design will surely be a hit with the increasingly younger clientele we're told are shopping in this segment.
New Tucson features possibly Hyundai India's most radical design yet.
The new Tucson brings some serious wow factor with its sharply cut bodywork that seems to draw inspiration from the likes of the Lamborghini Urus. There's even a brushed metal trim piece that curves along the top of the window line, making this seem like a coupe SUV, even though it is not. Also very apparent from the side is that this is the new long-wheelbase version, which Hyundai says was a no-brainer for the chauffeur-driven Indian market, and the smart 18-inch alloy wheels sitting under large, angular arches.
The rear has some particularly interesting details, like the rear wiper being concealed under the roof-mounted spoiler and the Hyundai logo integrated within the windscreen glass itself. The minimalist tail-lamp array is a continuous, slim band of LEDs ending in a pair of slashes on either side, but this has meant the indicators and reverse lamps have moved down to the bumper.
LED DRLs integrated in grille while headlamps positioned in front bumper.
The main attraction, however, is front and centre. The Tucson's new nose is far removed from its predecessor, and in fact, just about any Hyundai on sale in India. The sharp 'Parametric' elements in the grille are finished in dark chrome, and fan outward into an array of angular LEDs shaped like wings. These LEDs, when turned off, blend away into the grille itself, while the headlamps are located lower down, in the bumper. It can be polarising, but there's no doubt it will turn heads.
2022 Hyundai Tucson has ample interior space and comfort
The interior is a little less radical, and quite similar to the layout we first saw in the Creta. The gloss black centre console (more on this later) flows up to the top of the dash and spreads out in either direction, ending in the outer AC vents. A nice, premium touch are the slim vents on the top of the dash, which 'diffuse' the AC draft gently rather than focusing it.The steering wheel looks a lot like the Creta's too, but has better-finished control switches, and behind it sits the Alcazar's 10.25-inch digital dial screen, except that it's free-standing with no shroud, rather than sitting under a hooded binnacle – just like in the new S-Class!
Digital dials screen displays ADAS features like helpful Lane Watch camera.
Lower down in the centre console, you'll find the gear lever from the Creta (no button selector like you get overseas), seat heating/cooling switches, ample stowage space, an electronic parking brake and controls for the drive modes. The 10.25-inch touchscreen blends seamlessly into its gloss black housing, as do the AC controls below, which are all touch. The idea is for the whole centre console to look like a continuous black mirror when switched off, but in practice, it's a little fiddly to use on the go.
10.25in touchscreen and AC controls form one continuous touch panel.
It is similar in design, then, but what's taken a huge step forward is the quality. Save for the transmission tunnel, the entire dashboard is soft-touch material, as are the door cards, which are inlaid with a sophisticated fabric trim. The light grey leatherette upholstery feels rich (although it shows stains very easily), and the metallic inserts in the front seats add a premium air. Even the column stalks behind are finished in a knurled gloss black plastic; it all looks very rich.
Premium details include knurled finish on gloss black control stalks.
The powered front seats, much like the old Tucson, will feel a bit too low at their lowest setting, but thankfully offer a long range of adjustment so even shorter drivers can get comfy. And comfy they will be with generous cushioning, heating and ventilation up front.
It's in the back seat where the Tucson really excels, and the 2,755mm wheelbase (85mm longer than the previous car's) that pays dividends. Leg room is ample, letting even taller passengers stretch out, and there's a healthy gap between your head and the panoramic sunroof. This lets a lot of light into the cabin, as do the large rear windows, but as with the previous car, you're sat a little low to the floor, which robs some thigh support and doesn't give you that theatre-like view forward that you want in an SUV. Cushioning is just spot on, though, and there is a huge amount of recline for the backrest. There are rear AC vents though, but no blower or temperature control, and we would have liked to see window blinds here too; even the Alcazar has them!
Huge 540 litres boot can easily swallow four large suitcases, and more.
The long wheelbase also means the seating area doesn't compromise the boot, which at 540 litres, is seriously vast. Our crew of four was able to fit all their stroller bags and gear in comfortably, with room to spare, so airport runs should be a piece of cake in the new Tucson. Bear in mind, though, the spare wheel is a space saver.
2022 Hyundai Tucson is packed with features, including ADAS
Yes, Advanced Driver Assistance Systems (ADAS) is the talking point of the new Hyundai Tucson, and this is the first model from the brand in India to offer it. Hyundai says this is a Level 2 system and that includes adaptive cruise control, emergency auto braking, lane departure warning and assist, lane watch camera, blind spot warning, driver attention monitor, 360-degree cameras and rear cross traffic assist. Hyundai said special care was taken to calibrate the system for Indian conditions, including sensor sensitivity, delay before intervention, the degree of intervention, and the amount of driver input required.
360-degree camera display is clear and gives multiple angle options.
For once, this effort really shows, as the Tucson's ADAS feels helpful and not distracting (or worse, overly intrusive) in typical Indian road conditions. The systems don't overreact to errant road users, there's just the right amount of delay before active intervention, it can read worn out lane markings and even the auto steering correction isn't too forceful. It should be noted, though, that 'critical' safety features like auto emergency braking, if turned off, will automatically switch on again when the car is started next.
Panoramic sunroof only adds to the huge sense of space.
Even when it comes to more conventional features, the Tucson is, expectedly, packed with them. Highlights include dual-zone climate control, a panoramic sunroof, auto headlamps and wipers, powered front seats with driver-side memory, front seat heating and ventilation, wireless phone charging, on and off-road drive modes (the latter only in the AWD version), connected car tech with Alexa and Google Assistant support, and, of course, Apple CarPlay and Android Auto, albeit not wireless. There are USB ports for both rows of seats, but they are type A, not type C.
2022 Hyundai Tucson engines, gearboxes and performance
An area where not much has changed with the Tucson is its powertrains. As before, you get a 2.0-litre naturally aspirated petrol mated to a 6-speed torque-converter auto, and a 2.0-litre turbo-diesel mated to an 8-speed torque-converter auto, the latter getting the option of AWD on the top model. This time, however, there are no manual gearboxes.
Hyundai estimates about 70 percent of Tucson sales to be diesels, and with its headlining figures of 186hp and 416Nm, there's a lot to be excited about. It's not the performance that strikes you first though; it's the refinement, and whether at standstill or on the move, the engine remains well muted. The 8-speed auto is remarkably smooth, ushering you off the line without any drama or jerkiness and hustling through its ratios seamlessly. You don't get paddle shifters in the Tucson, but frankly, you don't miss them, because this gearbox is very intuitive.
It's also because, for all its power, it's not a high-strung or rev-happy powertrain, and instead, prefers to be driven in a relaxed fashion; just as well for a big family SUV. Should you want to suddenly pass three cars on a highway though, there's ample torque, and a quick downshift easily accessed with a quick tap on the accelerator. There are drive modes – Eco, Normal, Sport and Smart (adaptive) – but apart from a slight spike in revs using Sport, we didn't notice too stark a difference amongst them in either powertrain.
186hp turbo-diesel is refined and powerful, with a clever 8-speed AT.
The petrol powertrain is less convincing, and while it feels quite strong in the Alcazar, in the larger, heavier Tucson, it can feel overwhelmed at times, especially out on the highway. Its 156hp and 192Nm sound sufficient, but what this old-school naturally aspirated engine is missing is that strong mid-range slug of torque that you will find in its petrol rivals, all of which use turbochargers.
Solid high-speed stability makes the Tucson great on the highway.
Still, it manages well enough at low speeds and in city confines, but a bigger irritant here is the 6-speed auto gearbox, which isn't as quick or clever as the diesel's 8-speed unit. There are often delays before a downshift or an upshift, leaving you either with an awkward pause before getting a move on, or at higher revs even though you haven't flattened your foot. The latter situation also results in an unpleasant roar from the otherwise quiet petrol engine as it nears the upper end of the tachometer. All things considered, the Tucson's petrol powertrain does its best work when driven in an unhurried manner.
2022 Hyundai Tucson ride, handling and suspension
Ride comfort was a strength of the previous Tucson, and that continues here. Riding on big, chunky 235/60 R18 wheels and tyres, the SUV has a confident stance, and is well geared to soak up the sharp edges of potholes or craters. You should know right at the outset that the petrol Tucson is set up noticeably softer than the diesel, and, as a result, it takes on lower-speed road imperfections just that little bit better, but is also prone to more body movement and roll.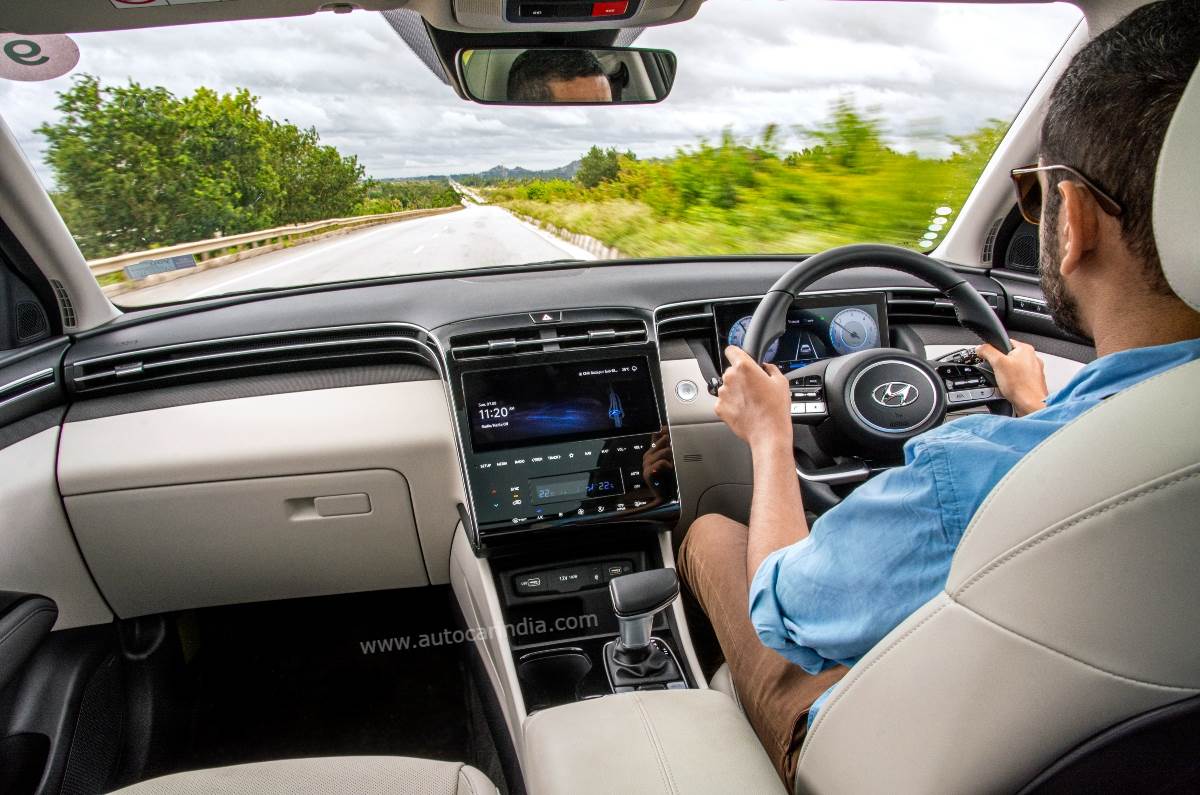 Not the most engaging SUV, but light manoeuvrable for its size.
Overall, irrespective of which version you choose, this is a largely softly set-up SUV, and that's just as well for its intended role. It's great around town, where it rides authoritatively over potholes and steep speed breakers, with little intrusion into the cabin. The suspension works silently too, with no more than a distant 'thunk' from the chunky tyres if you make contact a bit too hard. Like all Hyundais, the steering is nice and light, making for excellent urban manoeuvrability.
Out on the highway, the steering weighs up surprisingly well, allowing the Tucson to hold three-digit speeds with confidence. Out here, the suspension, particularly in the diesel, keeps things composed, which, in conjunction with the steering and the refined powertrain, makes this a great highway cruiser. As you might have guessed by now, the Tucson is not a sporty handling SUV. The steering isn't all that sharp or quick, and there's lots of body roll in the corners, so it's best not to try and push it to its absolute limit.
New Hyundai Tucson price and verdict
With all the advancements the Tucson has made, its price has advanced considerably too. The starting price of Rs 27.70 lakh (ex-showroom) is quite attractive, but you're looking at Rs 34.39 lakh for the top-spec diesel with AWD, which is more than its key rivals – the Jeep Compass, Volkswagen Tiguan and Citroen C5 Aircross – in their top-spec guises. This sort of makes sense, as the Alcazar – a very premium SUV in its own right – is knocking at the bottom end of this price range, and, because the Tucson packs in so very much.
Sharp rear design includes wiper hidden under roof spoiler.
Even beyond the clever tech like ADAS and all the other features, what you have is a fundamentally well-sorted premium executive SUV that's got its basics of space, comfort and strong powertrains just right. Will the dramatic looks work in its favour? Well, this Tucson was the bestselling Hyundai globally in 2021, so surely the designers are on to something. More importantly, will it find more popularity in India than its predecessors, allowing Hyundai to move confidently into seriously premium territory? We'll have to wait and see, but the Tucson is an SUV that ticks just about every box in its quest to be Hyundai's flagship, and that sounds like a formula for success.
Also see:
2022 Hyundai Tucson video review
2022 Hyundai Tucson image gallery
30884 Views|1 year ago
2021 Hyundai Tucson N Line image gallery
10159 Views|2 years ago
2021 Hyundai Tucson image gallery
21394 Views|3 years ago