The newest Scorpio is bigger, plusher, more advanced and packed with features.
It's fair to say the Mahindra Scorpio has earned its spot amongst the icons of Indian motoring, alongside the likes of the Maruti 800, Tata Indica, Toyota Innova and more. And that's not because it turns 20 this year, but because it has endured with great popularity throughout. Its iconic status includes the way it looks, the way it drives, its position in the market, and what it stands for in people's minds. The new Scorpio N, the SUV's third generation in two decades, is perhaps also its biggest paradigm shift, scaling up in every way, to the point that it now claims to even have its sights on the Toyota Fortuner. So is it the same icon that we know and love, or has it evolved into something altogether new?
2022 Mahindra Scorpio N exterior design and styling
Tall, ladder frame-typical shape remains but the edges have been softened.
The way it looks is perhaps most telling. It's a tall, high-riding SUV with a long bonnet and a distinct two-box shape, and that simply screams 'Scorpio'. Thereafter, though, it starts to deviate from the formula. It's altogether smoother and curvier, with details that are subtler and better integrated, rather than shouty and in your face. The headlamps are slimmer and now full-LED, the grille is more three-dimensional, the hood scoop is gone, and in the bumper, you'll find LED running lamps and fog lamps shaped like a scorpion's sting!
The chunky plastic cladding around the car has been reduced to just a black strip around the periphery, and this time the character lines are baked into the bodywork itself. Lines like the swollen wheel arches and the kink above the rear wheel (also present in the XUV700) that's a whole lot more prominent now, thanks in part to a chrome strip running above it, that curves up into another scorpion sting design feature in the rearmost window. Big roof rails are back, of course, but the kink in the roof towards the rear is heavily toned down. I really like the 18-inch chrome-lined wheels, whose design is just the right mix of sporty and rugged, and its 255/60 tyres look sufficiently chunky sitting purposefully spaced from the wheel arches above them.
New Mahindra grille and logo, LED headlamps and 'sting' DRLs in front bumper.
The rear is where the departure feels the biggest, though, looking a bit flat and devoid of character compared to before. Perhaps Mahindra feels this way too, as there's not a single photo of it in the brochure, and it barely features in any promotional material either. The latest take on the tall, 'stacked' tail-lamps seems to take none-too-subtle inspiration from Volvo's SUVs, the chrome trim in the bumper does little to liven things up, and all things considered, it looks a bit nondescript. Overall, the Scorpio N's exterior design is more mature; you could even say more premium. But as a result, some of the distinctiveness of the older Scorpios has been lost too.
It is visibly larger though, which is a good thing for an SUV and a great thing for a ladder-frame SUV like the Scorpio, a big chunk of whose appeal is big and chunky road presence. At 4,662mm, it's a full 206mm longer than the old car, with a 70mm longer wheelbase (2,750mm), and width (1,917mm) has gone up by 97mm. However, the height is down by 125mm, at 1,870mm. The 187mm of ground clearance may not sound like a lot on paper, but any concerns will evaporate once you see what it can do off road.
2022 Mahindra Scorpio N interior, space and comfort
The interior makeover is far easier to appreciate, because along with the thoroughly modern design comes a tangible improvement in quality. Plastics are no longer rough-edged and, save for one or two isolated and largely hidden instances, fit and finish is tight too. The chocolate brown colour is a good mix of rich looking and stain resistant, and is perfectly matched between the faux leather and plastic trim. The piano black and brushed silver trim on the centre console feel premium, the chunky door grabs are rugged yet sophisticated, and gone is the basic-looking switchgear of the old car. In its place, you get nicely machined, well-damped buttons, with more than a few items borrowed from the XUV700, the biggest import being the steering wheel.
Clear but uninteresting analogue dials flank a 7.0in, detailed colour MID screen.
The design itself isn't as radical as the XUV700's, featuring simpler shapes and an upright dashboard typical of ladder-frame SUVs, and that's just fine; it suits the Scorpio's tough ethos better. Grab handles on the A-pillars add to this, and are a big help climbing into the high-set cabin. Instead of the XUV's dual-screen set-up, there's a conventional hooded instrument binnacle with neat, albeit plain-looking analogue dials and a 7.0-inch colour screen that's full of useful information. The touchscreen is an 8.0-inch unit with a row of helpful shortcut buttons and two rotary knobs below. Storage is decent, with two large cupholders, a bay that houses the wireless phone charger, and large door pockets.
Tall, generously cushioned front seats give a great view; driver side powered.
It's no surprise the Scorpio N has retained the tall driving position and commanding view that sets it apart from the monocoque SUVs in the same price range (and which owners just love), but what's interesting is it has been made a bit more relaxed. You no longer feel like the steering is mounted perpendicular to the dash, or that you have to sit bolt upright to match the SUV's shape. The front seats are generously cushioned, albeit with a bit too much lumbar support, even after you set it to its lowest.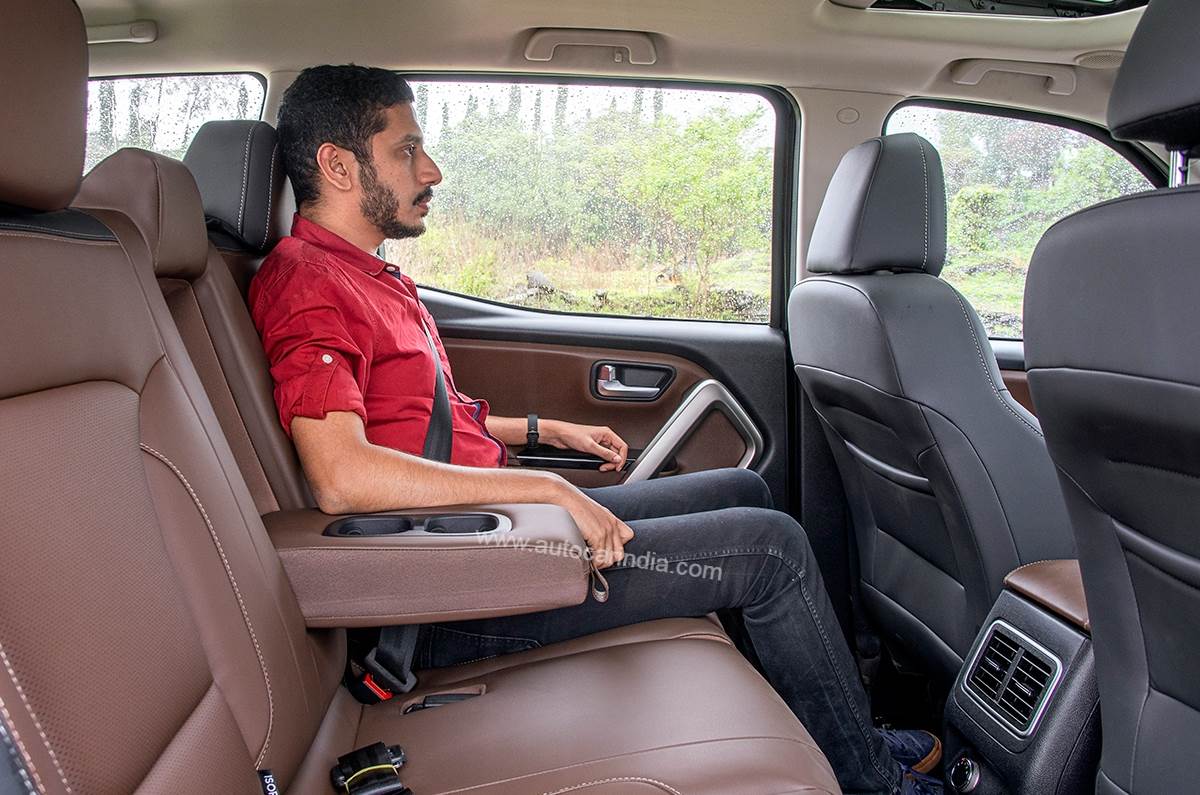 High-set middle row big on space, but upright. Captain's chair option available.
You can have either captain's seats or a bench for the middle row, the former being the comfier choice. Apart from their ability to recline, they also provide better access to the third row, whether by an easy fold and tumble, or simply walking between them. The bench seat is split 60:40, with only the smaller section on the kerb side tumbling forward; the right-hand-side seat only folds. In either case, using the side step, it's an easy enough climb into the back. The middle row offers tremendous knee and head room, with enough width for three on the bench. You get a pair of AC vents with blower control, as well as two USB-C ports in the centre console.
Third row of Scorpio N best suited for kids only.
The third row now gets front-facing seats as standard, rather than the side-facing seats of before. While this means you can no longer enter and exit via the side-hinged tailgate, it does make for a safer and more conventionally premium seating position, in line with SUVs of this price. You're sat quite knees up here, of course, and while headroom and shoulder room are sufficient, knee room is simply too tight for adults. It's compounded by a lack of space for your feet (especially with the bench second row), and the fact the second row can't be slid or inclined for more room. Moreover, there are no AC vents back here, nor cupholders or charging points for devices.
As for the boot, Mahindra hasn't quoted volumes, but there's very little space with all rows up, and you can get a pair of small soft bags in there at most. The last row doesn't split, but folds and tumbles forward, and while that does free up much more room, the folded seats do eat up quite a lot of luggage space. What's more, the space left underneath the flipped seat is set lower down, leaving a sill to haul luggage over.
UPDATE: Mahindra has updated the Scorpio N's boot, which now features a false floor, which results in a flat loading area. Beneath this sits a new, dedicated housing for the tool kit, which was earlier attached to the seat base with velcro, and this also includes two small covered recesses for storing small items.
2022 Mahindra Scorpio N features, tech and safety
The features list has gotten a big upgrade on the Scorpio N, and the biggest news is the touchscreen. The 8-inch unit uses the AdrenoX software that debuted on the XUV700, and that means a slick, easy-to-use UI based around shortcut tiles for the key functions, like media, navigation, telephone and apps. The screen is slick and responsive, though we did notice a few minor bugs on our pre-production test cars, like menus taking a little long to load on some occasions.
8-inch touchscreen of the Scorpio N is slick, responsive, and easy to use
Special mention should be made of the onboard navigation system, which is smooth and well featured, although most will likely use Google Maps via the wireless Android Auto or Apple CarPlay bundled in the system. There is connected car tech too, including remote functions, location services, an SOS function and even Amazon Alexa commands. There are a handful of connected apps too, for news, weather, restaurants and more.
Display from the front and rear cameras is low res and choppy
Other features of note are a wireless phone charger, a sunroof, dual-zone climate control, engine stop/start, keyless entry and go, auto headlamps and wipers, powered adjustment for the driver's seat, drive modes in the diesel versions, and off-road drive modes in the 4WD versions. The Scorpio N gets front and rear parking sensors, and though not quite the full 360-degree system, front and rear cameras. Unfortunately, the display feed for both is very low resolution and choppy in practice.
Safety kit has been given high priority in the Scorpio N, and apart from the parking sensors and cameras, it has parallel and perpendicular parking guides, ESC, four-wheel disc brakes, hill descent and hill hold, ISOFIX child seat mounts, six airbags, a tyre pressure monitoring system (TPMS) and even a drowsiness detection system. They are really gunning for that five-star rating with this one.
2022 Mahindra Scorpio N engine, gearbox and performance
Though they may have debuted on the Thar – with which the Scorpio N shares its basic underpinnings – it's still an exciting proposition to see how this latest generation of Mahindra turbo-petrol (mStallion) and turbo-diesel (mHawk) engines will perform in the new SUV. In the automatic guises we got to test, the 2.0-litre turbo-petrol produces 203hp and 380Nm, while the 2.2-litre diesel makes 175hp and 400Nm, with slightly lower torque outputs in the manual versions.
2.0 turbo petrol (pictured) and 2.2 diesel have lots of torque, concentrated low down.
The petrol first, and right off the bat it impresses with strong responses from a standstill. So strong, in fact, that it lunges forward with a flex of your right foot and you almost wish there was an 'Eco' mode to dull responses for instances when you just want to amble. Once you get used to it, however, it's very easy to turn a slow crawl into a quick overtake with a small tap on the accelerator. This is not a free-revving petrol engine, and power is focused in the low to mid range, which is just as well for a big, heavy SUV like this, where an ample torque reserve matters more.
Despite some very wet testing conditions, up against our VBOX, the Scorpio N petrol automatic managed to deliver an impressive 10.2sec 0-100kph time, with decent kickdown acceleration times of under 8 seconds from 20-80kph and 40-100kph.
Huge improvement in ride quality, with far better body control and less bounce.
Both cars use six-speed torque-converter automatics, which again, are well suited to the easy-going nature of this big bruiser. These aren't quick-shifting or sporty gearboxes, but they are smooth. In both versions, you might get the odd hiccup on downshift if you let the revs drop too low, and if you floor it, there will be a pause before it gets into gear, and a slight hesitation on upshift, but keep your inputs smooth and they will go about their jobs unobtrusively. There are no shift paddles, but you can shift manually via the gear lever.
With its stronger torque reserve and more relaxed nature, it's the diesel that feels even better suited to the Scorpio N. The gentler responses off the line make it a bit easier to manage, and thereafter you can just dip into the huge tank of torque that's available in the mid range whenever you need to. There's absolutely no need to venture near the redline, and you wouldn't want to either, because that only introduces a lot of diesel below to the cabin. Then there are the drive modes exclusive to the diesel engine – Zip, Zap and Zoom, which translate to Eco, Normal and Sport.
Sure-footed highway stability once you get past a certain speed.
There is some discernible dulling of responses in Zip, but Zap and Zoom feel more or less the same, and in our acceleration test, there was just a tenth of a second between the modes, with a quickest 0-100kph time of 11.23sec. Our tested kickdown times in the low 9sec range from 40-100kph and under 7sec for 20-80kph are also very impressive for such a heavy car. What's gone is the punchy mid-range of the earlier Scorpio. The new model doesn't have the same characteristic spring in its step which Scorpio loyalists will miss.
2022 Mahindra Scorpio N ride comfort and handling
As part of its move upmarket, much of the work under the Scorpio N's skin has gone into the chassis and suspension. For a start, it's around 500kg lighter, thanks to 10 percent of weight loss in the chassis and 13 percent in the body-in-white. The chassis and body structure is stiffer too thanks to use of more high- and ultra-high-strength steel.
Then comes the all-new suspension, double wishbones up front and a five-link set-up at the rear, the latter using a Watt's Link set-up that contains lateral movement under load. On top of those, there's frequency dependent damping, which slacken over high-frequency bumps, but stiffen up around corners.
Handling much improved, but you can't escape that top-heavy feel.
The result is a much tidier Scorpio around corners. Yes, this body-on-frame SUV with its high driving position still has a very tall centre of gravity, and that will always prevent it from being an outright handling machine, but the improvement is easily noticeable. There is body roll, but it's far better contained, as is pitching under braking and squatting under acceleration, and put together, it gives you confidence to go around corners faster than you'd ever dare in an old Scorpio. This is more so with the petrol version, which feels just that bit sharper and better controlled than the diesel around corners.
The light and surprisingly quick steering (now an electrically assisted unit) has been perfectly calibrated and gives the right amount of feedback and a sense of assurance, even at high speeds. The brakes are undoubtedly strong and effective but are a bit too grabby and could do with a more progressive feel. Once you get used to driving this high-riding SUV, you'll find it surprisingly easy to manoeuvre, especially given its size.
The ride quality has also improved, feeling far less utilitarian than the previous generation. That said, there is still a bit of bounciness, especially at the rear, which Mahindra's engineers haven't been able to eradicate fully. But then, this is a ladder-frame SUV, so it's acceptable to have some choppiness over low-speed bumps, and you will appreciate that, thanks to the new EPS, you don't get the steering shock that plagued the previous Scorpio.
2022 Mahindra Scorpio N 4WD off-road ability
You will be able to specify diesel versions – manual and automatic – of the Scorpio N with 4x4, and though it was available on previous versions too, Mahindra says this is its most advanced version yet. Dubbed 4Xplor, it combines the robust mechanical 4x4 system – low-range gearbox, brake-locking and mechanical-locking diffs – with a set of terrain modes accessible via a rotary dial.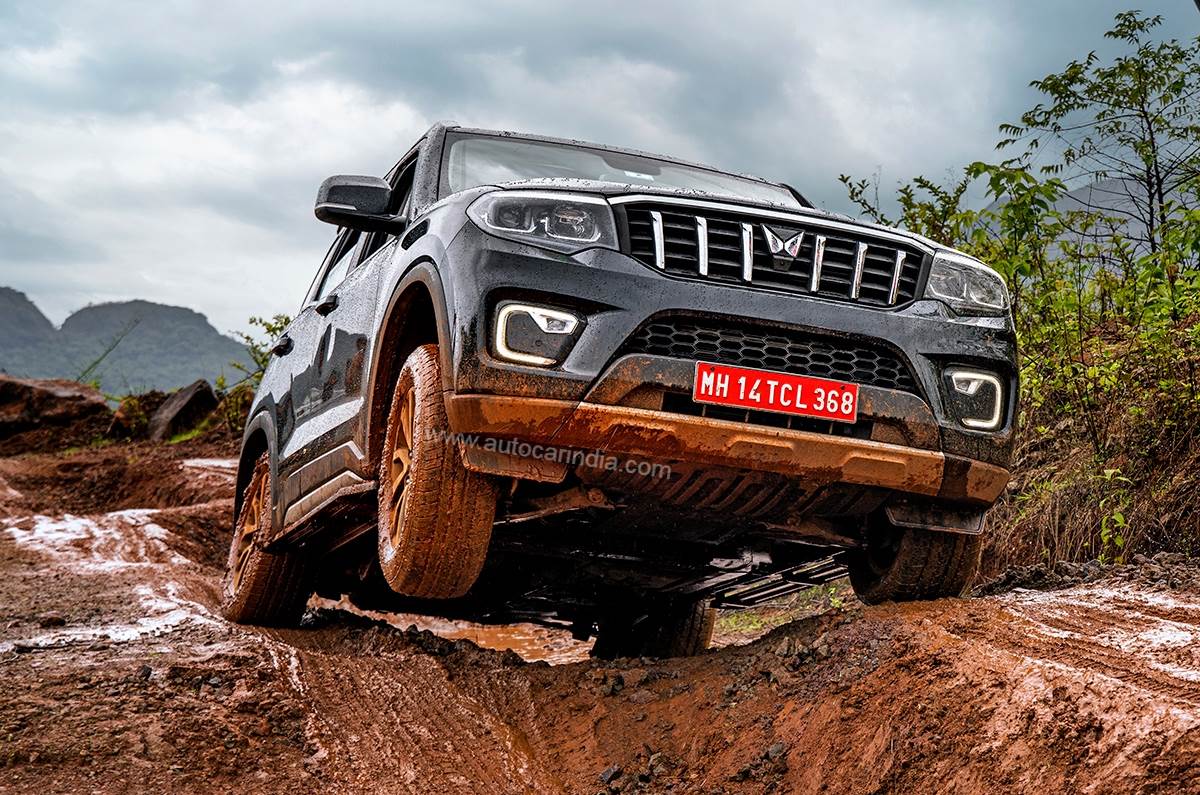 Excellent off-road ability as before, now made easier with selectable modes.
The team at Mahindra Adventure created an off-road course to show off the new Scorpio's abilities, and it, unsurprisingly, shone here. Much like the second-gen Thar took the original's off-road ability and imbued it with greater usability and more creature comforts, the Scorpio N makes things even easier. It, of course, won't be quite as capable as the Thar, but with generous ground clearance, and a claimed 500mm of water wading ability, it's certainly no slouch.
2022 Mahindra Scorpio N price and review verdict
Ironically, though it's only the automatic variants we've driven, Mahindra has only released prices for the manual variants. The introductory starting price of Rs 11.99 lakh (ex-showroom, Delhi) is certainly attractive, and though it creeps up to Rs 19.49 lakh for the top-spec Z8 L diesel manual, it's safe to assume that the automatics will add at least Rs 1.5 lakh, and should you want 4WD, another lakh more. This means the Scorpio is officially a Rs 20 lakh-plus car, and that has its implications.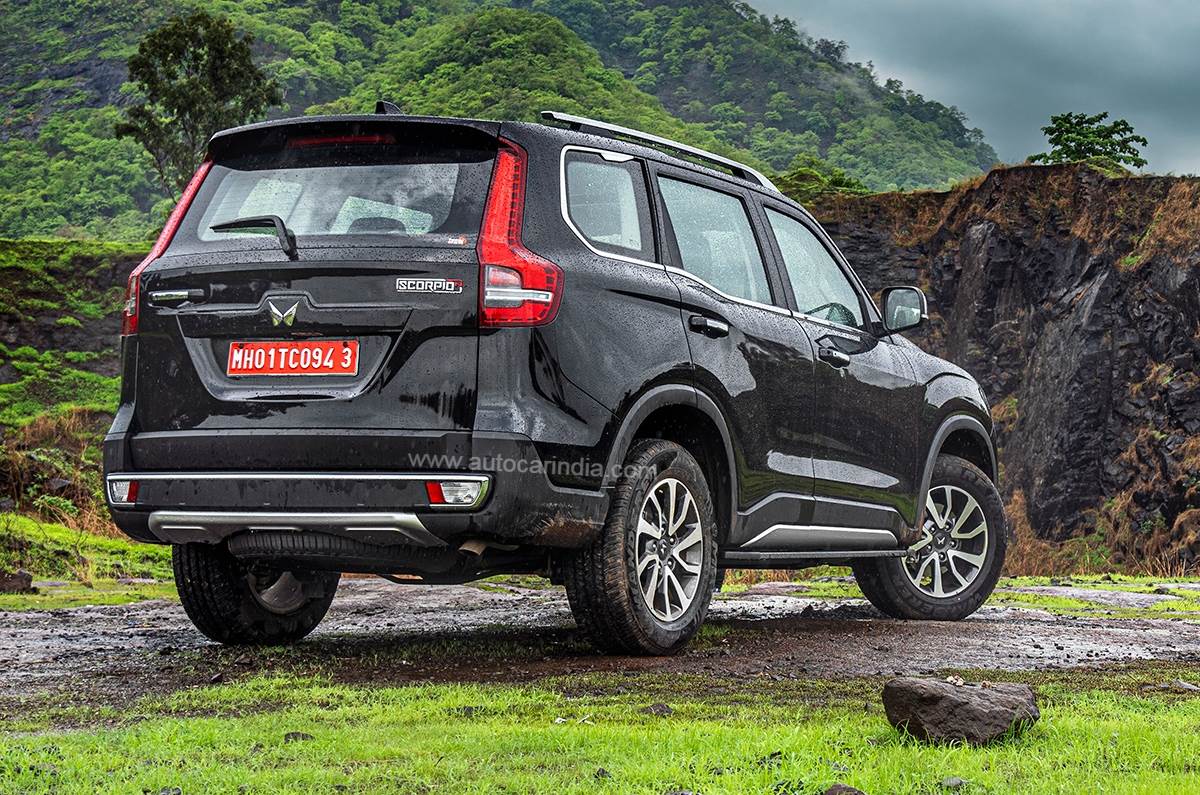 Manual variants priced from Rs 11.99 lakh-19.49 lakh; auto prices yet to come.
The move upmarket has brought with it the expected suite of features and creature comforts, and there's really not much you could say was missing from the package. The updated design is, of course, subjective, but there's a palpable shift to a cleaner, more premium look while retaining the massive road presence customers expect. The biggest advancements, however, have been made in the cabin and under the skin. The cabin genuinely feels like it could give SUVs from a segment above a run for their money when it comes to fit, finish and material quality, and the suspension, handling and overall dynamic package feels far more sophisticated now.
Is it still a Scorpio though? Well, this is certainly the biggest stride Mahindra has taken with its beloved sub-brand and the result is a better all-rounder with giant improvements in almost every area. What sets the Scorpio apart is that it has no direct competition. There is no other body-on-frame, 4x4 for the money. With the erstwhile Safari gone and the new Safari only a Safari by name, the Scorpio is all set to continue dominating the niche it founded 20 years ago. Mahindra has another winner on its hands.
Also see:
2022 Mahindra Scorpio N video review