Having been overshadowed of late by exciting new rivals, Hyundai's popular midsize sedan is back in a promising new avatar.
Midsize sedans have had a bit of a renaissance lately, with changes that run deeper than your average facelift or new model generation. Apart from the usual battering from SUVs big and small, there's also the case of the higher executive sedan segment having just gone extinct. The newest wave of midsize sedans, then, has had to step up in size, spec, power, tech, premium feel and, yes, price too. In fact, Hyundai calls its all-new Verna a 'mid large sedan', a classification it also confers on its rivals, the City, Slavia and Virtus, based not only on their larger size, but their larger price tags too. The Ciaz is conspicuously absent from the list for that reason.
2023 Hyundai Verna exterior design
For its new-generation Verna, Hyundai has really wiped the slate clean and started over. It leads the way for future Hyundais, being built on a new platform with a radical new design. Overseas, in fact, the larger Elantra and Sonata have just been given facelifts to align with this new look. Its defining feature is a slim LED light bar across the nose, which is the brand's new sedan signature, the headlights split off and relegated lower down in the form of non-projector LEDs and halogen indicators.
Front boasts the signature LED light bar, split headlamps and Tucson-like front grille.
The smooth 'fluidic' lines of older Vernas have been chopped up into sharply intersecting angles as part of the new 'Parametric Dynamics' design dialect, and you can see this in the door panels and fenders, as well as in smaller motifs on the C-pillar and even the bumpers. It's most evident in the grille that now stretches edge to edge, much like in the Tucson, and has sharp slashes instead of a conventional mesh or slatted pattern.
Black alloys with red callipers are among the exclusive styling details of the turbo-petrol variants.
The rear is much bolder too, with sharp angles and edges, a lip spoiler and a full-width LED light bar culminating in vertical LED DRLs. In fact, this arrangement is meant to spell out H when viewed tail-on. But, like at the front, the indicators are not a part of this sleek array, and instead are halogen bulbs that feel tacked on in their own separate enclosure. At the sides, it still uses 16-inch wheels, as is the segment standard, but these look noticeably smaller owing to the swollen dimensions of the car – 95mm longer, 36mm wider and with a 70mm longer wheelbase.
The new Verna is well proportioned, with a fastback-style roof and muscular rear haunches.
The look is striking and will be instantly recognisable, but there's no doubt it's divisive, containing just so many elements that it can look over-styled in places. If you can look past these details, however, you'll find a nicely proportioned sedan underneath. There are muscular haunches over the rear wheel arches, and the roof flows down in an almost fastback-like way, helping disguise a lot of the added bulk. And that means, more than just interior space (more on that shortly), there's now a class-leading 528 litres of boot space.
2023 Hyundai Verna interior design, space and rear seat
When the last Verna was launched in 2017, it hit the market with a rear seat that was not much more spacious than its predecessor's and notably less than what rivals like the Ciaz and Gen 4 City offered. Hyundai says this was the first thing to be addressed with the new Verna, and it shows. Space back here is now vast, and at least on par, if not more than rivals.
Verna's legroom, headroom and space see major improvement over the predecessor.
You also don't sit as low down as before, another old Verna bugbear, and this not only aids ingress and egress, but gives you a much better view forward. They've managed this while retaining good headroom, and with no increase in the exterior height of the vehicle, it's all down to better packaging and that fastback roof.
Up front, the design feels like a proper generational leap, with a minimalist and horizontally oriented look replacing the rather generic V shape of before. The shelf-like dashboard has full-width AC vents with brushed silver accents, and an LED ambient light bar that extends onto the doors.
The Verna now gets dual 10.25-inch screens akin to the Ioniq 5.
The dual 10.25-inch infotainment and instruments screens are an upmarket touch similar to the Ioniq 5, and eliminate the need for a hooded binnacle. The touchscreen is angled towards the driver, as is the central console below it, although the digital dials are still more a backlit panel than a proper colour screen like in the Creta or Alcazar.
The new two-spoke steering wheel design looks futuristic, the metallic finish of the switches feels upmarket, and it's adjustable for rake and reach. There's a slim panel on the dash that alternates between AC and infotainment controls at the press of a button, and while that might sound gimmicky, it's incredibly effective in practice.
HVAC and infotainment touch controls can be toggled via a button.
It still has two physical knobs, which are easy to use with muscle memory while driving, and though some functions are on a touch panel, that's still better than going into a sub-menu on the touchscreen. Quality, as is generally the case in Hyundais, is very good, with generous soft-touch material on the dash and great plastic quality all around. There's no huge swathes of flat, dull plastic like in the i20 and Creta, and even the hard plastic panels in the door cards have been textured to look like leather.
On models with the 1.5 MPi engine, the interior is cream and black, which will no doubt dirty easily, especially around the window switches, but it looks airy and upmarket. 1.5 Turbo cars have a black interior with red accents, which looks nice and sporty. There are some standout details that uplift the cabin ambience too, like contrast-coloured stitching and piping on the seats, and 64-colour ambient lighting that extends onto the doors.
2023 Hyundai Verna features, tech and safety
Front seats now offer heating functionality along with ventilation.
It wouldn't be Hyundai without some class-best features, and while rivals have caught up, the Korean brand still has a few tricks up its sleeve. The aforementioned dual-purpose control panel is a good example, as is the free-standing dual-screen set-up, but it's the addition of heated and ventilated front seats, as well as semi-power-adjustment (height adjust is manual) for the driver's seat that stand out.
Other features of note are drive modes, a great-sounding 8-speaker Bose sound system, wireless phone charging, wired Apple Carplay and Android Auto, connected car tech, auto headlamps, auto engine stop/start, a sunroof, and keyless entry and go.
Lead Car Departure and adaptive cruise are exclusive to the turbo DCT.
The safety suite is strong too, with six airbags across the range, ABS, EBD, ESC, TCS, TPMS, hill-start assist, seat-belt reminders for all seats, front and rear parking sensors, rear disc brakes and an electronic parking brake (the last two only on the turbo DCT).
The Honda City may have just beaten Hyundai to the punch for offering ADAS in this segment, but the Verna has a small advantage. In addition to the camera array, the Verna also has front and rear radar modules (albeit only on the turbo DCT) that let the system function better in low-visibility conditions, and allow for adaptive cruise control and front vehicle departure warning.
2023 Hyundai Verna mileage, engine, gearboxes and performance
With the new Verna, diesel is officially dead in the midsize sedan segment. What you get instead are two petrol engines – the 1.5-litre MPi, naturally aspirated four-cylinder petrol engine mated to a 6-speed manual or 8-step CVT, or a 1.5-litre T-GDi, direct-injection turbo-petrol four-cylinder engine, mated to a 6-speed manual or 7-speed dual-clutch auto. We got a chance to drive all but the base MPi manual.
The 160hp, 253Nm, 1.5-litre turbo petrol engine is the most powerful in its class.
The 115hp naturally aspirated petrol is familiar by now, having appeared in the previous Verna and the Creta, apart from the Kia Seltos and Carens. It's refined, with an even spread of power and performance that feels ample for the city and adequate out on the highway. The difference here is that the CVT feels better tuned than even the one in the Creta.
Yes, the Eco drive mode feels expectedly sluggish, but in Normal, responses and performance line up quite well with the revs. It almost feels rewarding to drive, more so even than Sport mode, which does add some pep at low speeds, but then also suffers a severe rubberband effect as you go faster. You might even be tempted to use the paddles to hop through the simulated 'gears', but really, this isn't the engine for driving enthusiastically.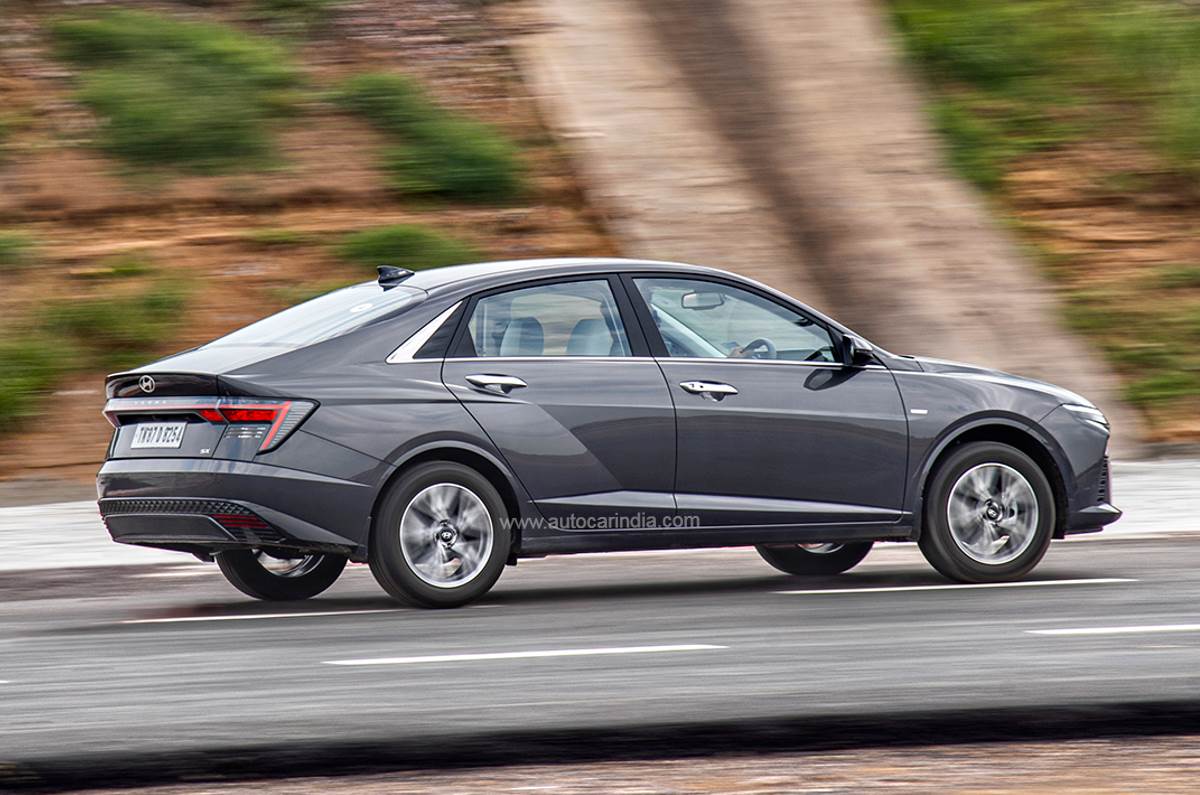 1.5-litre naturally aspirated motor with the CVT offers an even spread of power and performance.
That would be the new turbo-petrol engine, which packs in a few pleasant surprises. For one, with 160hp and 253Nm, it has class-leading power and torque figures, and second, as per the ARAI cycle, it's more fuel efficient than the 1.5 MPi, with figures of 20kpl and 20.6kpl for the manual and DCT respectively.
And it's a proper manual, not the two-pedal iMT that Hyundai introduced in some other models, which sources tell us is an admission that enthusiasts prefer three pedals. It's also more accessible than the old 120hp 1.0 T-GDi, being offered in two trim levels with two gearboxes, and as a result, accounts for 40 percent of Verna bookings at the time of this review.
Hyundai has also made the drive modes available to the Verna turbo manual.
This is a great all-rounder of a powertrain. It's smooth and refined, for one, with none of that three-cylinder thrum of the old 1.0. Much like the Creta's erstwhile 1.4-litre turbo, which this effectively replaces, it doesn't have the gut-punch acceleration of some rivals, but the performance is all there. It comes through in a linear manner, and you'll soon realise you're more than up to speed. It's also fun commanding all this power via a 6-speed manual, which has smooth throws and slick shifts. The only downside is a long pedal travel for the clutch and a high engagement point.
Interestingly, the manual version also gets drive modes, which are said to alter throttle response, but frankly, it's all but imperceptible. You can feel the difference, of course, in the DCT version, which seems to be the pick of the range. It combines the performance of this engine with the convenience of an automatic, and some added features, as was highlighted earlier. The DCT gearbox is surprisingly smooth too, and doesn't feel clunky between the gears, making it great both for inter-city use and for spirited driving. And yes, you'll want to use the paddles here.
2023 Hyundai Verna comfort, ride and handling
Steering has always been one of the barriers to spirited driving in a Hyundai Verna, and unfortunately, that hasn't been completely resolved. It turns out the driving modes also add weight to the steering but, again, the effect is so minuscule, I had to go back out again just to double check. It's miles better than the Vernas of old, but still far from the last word in feedback, weight or precision. What it's great at is being light and effortless, so when you're just mooching around town or parallel parking, you'll really appreciate it.
Ride quality and suspension have improved greatly; the Verna remains composed on highways.
What has seen a marked improvement is the suspension and ride quality. What was once an overly soft, bouncy set-up was rectified in the last generation with a lot more control, but this came with the side effect of thuds and crashes through bumps. This time, they seemed to have ironed it out and found a happy balance that's good for the driver and the driven. It still errs more on the side of comfort, with nice soft-edged low-speed bump absorption. It doesn't get too unsettled as you go faster and even remains composed at expressway speeds.
ADAS works great in cities and expressways; offers multiple audible and visual warnings.
ADAS functions work well, giving you sufficient leeway to intervene before the car does so itself. Audible and visual warnings get your attention, and usually come well before the vehicle acts. However, unlike more expensive cars, the steering wheel isn't as good as sensing that you've put your hands back on the wheel during adaptive cruise control, and you do have to tug at it gently to let the car know you're there.
2023 Hyundai Verna price and verdict
The final piece of the puzzle is the price, and Hyundai has cleverly made sure it's comfortably within the confines set by its rivals, at least for an introductory period. The MPi version goes from Rs 10.90 lakh to Rs 16.19 lakh, while the Turbo costs Rs 14.84 lakh to Rs 17.38 lakh. Not counting the Ciaz, that's the lowest starting point for entry-level petrols, and it's the cheapest of the more powerful turbo-petrols too. And this is with a strong equipment list that includes the likes of ADAS. It even does well to fill the space left by the Elantra and caters well to the chauffeur driven.
It sounds like a winning formula, and Hyundai certainly thinks it will be, with a target of doubling the previous Verna's sales and overtaking the City to become the king of the segment. The new turbo DCT is the highlight of the range, even though it's not the 'furious' sports sedan you might be led to believe it is. What it does is mix performance with accessibility and refinement, and if you're looking for a better deal, there's always the MPI.
The new Verna has moved up a segment in all the areas that matter, and feels like the segment shift Hyundai claimed it would be. It may not be the last word in performance or fuel economy as some rivals are, but frankly, it excels in almost every area, with very few standout flaws. And if you're on the side that likes the edgy new look, picking the new Verna as your next sedan seems like a no-brainer.
Also see:
2023 Hyundai Verna video review