The characterful Jimny 5-door is Maruti's latest entrant in the fast-growing SUV segment. We find out how it performs.
What is the Maruti Suzuki Jimny and why is it a big deal? The Maruti Jimny is like no other hatchback or SUV that Maruti sells at the moment. It is a body-on-frame 4x4 SUV built for off-roading, which, in its three-door avatar, has been a smash hit in international markets for its exuberant design and off-roading prowess. Its global acceptance as well as the Mahindra Thar's tremendous domestic success infused confidence in Maruti, a mainstream player, to launch this niche off-roader in our market.
Maruti deemed rear doors and more space necessary to widen its appeal, compared to the 3-door sold abroad.
For India, however, the company developed a longer version of the Jimny to liberate more cabin space for four adults and added an extra set of doors, which were deemed necessary to widen its appeal. It gets a 1.5-litre petrol engine with manual and automatic transmissions along with 4x4 hardware; it is decently equipped and will be sold through Maruti's Nexa dealerships.
Maruti Suzuki Jimny 5-door exterior design
Boxy, slab-sided and squared out, the Jimny has the classic off-roader stance, all within a compact footprint. It measures 3,985mm in length (including the tail-mounted spare tyre). As mentioned, this five-door version is longer than the three-door model sold abroad, on account of the wheelbase, which has been lengthened by 340mm to enhance rear passenger space and to accommodate rear doors. At 1,645mm, the Jimny is narrower than your average hatchback and with a 1,720mm height, it isn't imposing either.
It is boxy, slab-sided and cube-like in appearance, but this charming off roader will make you smile.
Its cutesy and cheerful styling is bound to make you smile, and even though it isn't as intimidating as a Mahindra Thar or Force Gurkha, its characterful cube-like design makes it stand out. There are plenty of details that link the Jimny to its predecessors. For instance, the clamshell bonnet and streaks near the A-pillar establish a connection with the Gypsy we're familiar with. The 5-slot grille (outlined here in chrome) and round headlamps are other classic Jimny details. The top-spec Alpha variant gets LED headlamps along with headlamp washers, which are handy when you're traversing dusty or mucky terrain.
In profile, the Jimny doesn't look unnaturally stretched, and the square windows and vertical C-pillar glass are nicely executed. The Jimny gets 15-inch steel wheels in Zeta trim, while the top-spec gets alloys, which help shave off 5 kilos from the kerb weight. At the rear, the spare tyre takes pride of place with the lights positioned low down on the unpainted bumper.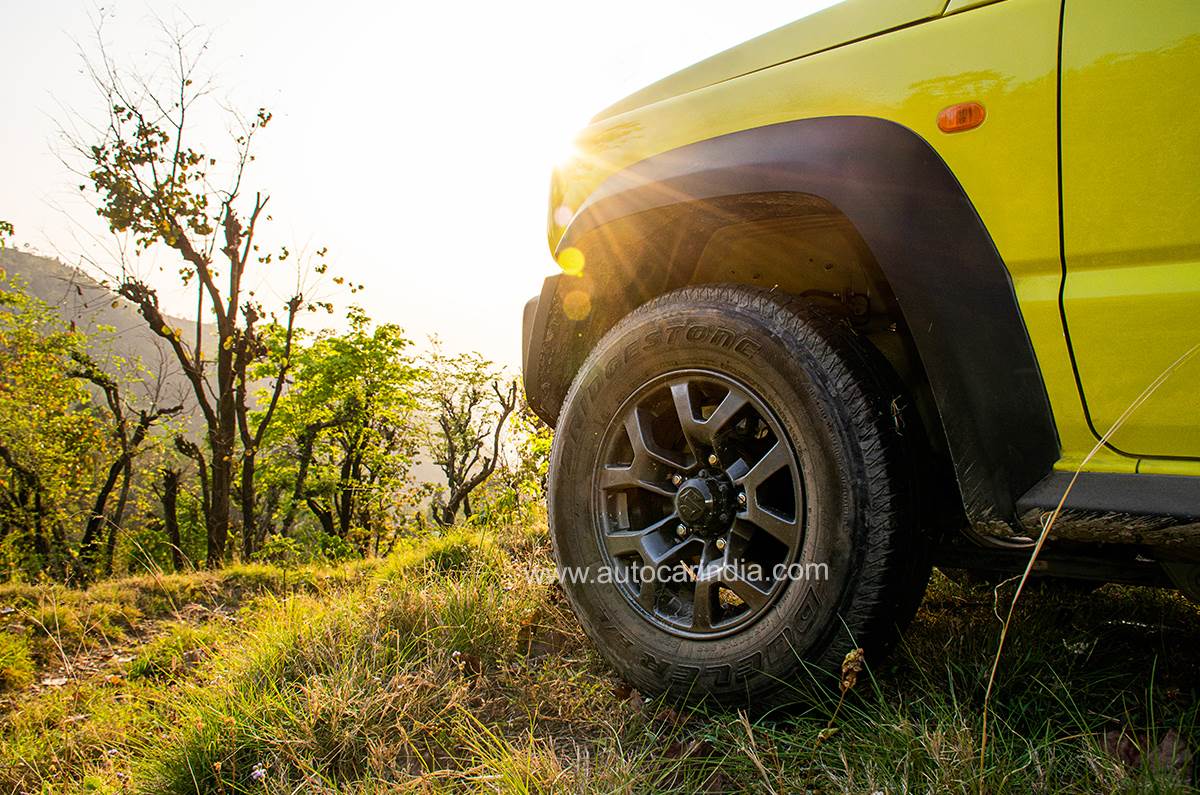 The alloys on Alpha trim shave off 5kg from the kerb weight compared to Zeta's steel wheels.


Maruti Suzuki Jimny 5-door interior, features
Getting into its cube-like cabin with upright walls certainly feels special. Like on the outside, there are several design elements in the cabin – such as the exposed faux bolts, fixed grab handle on the passenger side, the twin pod-like instrument cluster with orange backlighting – that are reminiscent of earlier generations of the Jimny. While the design is cheerful, the quality of plastics in many places isn't. But it isn't something you'll mark down the Jimny for.
Toggle-type switches are within easy reach.
The driver gets limited adjustment – the steering doesn't adjust for reach and the seat can't be raised or lowered either. But thanks to the dashboard, which is pushed all the way to the front, and the upright glass area, visibility outside is excellent. Seat comfort is pretty good, and while the cabin is narrow, there's just about enough space for two adults to sit without brushing their elbows against each other.
Some might find the rear door aperture a bit small, and the door sill a bit high. The seat itself is adequate for two average adults, however, taller occupants will find space in short supply, even when the backrest is in the most reclined position. Because the company hasn't included load sensors in the rear seat, the rear seat-belt alarm will trigger for an annoying 90 seconds, irrespective of whether the back seat is occupied or not. To circumvent this, most owners will be forced to keep the rear seat belts buckled in at all times.
Modern touchscreen with wireless Android Auto and Apple CarPlay; should have included off-road meters and a 360-degree camera.
Storage areas are limited; the glove box is small, there are only two cupholders for the entire cabin, and the door bins can't hold anything more than a couple of magazines. Thankfully, there is a slot to stow your smartphone in front of the gear lever, and the front seatback pockets are quite handy for knick-knacks. Impressively, with the rear seats in place, there's room for a couple of medium-sized suitcases. To accommodate even more cargo, the backseat can be folded down in a 50:50 ratio.
The top-spec Alpha variant gets kit like auto LED headlamps with headlamp washers, keyless entry and go, a 9-inch touchscreen with wireless Android Auto and Apple CarPlay, cruise control, climate control, tinted windows, rear wiper and washer, electric foldable outside mirrors and reversing camera. Off-road specific gauges such as an inclinometer, tiltmeter, compass, as well as a 360-degree camera, would have been nice to have.
Rear space is adequate for two adults. Taller occupants will feel a bit cramped.
Safety kit includes ESP, ABS with EBD, hill-hold assist, hill-descent control, six airbags, brake limited slip differential and ISOFIX child seat mounts.
Maruti Suzuki Jimny 5-door engine, performance
Powering the Jimny is Maruti's older K15B four-cylinder petrol engine that makes 105hp and 134Nm of torque with an automatic engine stop-start feature. Between 2019 and 2022, this petrol engine powered multiple Maruti cars like the Ertiga, XL6, Vitara Brezza, S-Cross and Ciaz, as well as Toyota's Urban Cruiser. However, to meet stricter emissions norms, Maruti replaced this engine with a more fuel-efficient and cleaner K15C Dualjet petrol unit. While the transition of the front-wheel-drive vehicles to this newer engine was relatively straightforward, in the Jimny's case, the newer-generation K15C engine would have to be longitudinally mounted, and Suzuki (global) wasn't willing to re-engineer it for the Jimny as the benefits are too few compared to the outgoing motor.
With its dash pushed all the way to the front, and vertical glass area all around, visibility is excellent.
The company believes that the K15B's stronger bottom-end grunt is more suited to the Jimny's off-road application than the K15C, which focuses on maximising fuel efficiency. And in the real world, it certainly feels responsive to the tap, and has reasonable torque at the lower end to haul its 1,200kg kerb weight, which is similar to a Brezza petrol automatic. It is nice and refined within city confines, and feels best while pottering around town or keeping up with the flow of traffic.
Demand more performance out of it and you will be left longing for stronger pulling power. The build-up of speed is gradual, and while the engine revs to 6,300rpm, the journey to the redline is slow and the engine begins to sound quite vocal and strained. Overtaking fast-moving traffic on the open road will need careful planning and full commitment. Drivers will often find themselves flattening their right foot and wringing this motor's neck to complete overtaking manoeuvers, which would otherwise need a gentle dab of the accelerator pedal in the turbo-petrol Mahindra Thar.
Transmission duties are carried out by either a 5-speed manual or a 4-speed automatic (torque converter) sending power to all four wheels via Suzuki's AllGrip Pro hardware with the option to mechanically switch between '2WD-high', '4WD-high' and '4WD-low'. Contrary to what we've come to expect of a buttery-smooth Suzuki gearbox, the 5-speed manual is clunky to use, with the shifter needing a firm shove to slot it into gates. Even its clutch is on the heavier side.
The 1.5L petrol engine revs till 6,300rpm, but journey to the redline is slow and it sounds strained.
The 4-speed automatic is the pick of the range for the smoothness and convenience it brings to the table. In 'D', the gearbox has four ratios to choose from, however, on flicking the 'O/D off' switch on the gear knob, the driver can manually prevent the car from shifting to the fourth, which is the overdrive gear. It has an L mode where the car will stick to the lowest possible gear for maximum pulling power; and then, there's '2' where the car will be limited up to the second gear.
Do keep in mind, the 2018 Ertiga with this very powertrain, struggled to hit double-digit fuel efficiency numbers in the city in our tests, and with a heavier kerb weight, and greater mechanical losses, expect the Jimny's to be lower still.
Ride quality is surprisingly good; it feels planted and isn't nearly as bumpy as the Thar. Of course, there is a bit of the lumpiness, which can be associated with body-on-frame vehicles, but on the whole, the Jimny's suspension feels pretty comfortable. You really don't have to worry about broken roads, or flinch when you hit a pothole, or won't hesitate to take two wheels off the road to dodge traffic. Its beefy underpinnings exude a sense of security and solidity, and boasting of a ground clearance of 210mm, the Jimny will egg you to explore trails off the beaten path. At highway speeds, body movements are well-contained, and while roll is less than its natural rivals, the Jimny isn't a car you'd want to hustle down a winding section of road.
Ride quality is surprisingly good and it doesn't feel as lumpy or bumpy as its natural competitors.
At 4+ turns lock-to-lock, the electric power steering is slow-geared, and while this slowness is good for off-roading, on the road it warrants more than usual steering input to change direction. Even the steering weight is a bit more than what you'd expect from a car of this size.
The Jimny gets the same front brake set-up as the Vitara Brezza, so stopping performance is good, and hard braking isn't followed by excessive pitching or nose-drive like its heavier rivals.
Maruti Suzuki Jimny 5-door off-road ability
Specifications of interest are its 36-degree approach and 47-degree departure angles, similar to the three-door version, but since the five-door version's wheelbase is longer, its ramp breakover angle is 24 degrees, 4 degrees less than the three-door version. These, along with its ladder-frame chassis, solid front and rear axles as well as Suzuki's AllGrip Pro hardware (4-wheel drive system with a low-range gear), complemented by electronics like hill-start assist, hill-descent control, ESP and electronic braking differential (front and rear), give the Jimny a mountain goat-like ability to trundle through the rough.
It hauled itself up rock-strewn steep inclines, waded through water and leaned at unimaginable angles without batting an eyelid.
Off-road is the Jimny's natural habitat where it really impresses. Despite riding on standard highway tyres, it completed the obstacles with a sense of authority at Maldevta in Dehradun, Uttarakhand curated by Maruti's off-road team. The little Jimny hauled itself up rock-covered steep inclines, waded through water, leaned at unimaginable angles and pulled itself out of sticky situations, without batting an eyelid.
Off-roaders will appreciate its slow-geared electronic power steering, and due to additional steering dampers, it doesn't kickback aggressively like many other off-roaders. Its 5.7m turning radius, narrow front and rear track, and kerb weight of just 1,195-1,210kg, lend it incredible nimbleness for tight and sticky conditions, which could otherwise pose a challenge for some off-roaders.
Suzuki's AllGrip Pro hardware can mechanically switch between '2WD-high', '4WD-high' and '4WD-low'.


Maruti Suzuki Jimny 5-door price, verdict
If you're enamoured by the prospect of this SUV, its distinctive looks and unquestionable charm, then do keep in mind, the Jimny isn't an ideal urban car. View it in the light of the modern crop of monocoque SUVs, and the engine performance is weak, the steering and (manual) gearbox need effort to operate, space isn't generous, and, at prices of Rs 12.74 lakh - Rs 15.05 lakh (ex-showroom), it simply isn't convincing.
Its light kerb weight, 4x4 hardware and compact footprint add to its appeal.
But as an out-and-out off-roader, the Jimny is a stellar proposition. The 4x4 hardware, its light kerb weight and its narrow track make it extremely capable. To some, the Jimny's exuberant design will exert serious appeal, and for some, its compact dimensions and inclusion of rear doors for easy access will be two big check marks.
When it comes to fitness for purpose, the Jimny scores a perfect ten, and once you've experienced it in its natural habitat, it's likely to blow your mind.
Also see: