Radical city car flips the compact EV script, but could it just be left-field enough to work?
Update: Full price range revealed
Most cars today are fairly easy to wrap your head around, but not the MG Comet; it's a bit more complex. Sure, you could draw lots of comparisons – it's an urban electric hatchback like a Tiago EV, it's boxy, tall and upright like a Wagon R, and thanks to its born-electric platform, it's more spacious than its size would suggest, like a Hyundai Ioniq 5. Despite all these points of reference though, having driven it, it still feels like nothing else, and that is exactly what MG wants. It wants the Comet to be disruptive, banking on its unconventional looks and very specific set of talents to woo a wholly different kind of buyer than anything else currently on sale. It's a big gamble, by the brand's own admission, but could it just be crazy enough to work?
MG Comet colours and exterior design
The MG Comet is unabashedly a cube. Its born-electric skateboard platform allows it to ditch a conventional two-box hatchback shape for a monovolume one; imagine chopping off the engine bay (and boot) to make a car as compact as possible. As a result, it's the smallest car in India at just 2.9m long, 1.5m wide and 1.6m tall, and with its tiny 12-inch wheels pushed out to the corners, its wheelbase is 2,010mm. Unlike many other born EVs, however, this slab-faced hatch clearly isn't concerned with aerodynamics. The proportions will remind you of the Tata Nano, which makes sense, as it too leveraged its rear-engine layout to keep dimensions small in the pursuit of being a better urban runabout.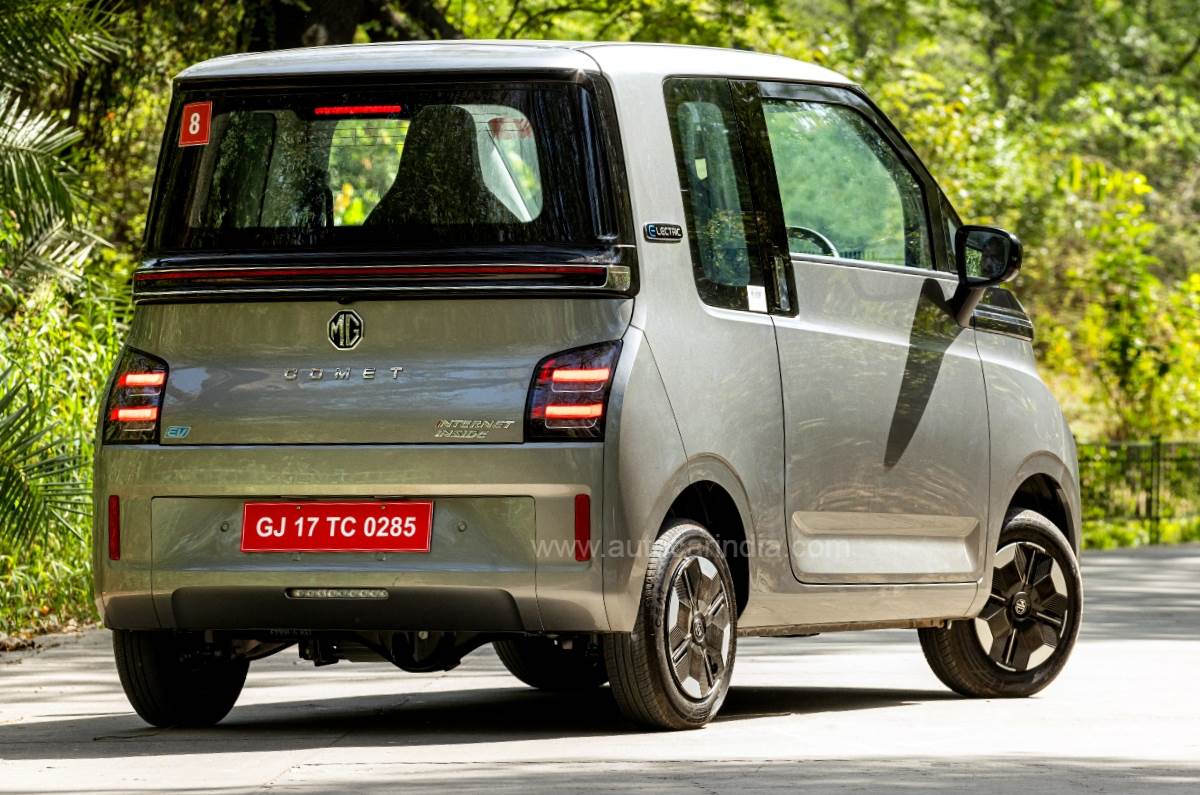 The design execution of the Comet, however, is more premium, thanks to a generous use of chrome, contrasting colours and lots of LEDs – in the headlamps, tail-lamps, wing-mirror indicators and distinctive light bars at the front and rear. In fact, the lighting looks especially premium thanks to the high-quality elements within each projector unit. Even the MG logo lights up. Then there's the fact it only has two doors, another bold departure from convention, and the unopenable, 'porthole' window for the back seat that adds its own design flourish. The charging port is in the nose, there is no front boot (instead you'll find fluid top-up vestibules under the bonnet), and on the tailgate is MG's now-ubiquitous 'Internet Inside' badge. Fun fact: this is the first MG in India that isn't an SUV.
For all its overt funkiness, we wish MG would have offered more than just four colours. There's the metallic grey you see here, black and white, and the only extroverted colour, Apple Green. All do come with black pillars and roofs though, but if you want to spice things up further, you'll have to dig into MG's catalogue of styling and decal packs, some of which look pretty good. All things considered, the design leans very much into the ultra-compact, 'tall boy' city mobility style, much like a Japanese Kei car. And no, it's not a quadricycle because it weighs more than 475kg.
MG Comet interior space
The glasshouse is massive, letting in a lot of light and giving a superb view out.
The interior makes maximum use of its born EV architecture and tall design to free up space, though there's no escaping the fact that it is very narrow, and you will always be in close proximity to the person next to you. The seats are set high and don't have height adjust, so taller passengers might find themselves looking down at the road, rather than straight ahead. They're slim too, with fixed head restraints, but offer a decent amount of comfort. The dashboard is tiny and pushed far back against the base of the large windscreen, liberating a huge amount of space between it and the driver. The glasshouse is massive, letting in a lot of light and giving a superb view out.
Door pockets are huge.
Then there's the fact that there's no transmission tunnel, creating a large, common footwell for both front passengers. Disappointingly, this means there's no central storage, with just two small bag hooks that fold out from under the dash. There's no glove box either, just a shallow shelf, and between the seats, you'll find a narrow centre console housing the window switches, handbrake and drive selector; you could maybe place your phone here. You can, however, buy a small, covered cubbyhole and armrest above the handbrake with integrated USB ports as an accessory. The door pockets are huge though, and extend far enough back for the rear passengers to use them too.
Speaking of which, swing open the large door, and it's an easy flip and slide off the front seats to access the ones at the rear, and here's where the surprise lies. Space is actually quite decent, even for tall passengers, but it's strictly for two; a fact established by the lack of a third seat belt. That said, comfort is more akin to the third row of a good MPV than the second row of a hatchback, with an upright seatback angle and a small seat base with little thigh support. The vertical window does let in sufficient light and, as a bonus, makes for an interesting, airplane-like view out.
Space is actually quite decent, even for tall passengers
There's barely a boot at the rear, with a slim slot behind the seats good enough for the charging cable and a laptop bag, at best. The seat backs can be split-folded 50:50, but in most cases, it'll probably be easier to just place things on the back seat. There is also no spare tyre, but only a puncture repair kit.
MG Comet features, safety and quality
What could really sell the Comet to many is perceived quality, which is of a high level for what could, from the outside, be mistaken for a budget car. Plastic quality is superb all round, it's well put together with few gaps or rough edges, and there's soft-touch material on the dash and doors. The roof liner is of a high-quality woven variety, and even the choice of colours – light grey and glossy white – make it feel cool and techy, if prone to getting dirty. In fact, the techy theme is reflected in the steering controls that are reminiscent of the click-wheel of the Apple iPod from 22 years ago.
Steering controls are reminiscent of the Apple iPod
Other high-quality highlights are the chunky AC knobs, the rotary drive state selector that clicks satisfyingly into place, the quirky lozenge-like key fob, and the superbly crafted indicator and wiper stalks. But the big talking point is the pair of free-standing 10.25-inch colour screens for infotainment and instrumentation. Akin to that of a Mercedes GLA, the panels are slim, featuring high resolutions and vivid colours. This allows them to be used even in bright light without a hooded binnacle, adding to the minimalist look. Touchscreen response is good, the UI is clean, and a cool feature is smartphone-like customisable home screen widgets for most of its apps. The instruments screen, though quite informative with SOC, range and even voltage data, could have been given larger graphics that would be easier to read on the move. Though the icon of the Comet in the centre (which lights up accurately when you use the lights, indicators, brakes or open the doors) is cool, it takes up too much screen real estate, and alludes to ADAS features, which the Indian car doesn't have.
Touchscreen response is good, the UI is clean
It's decently equipped, with the likes of connected car tech, wireless Apple CarPlay and Android Auto, a leatherette-wrapped steering wheel, and keyless entry and go. You can even unlock the car with your smartphone. But there's no wireless charging, auto climate control or auto headlamps, which are features that would have fit with the Comet's upwardly urban appeal. This is also the first MG to not have a feature that all prior models have boasted of having – a panoramic sunroof; there is no sunroof, but it's not like you'd need it.
On the safety front, there are two airbags, ABS with EBD, a tyre-pressure loss indicator, a rear parking camera and sensors, and ISOFIX child seat mounts.
MG Comet battery, range, charging and motor
The MG Comet uses a modestly sized 17.3kWh prismatic cell lithium-ion battery sourced from Tata Autocomp, which allows it a claimed range of 230km on the MIDC cycle. During our short, city-centric drive, we found it held onto its charge well, and extrapolated, worked out to a range of close to 200km; but we'll reserve final judgement until we can do a full Autocar India range test. As for charging, it's claimed to get from 10-80 percent in 5 hours and all the way up to 100 percent in 7 hours, which makes sense, as all EV batteries lower their charge rate for the last 20 percent.
This figure is at the Comet's max charging rate of 3.3kW on a Type 2 AC fast charger, which MG can install at your home or office. There is no DC fast charging, which MG says would have simply added cost to a car that does not require it, but the brand will consider introducing it to later iterations if customers ask for it.
The charging port is in the nose; no DC fast charging yet
Similarly modest are the MG Comet's power and torque outputs of 42hp and 110Nm, respectively. Granted, there's not a lot of car to move around, with a kerb weight of just over 800kg. Since it's not based on a conventional ICE hatchback, its motor is at the back for a rear-wheel-drive layout, which in turn means the tiny 145/70 R12 front tyres aren't overwhelmed by both steering and propulsion. It has a keyless go but no start button; the Comet is started by simply depressing the brake pedal for 2 seconds, and switched off by getting out and locking the car. While adding a fraction more convenience, it does feel gimmicky, and we found ourselves using the emergency 'off' switch hidden under the dashboard.
As you might expect, that forward lunge we've come to expect from prodding an EV's accelerator pedal is simply not there. Performance is relaxed, without even a creep mode to usher you off from a standstill. There are three drive modes – Eco, Normal and Sport, and yes, there is a discernible difference between them. Eco can feel a bit too suppressed for the cut and thrust of Indian traffic, so you might want to use Normal for most situations.
That said, the Comet feels its best at slow to medium speeds, which is just as well for an urban runabout. What it lacks in outright oomph, it makes up for with modularity, letting you mete out power discreetly. On our test drive, the fastest we were able to go was around 80kph, but getting there was a struggle, so don't plan on shaming petrol cars shooting off from a traffic light.
MG Comet ride and handling
Steering is nice and light, allowing for easy manoeuvrability around town.
From the tall driver's seat, you've got to recalibrate to the Comet's unconventional proportions. It's very narrow, the front ends pretty much where your feet are, your view backward is hindered by the closely wedged seats and the thick C-pillar, and the vertical doors make you think you have no room left on either side, when really you have plenty. On the road, this car isn't much larger than an autorickshaw, taking up half a regulation-size lane, and you have to remind yourself to drive accordingly.
Unburdened by driveshafts, the steering is nice and light, allowing for easy manoeuvrability around town. It has a tiny turning circle of just 8.4 metres, which is more down to its tiny size than the amount the wheels turn. The steering is not overly sharp or quick, but that's actually a good thing, because the short length, top-heavy height and tiny wheels mean it doesn't take kindly to hasty changes in direction. In fact, as you go faster, it starts to feel nervous and steering inputs should be kept to a minimum.
Speed breakers really thud through
Worse still if the road is bumpy, as the stubby wheels and tyres simply don't have the compliance you'd find from a bigger car, or one with longer-travel suspension. The ride is firm, and you'll definitely feel every road imperfection as it rolls under the car. Similarly, potholes and even speed breakers really thud through. Again, simply slowing down helps things drastically, and the Comet's suspension also does its best work at low speeds. Of course, without a combustion engine, refinement is really good, but the small tyres actually help here in minimising road noise. There's pleasantly little wind noise too, despite the boxy shape and large mirrors.
MG Comet price and verdict
In every way possible, the MG Comet flies in the face of tradition and convention. Cars, even EVs, are judged on a wide gamut of parameters, wider still in the lower segments where they tend to be a family's sole mode of transport that has to do it all. The Comet will not be that car, according to MG, at least not initially. Its early adopters, they say, will be risk takers who already have another car in the garage and want to try something radically new. They'll use the Comet to commute alone, or grab dinner with their partner, or at the very most go to watch a movie with two friends. They will not take it on road trips, or shift houses with it, or do airport runs. If they have kids, it might be used for the school run, but no more.
That sounds like a very specific use case, but MG believes that this is already the reality for most young people in big cities, as evidenced by several dramatic statistics in their product presentation. As we said at the start, this is not an easy car to wrap your head around, but MG's logic is sound – why not do away with what people don't need, and focus harder on what they do. It is, by design, not a jack of all trades, but instead a master of a focused few. What it lacks in practicality and performance, it makes up for with manoeuvrability, ease of parking and low running costs (MG claims Rs 519 a month), and as for the range, strict urban usage could work with this limitation, for some.
Not a jack of all trades, but instead a master of focussed
few
The ride quality should have been better, it could have done with a few more practical stowage spaces inside the cabin, and just a few more features would have really set it apart, but even as is, it really does sit in a niche all of its own. MG has given it an attractive Rs 7.98-9.98 lakh (ex-showroom) introductory price, valid for the first 5,000 units, making it India's most affordable electric car. This smartly undercuts the Tata Tiago EV, which is a smart move given the Comet's niche positioning in a section of the market that still favours a direct price to size ratio. EVs in general have disrupted that mindset, and the Comet even more so. But MG is aiming for the slice of upwardly mobile urban car buyers who can look past traditional notions and see the Comet for what it is – a superb intra-city urban commuter with a funky, offbeat appeal.
Also see:
MG Comet EV India video review
MG Comet vs Tata Tiago EV comparison video
16985 Views|3 months ago
MG Comet EV India video review
40807 Views|7 months ago
MG Comet review: Revolution baby
60652 Views|8 months ago