Toyota's newest MPV, the Innova Hycross, misses a few features in its entry-level petrol-CVT guise.
The reason to be interested in the new Toyota Innova Hycross petrol automatic is its affordability when compared to the very impressive hybrid version we drove earlier. At Rs 18.55 lakh-19.45 lakh (ex-showroom) for the petrol version, it sits a full segment below the hybrid range, which is priced between Rs 24.76 lakh-29.72 lakh. So with huge savings up front, the petrol Hycross should easily be the pick of the range, right?
Toyota Innova Hycross petrol automatic exteriors
Toyota has made the Hycross petrol available only in the lower-spec G and GX variants, hence, it misses some of the premium touches of the Hycross hybrid, like the silver highlights and garnish. Despite these, it still comes across as a thoroughly modern and premium iteration of the Innova. It appears imposing with its long flattish bonnet, slim Fortuner-like LED headlamps and an oversized front grille.
In addition to the distinct design cues and character lines, it features squared wheel arches and plastic body cladding, which add a lot of muscle to its styling. However, it gets skinny 205/65 R16 tyres, which lead to massive gaps in the arches. This disproportionate wheel-to-body ratio makes it look almost comical from certain angles.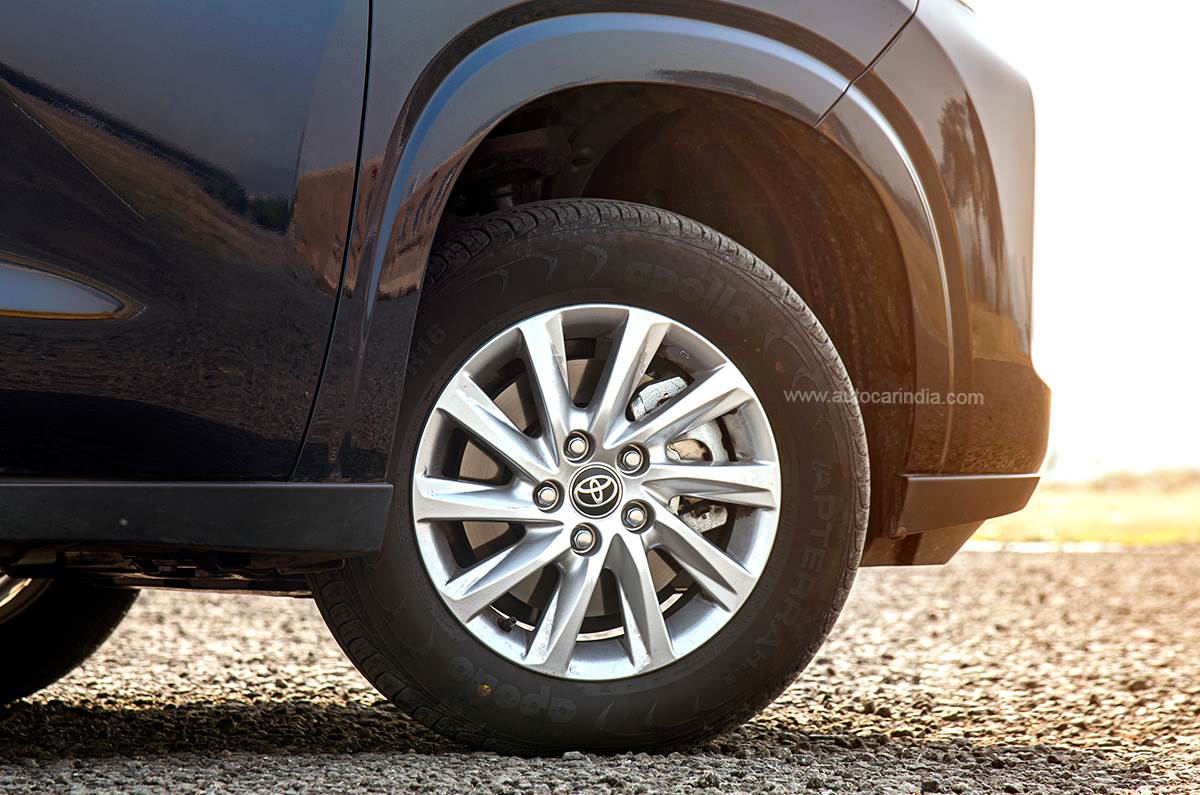 Small 16-inch wheels look comically disproportionate to this large MPV.
Compared to the Crysta, the Hycross is 20mm longer and wider, and has a wheelbase that's a whopping 100mm longer; so it is a large car. And because it is based on the TNGA-C 'High' monocoque platform, it weighs 1,545kg, which makes it 205kg lighter than the ladder-frame petrol automatic Crysta. Unlike the petrol Crysta, however, which was powered by a 166hp 2.7-litre petrol engine mated to either a manual or six-speed torque converter, the Hycross is powered by a smaller 2.0-litre petrol engine paired with an automatic (CVT) only.
Toyota Innova Hycross petrol automatic interiors
While the hybrid version gets a brown and black interior theme with a generous use of padded materials, the petrol's cabin is a sea of black with rudimentary hard plastics and a plethora of dummy buttons (missing features), which don't make an impression as strong as the hybrid. Furthermore, the black colour amplifies all the fit-finish imperfections on the inside. The rotary manual air conditioner controls look like they've been lifted off a budget car from the 90s, and don't befit a car of this price.
Manual air-con controls don't befit a car of this price.
To its credit though, the materials feel built to last – just like those in the Crysta – and because the cabin floor isn't as high, getting in and out of the cabin is very convenient. Then there are the seats, which are large and very comfortable. Toyota has got the support and cushioning spot on, and the sheer space on offer in each of the three rows is easily class-best.
Touchscreen responses are slow and the interface is rather basic.
The version we tested was an 8-seater with a bench in the middle row, which can easily seat three adults abreast, thanks to the sheer width of the cabin. The long fore-aft travel of the middle row bench, as well as a recline function for the backrest, make it very comfortable, especially for the chauffeur-driven folk. The armrest feels a bit flimsy as it falls to the seat base, like in the Honda City, and window shades for the rear doors should have been included to block sunlight.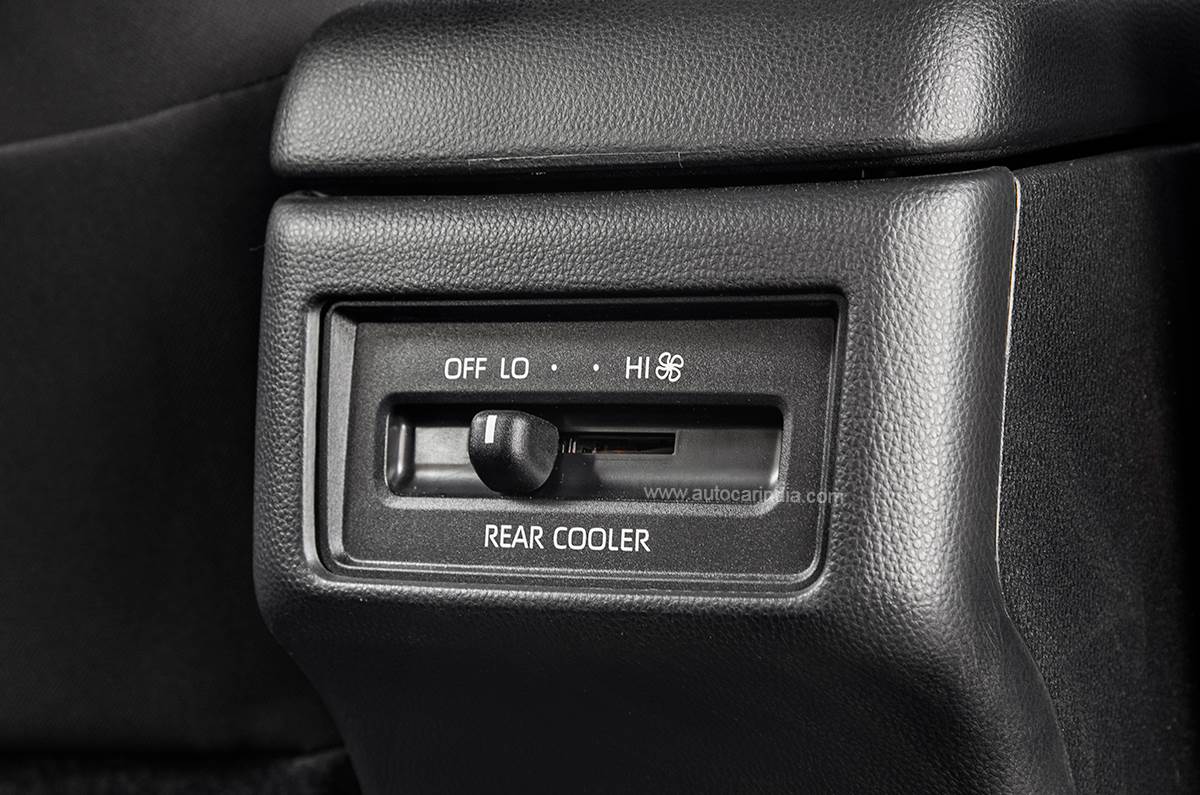 Air-con performance is excellent. Rear passengers get a manual blower too.
Even though the middle row doesn't tumble forward, it slides and opens a wide enough area to access the third row. With an adjustable backrest recline and ample space available, even adults can sit in the third row for longer drives without being worse for wear.
In terms of space and seat comfort, the Hycross remains unmatched.
What needs a special mention is the effectiveness of the air conditioner and the manual rear blower, which chills the cabin very quickly, even when temperatures outside are nudging 40 degrees centigrade.
Even though its middle row doesn't tumble, access to the third row is very easy.
As the petrol automatic is only available in the entry-level variants as either 7- or 8-seater, it gets only the basics such as auto LED headlamps, 16-inch alloys, one-touch up and down for all four power windows, rear wiper and washer, ESP, 8-inch touchscreen with wired Android Auto and Apple CarPlay, rear air conditioning and a reverse camera.
One of the most spacious third rows out there.
However, it misses several features like side and curtain airbags, powered front seats, cruise control, digital instrument cluster, JBL speakers, automatic climate control, powered tailgate and a panoramic sunroof, which are available only in the hybrid variants.
Toyota Innova Hycross petrol automatic performance
The talking point of this review is the 173hp, 2.0-litre naturally aspirated petrol engine that's mated to a continuously variable transmission (CVT), with power channelled to the front wheels. Right off the bat, this four-cylinder unit impresses with its refinement and its vibe-free nature. It builds speed smoothly and pulls cleanly till 6,500rpm, feeling sufficiently powerful for this 1.5 tonne people mover. Appreciably, even with a full load of passengers, it doesn't feel dull or lacking. Also impressive is its sprinting ability – it accelerates from 0-100kph in just 11 seconds and it even hits a top speed of 175kph.
Petrol is smooth and refined, but the CVT dampens the drive experience.
But what lets the drive experience down is its CVT which groans and moans in protest every time you flex your right foot and demand more power. In fact, because the CVT sounds strained and protests rather vocally, drivers will be coaxed to adopt a sedate driving style with gradual accelerator inputs. Speaking of which, the Hycross petrol gets an Eco mode, which dulls responses in the interest of fuel efficiency; however, on full throttle, performance in Eco and Normal mode is identical.
Toyota Innova Hycross petrol CVT: performance, fuel efficiency
0-20
1.49 sec
0-40
3.32 sec
0-60
5.32 sec
0-80
7.82 sec
0-100
11.00 sec
Rolling acceleration (kph)
20-80
6.10 sec
40-100
7.67 sec
Fuel efficiency
City
6.9kpl
Highway
12.4kpl
Driving in Eco mode, the petrol-automatic Hycross – in our real-world fuel efficiency test – returned merely 6.9kpl in the city and 12.4kpl on the highway, averaging merely 9.7kpl. The inclusion of an engine stop-start feature would have kept a check on fuel consumption while idling, thereby improving efficiency in stop-go scenarios.
Toyota Innova Hycross petrol automatic ride and handling
The Hycross' monocoque construction has had a positive impact on the way it drives compared to the body-on-frame Innova Crysta. Body control is good, roll is well contained, and the Hycross feels far tighter and more agile than the Crysta. Its feather light electric power steering is a breeze to twirl, which is a far-cry from the Crysta's heavy hydraulic unit. Also, with the Hycross, Toyota has opted for a narrow track in the interest of a tight turning radius, which makes manoeuvring and parking this large MPV rather easy.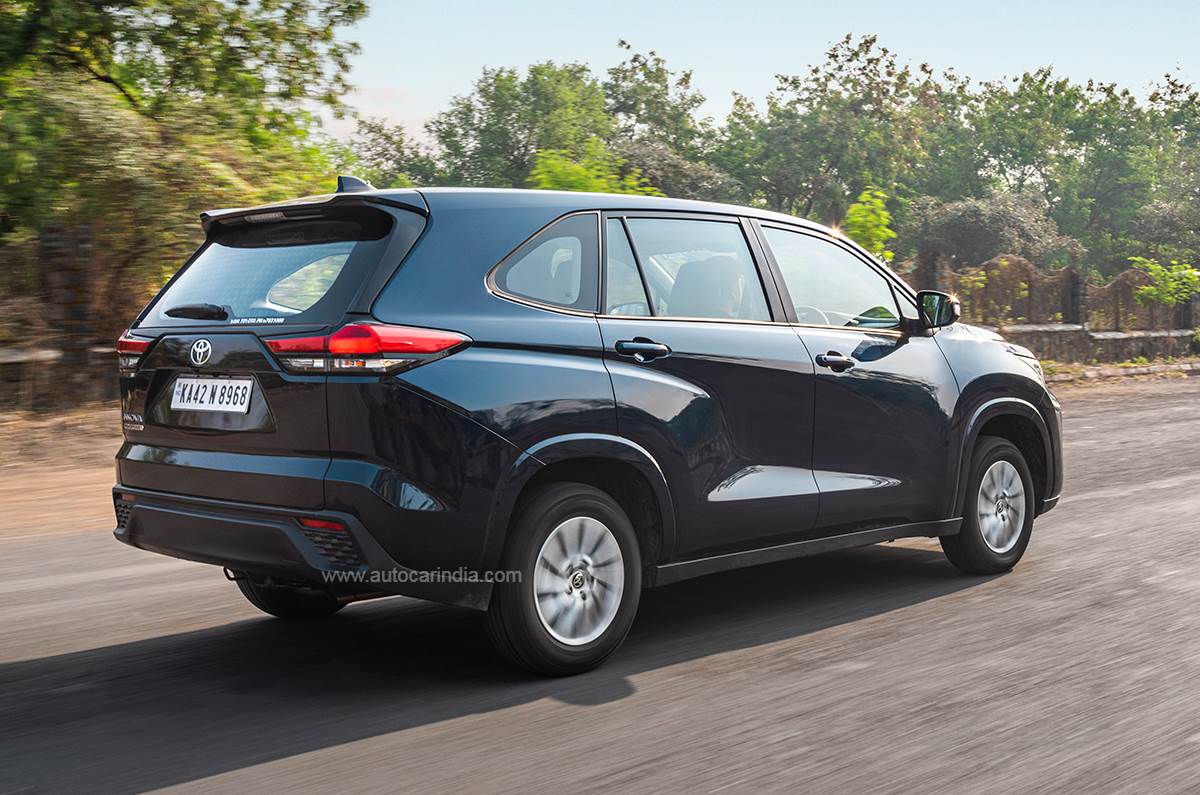 Fuel efficiency isn't this 1.5 tonne people mover's strong suit.
Its suspension has an underlying stiffness, and doesn't feel as absorbent as the Crysta when it comes to road shocks, particularly at low speeds. However, it eliminates excessive body movements rather well, and feels planted and well-mannered at cruising speeds.
Toyota Innova Hycross petrol automatic verdict
The Toyota Innova Hycross petrol automatic is for buyers who want nothing but a petrol Innova, and aren't willing to pay the huge premium for the hybrid version. It has supremely comfortable seats and feels well-built, and, thanks to its spaciousness, its ability to ferry seven or eight passengers in comfort remains unmatched. What's also nice is its light steering, smooth petrol engine and its driving manners, which are much better than the Crysta's.
However, buyers spending over Rs 20 lakh for the Hycross petrol automatic will be let down by its rudimentary interiors, missing features and its comically small tyres. The moaning CVT dampens the drive experience, but more importantly, its low fuel efficiency could be a deal breaker for many. Finally, with the diesel Crysta still on sale, and better value-for-money seven-seater alternatives available at this price, the petrol automatic Hycross isn't convincing enough, and is likely to remain a hard sell for Toyota.
Also read:
Toyota Innova Hycross video review
Toyota Innova Hycross: price, variants, and features explained