The Nexon EV is joined by the XUV400 at the very heart of India's EV market. So, has India's most popular electric car finally met its match?
The Nexon EV needs no real introduction at this point. It is, after all, the car that is almost singlehandedly responsible for making Tata Motors the EV leader in India. It was the right car at the right time, at the right price, and so compelling was the overall package that it even saw off competition from a segment above. Tata then introduced the Max, which you see here, with a bigger battery and longer range, further sweetening the deal.
It's fitting and not entirely surprising that the Nexon EV's most serious adversary yet comes from homegrown arch-rival Mahindra, in the form of the long-overdue XUV400, a car which holds a lot of promise. After all, it was Mahindra that introduced the first generation of electric cars to India, so it has some expertise in the area. It also owns Automobili Pininfarina, a company that's pushing boundaries at the cutting edge of the EV spectrum, although tech from there will likely only trickle down into the next generation of Mahindra EVs.
Slick lever the coolest interior detail on the XUV400.
For now, the XUV400 formula mirrors the Nexon EV's closely, which is to base an EV off an existing ICE SUV; it's a cost-effective formula that worked for Tata, after all. Both are spawned off compact SUVs, both have near-identical battery and charging capacities, both have similar power outputs and, after a timely price cut from Tata Motors in January, both cars, as tested, have the exact same price. But, of course, it's not as simple as that, and with this instrumented road test comparison, we will determine which is the better electric family SUV.
Mahindra XUV400 vs Tata Nexon EV : design and engineering
The Mahindra XUV400 is based on the XUV300, which in turn is based on the SsangYong Tivoli. The SsangYong crossover is 4.2 metres long, which was then shaved down behind the rear axle to 3.95 metres for the XUV300 to qualify as a compact SUV. But, since length has no bearing on an EV's taxation, Mahindra has gone back to a 4.2-metre length for the XUV400. The Tata Nexon EV uses the exact same body as its ICE counterpart and retains its 3,993mm length, while a 4.2-metre SUV – the Curvv – based on a derivative of the Nexon's X1 platform (which started life in the Tata Indica Vista) is coming later, and will have both ICE and EV variants.
Nexon EV has a more modern design but with sharp-edged plastics and some odd ergonomics. Light colours soil easily.
The Nexon EV looks identical to its ICE counterpart, save for some different colour options and the use of blue accents all over the bodywork. It retains the coupe-like shape, which was revolutionary when it first launched, and the electric version doesn't even get a closed-off grille. It's also available as a Dark Edition, which blacks out some panels, and the long-range Max version has subtle visual differences from the Prime. Some might have liked a greater visual differentiation from the ICE car to better stand out, but then it is instantly recognisable. It's also due for a facelift later this year.
Black and dark grey cabin on the XUV400 has a dated design, but quality is a notch above the Nexon EV. Bronze accents liven things up.
The added 200mm of length behind the XUV400's rear axle is easily noticeable and gives the EV much better proportions than the very truncated XUV300. That aside, there are a few more differences, like a blanked-off grille with 'X' motifs on it, a different lower air dam and bumper treatment, copper-coloured accents all around and, curiously, no fog lamps. Curiously, it shares its 16-inch alloy wheel design with the XUV300 Turbosport too. At the rear, the added length allows the tailgate to have a more three-dimensional look, the tail-lamps getting a clear-lens design, and badges finished in copper.
Mahindra XUV400 vs Tata Nexon EV: interior
More than aesthetics, the real benefit of the XUV400's added length is greater boot space, which was a sore point in the XUV300. Since the extension is entirely aft of the rear axle (the 2,600mm wheelbase is the same), all of it has gone into the boot, which has grown by a full 121 litres to 378 litres. That's a handy 28 litres more than even the Nexon EV's already practical boot, but the Tata does have the advantage of a lower loading lip to haul your luggage over.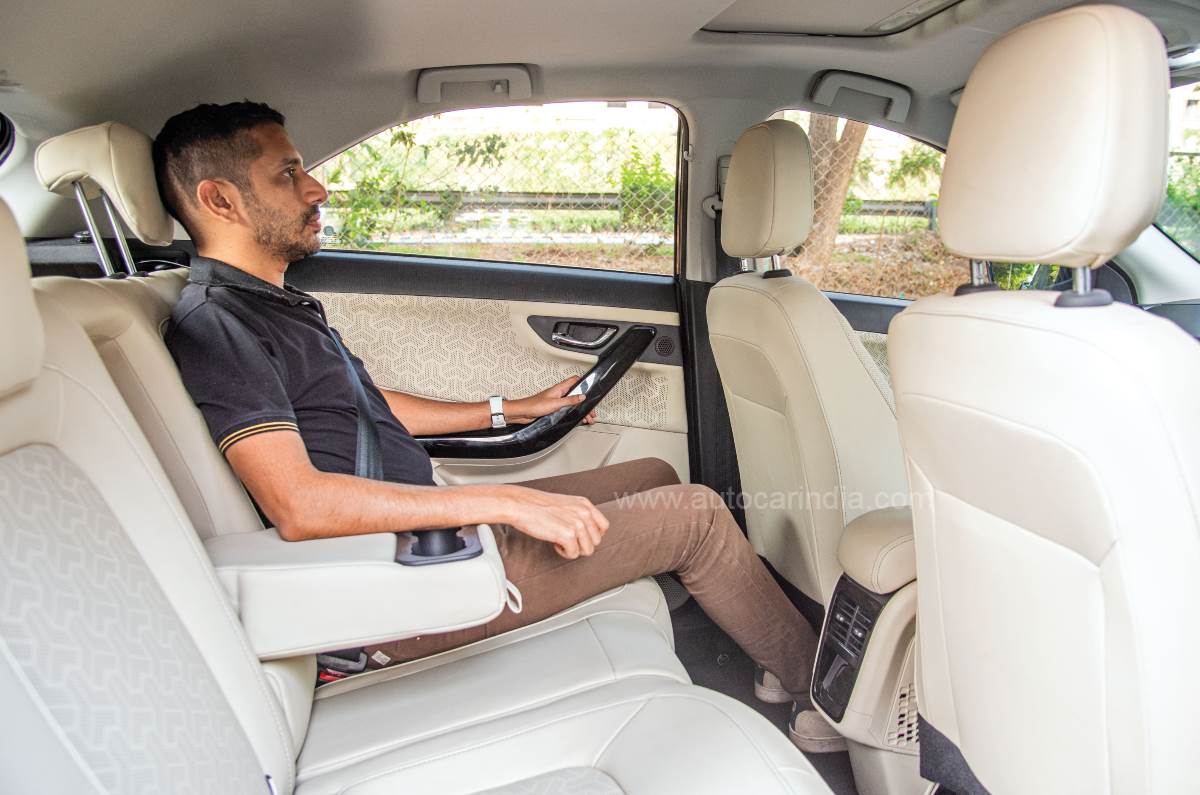 Nexon EV has well-contoured seat, more comfortable for two; good space, but windows taper.
There have been no changes to the XUV400's rear seat, which remains as spacious as the XUV300's. Its flaws remain too, like flat cushioning, elastic bands to hold items in place instead of conventional seatback pockets and, most egregious of all, no rear AC vents or charging ports. You'll also find a slight lack of thigh support in the seat base, but that's a small price to pay for the nice, tall seating position and greater width that's better suited for three passengers.
Ventilated seats on the Nexon are a boon on a hot day.
The Nexon's cabin width is noticeably down, and thus, it's just as well that the bench is contoured into two individual seats, and if used as such, they are more comfortable and supportive. Headroom is on par with the Mahindra, while knee room is a little short of it, although still very good in isolation. The only other downside is that the battery's presence can be felt more in the cabin, raising the floor level and forcing you into a slightly knees up seating position. And while the XUV400 has an odd seatback storage solution, the Nexon has no seat pockets at all.

XUV400 bench is wide enough for three with generous head- and legroom; a bit flat though.
In fact, storage all around the Nexon EV's cabin is in short supply, with narrow door pockets and an impractical cubbyhole beneath the AC controls. There is a slim but deep box between the seats, but with the addition of a wireless charger on top, the space is now hidden awkwardly underneath. This is one of a few ergonomic oddities in the Nexon, but the XUV400 is not without its own; like a trip computer whose controls are on the dashboard.
Huge panel on the XUV400 for a basic manual AC.
The XUV400 also shows its vintage with an old-school vertical dashboard design and a button-heavy AC control panel that takes up half the centre console. That said, however, it does have larger, more usable storage in the door pockets and between the front seats, and while it has odd bungee straps to hold onto knick-knacks against the seatbacks, the Nexon has no seatback storage at all. The more obvious contrast is the Nexon's beige, black and silver colour scheme versus the XUV's black and dark-grey layout. Which you prefer is down to your taste, but build quality and fit-and-finish are a notch higher in the Mahindra.
Mahindra XUV400 vs Tata Nexon EV : equipment and safety
Equipment Checklist
Mahindra XUV400
Tata Nexon EV Max
Touchscreen
7-inch
7-inch
Apple CarPlay/Android Auto
Yes/NA
Yes/Yes
Sunroof
Yes
Yes
Drive modes
Yes
Yes
Regen modes
Yes
Yes
Auto headlamps & wipers
Yes
Yes
Auto climate control
NA
Yes
Ventilated front seats
NA
Yes
Wireless phone charger
NA
Yes
Rear AC vents
NA
Yes
Day/Night rear-view mirror
Manual
Auto-dimming
Leatherette upholstery
Yes
Yes
Digital instruments screen
NA
Partial
Connected car tech
Yes
Yes
ESC, TCS, HSA, Auto Hold
NA
Yes
Electronic parking brake
NA
Yes
Tyre-pressure monitor
NA
Yes
Airbags
6
2
In their top-spec guises tested here, both cars get most of the basics, such as a sunroof, auto headlamps and wipers and leatherette upholstery. They also both get drive modes and regen modes, but while these can be adjusted independent of each other in the Nexon, in the XUV400 they are tied together. The Nexon EV, however, goes a bit further with feel-good features like a wireless phone charger, ventilated front seats, an auto-dimming mirror, auto climate control and cruise control, all of which the XUV400 misses.
1. Rear AC vents are one of the many missing features on the XUV, 2. Analogue dials, black & white MID feel too basic for an EV, 3. Soft suspension soaks up sharp bumps and is great for city driving, 4. Helpful SOC and consumption data within touchscreen sub menu.
Both cars get touchscreens with app-linked connected car tech, but at 7 inches across, both are small by today's standards. The XUV's screen is responsive enough, with a reasonably intuitive UI, and has been given some updates compared to its ICE counterpart, including a very detailed real-time power consumption and state of charge (SOC) readout. It also has onboard navigation, which is handy, as while it's claimed to have Apple Carplay and Android Auto, our test car came without the latter.
The Nexon EV has two smartphone interfaces, but the touchscreen itself leaves a lot to be desired. It is slow, has a crowded UI and poor touch response, and doesn't give you any driving data. Tata is, however, in the process of introducing its new, far-slicker 10.25-inch touchscreen across the Nexon range. For now though, the Nexon EV scores a brownie point for offering semi-digital dials with a colour screen that shows you all the vital driving data. Its UI, too, is a bit crowded, but still better than the XUV400's dials, which are analogue, with a small monochrome MID in the centre that shows you either your range or trip data.
1.Independent regen modes let you tailor them to your preference, 2.Rotary drive selector functions slowly, 3. Sharp steering, tight body control make it quite fun to drive, 4.Narrow storage bin under phone charger is near useless.
On the safety front, the XUV400 has a big trump card in the form of six airbags to the Nexon's two, but the Nexon gets a number of active safety aids like ESC, traction control, hill-ascent and descent assist, and a tyre pressure monitor – all of which are absent on the XUV400. Some of these will, however, be coming in an updated model very soon, we have learnt. Both cars get front and rear disc brakes, but the Nexon again goes a step ahead with an electronic parking brake with auto hold. Incidentally, while neither car has been officially crash tested, the ICE versions of both cars scored 5 stars in Global NCAP's tests, albeit under the older method.
Mahindra XUV400 vs Tata Nexon EV : performance
On the spec sheet, the Nexon's 143hp is a touch lower than the XUV's 150hp, but its 250Nm is hugely outgunned by 310Nm in the Mahindra. In our performance tests, the gap isn't as wide as you might think; the XUV400 is just half a second quicker to 100kph and the differences are even smaller in rolling acceleration.
A lot of this is down to the absence of traction control in the Mahindra, which makes putting power down smoothly difficult. Even if you aren't attempting to nail the quickest possible launch, you have to be measured with the accelerator to avoid torque steer and lots of wheelspin. This even happens with part-throttle inputs while overtaking. As we reported last month, Mahindra's supplier wasn't able to complete the ESC and TCS calibration in time for the XUV400's launch. If Mahindra delayed the launch, it would face penalties for not meeting CAFE II norms, so the first batch of cars had to be sold without these features. The updated version can't come a moment too soon.
Mahindra XUV400 vs Tata Nexon EV : performance
Mahindra XUV400 EL
Tata Nexon EV Max
0-20kph
1.47sec
1.54sec
0-40kph
2.87sec
3.02sec
0-60kph
4.36sec
4.59sec
0-80kph
6.28sec
6.62sec
0-100kph
8.93sec
9.40sec
0-120kph
12.47sec
13.22sec
0-140kph
17.41sec
Not available
Rolling Acceleration
20-80kph
4.78sec
5.08sec
40-100kph
6.03sec
6.37sec
Braking Distance
80-0kph
27.52m
29.30m
There are also subtle differences in the way both EVs respond to your inputs. The Nexon EV Max, from the first millimetre of accelerator pedal travel, gets moving forward. However, thanks to its TCS, there is some restraint in the way power is meted out. Meanwhile, the XUV400 has a small dead zone in its accelerator pedal, after which all that torque slams in one shot. While both will take some getting used to compared to an ICE car, it's the Mahindra that's a lot trickier to master.
Drive modes play a big role in how both cars behave, but each manufacturer's approach is different. Both cars have three modes that serve up perceptibly different levels of power and torque; in the XUV, the economical mode limits the top speed to 90kph, while in the Nexon, it limits torque to 170Nm. In the Nexon EV Max, they're called Eco, City and Sport, while in the XUV400 they're peculiarly named Fun, Fast and Fearless, respectively. The Mahindra's modes have variable energy recuperation (or regen) baked into them, with the amount of regen increasing with the sportier modes, but that's not necessarily how you'll want to use them. It also has an L mode on the drive selector, which significantly increases regen, allowing you to do one-pedal driving. The Nexon EV's regen isn't strong enough to do one-pedal driving, but it can be adjusted independently of the main drive modes, which is far more useful.
Braking mirrors acceleration in the way both SUVs behave, and in the Tata, you'll get an instant but relatively measured response to tapping the brake pedal, with more progressive brake blending. The XUV400, meanwhile, has some play in its brake pedal before the full stopping force comes in one go, requiring you to be even more gentle. That said, the Mahindra ultimately had slightly better stopping power, coming to a halt about 1.8 metres before the Tata.
Mahindra XUV400 vs Tata Nexon EV: battery, charging & range
Both EVs can be had with smaller batteries and charging capacities, but in their respective top-spec guises tested here, they're similar on paper. The XUV400 has a 39.4kWh battery and the Max has a 40.5kWh battery, both of which can be charged at up to 7.2kW on an AC fast charger. Using such a charger, the XUV400 took 5 hours and 38 minutes to charge from 10-100 percent, while the Nexon was a bit slower at 5 hours and 55 minutes.
Mahindra XUV400 vs Tata Nexon EV: range
Mahindra XUV400 EL
Tata Nexon EV Max
City
253km
244km
Highway
234km
233km
Claimed
456km
437km
When it comes to DC fast charging, the XUV400 maxes out at around 45kW while the Nexon tops out at 28-29kW, likely in the interest of maintaining battery temperature. As a result, the XUV400 will charge must faster at a DC public fast charger. On the same 60kW DC fast charger, in similar conditions, the XUV400 took 1hr35min to get from 15%-100% while the Nexon took 2hr12min to get from 9%-100%. Worth a note, Tata Motors uses newer LFP cell chemistry in its batteries, which is more thermally secure but less energy dense, while Mahindra has used NMC cell chemistry, which packs in more energy, but theoretically has a shorter life span.
In our real-world range test, both cars performed similarly, with a parallel drop in charge across over 200km of driving, a mix of city and highway. The AC was set at medium, we used each car's Eco mode in the city and Normal on the highway, and in the Nexon we set the regen to high in the city and off on the highway. Both cars also went into limp mode at 15 percent state of charge (SOC), which limited the top speed. In the XUV400, the speed was first capped at 70kph and then got progressively lower, ending at around 30kph as the SOC dropped below 10 percent. In the Nexon EV Max, the cap remained constant at 50kph, but the AC was also deactivated in limp mode.
Tata Nexon EV is capped at 30kW on a DC fast charger.
With the Nexon being just 30kg lighter than the XUV, weight would unlikely factor into the range difference. And sure enough, in our real-world range test, the XUV400 performed slightly better in the crucial city run, doing 6.40km/kWh, for a potential 253km on a full charge. The Nexon EV Max did 6.01km/kWh in the city run, for a potential 243km city range. On the highway, both cars were quite similar, amounting to around 233km range.
Mahindra XUV400 vs Tata Nexon EV: ride and handling
The dynamics department is probably where the starkest differences between these two e-SUVs show, and each has its pros and cons. The XUV400 has an altogether less tightly wound set-up, with softer suspension and lighter, slower steering. It uniquely lets you add steering weight as you go up the drive modes, a feature that has been adapted from the XUV300, but is now married to the powertrain settings, and like the regen, can't be adjusted independently. While the added weight in Fearless mode is welcome, as is a lighter steering setup overall for city driving, it feels loose and disconnected, and requires more turns, lock to lock.
A firmer set-up means the Nexon inspires more confidence going fast.
The Nexon EV's steering is noticeably heavier than even the XUV's heaviest setting, but it makes up for this by being very responsive. That added weight helps on the highway where it feels less nervous at speed than the Mahindra, and, in corners, where combined with greater sharpness and accuracy, it feels a lot more agile. It also has less body roll than the XUV400 and the only real limiting factor when it comes to handling are the Nexon's low-rolling-resistance MRF Wanderer Ecotred tyres, whose grip can get overwhelmed if you push too hard. Not an issue with the Mahindra's more conventional and grippier Apollo Apterra Cross set.
XUV400 lets in noise at speed and feels bouncy on expansion joints when you're fast.
But then the XUV400 doesn't lend itself to being pushed hard in the first place, which is at odds with its explosive performance. Apart from the aforementioned steering setup, there is a lot of body roll from the soft suspension, and you'll find yourself backing off rather than diving into corners. The setup is much better suited to low-speed urban driving, which, to be fair, is where these EVs will see maximum use. Here, the suspension rounds off sharp-edged bumps and speed breakers well, whereas the Nexon EV can feel a bit lumpy. However, as you go faster, the XUV400 starts to feel bouncy, and also lets more road noise into the cabin than the Tata does. Other good news is that, despite their ICE origins, both SUVs have managed to package their batteries well enough so as to not hinder ground clearance too much, and at no point do you feel they are in danger of scraping their bellies over speed breakers.
Mahindra XUV400 vs Tata Nexon EV: verdict
Both are spawned off compact SUVs, both have near-identical battery and charging capacities.
The XUV400 comes in with a very obvious advantage – being larger, it's more spacious and has a larger boot. And once you get behind the wheel, you'll appreciate the stronger performance too. The softer ride makes the XUV400 more city-friendly as well, though once you up the pace it does bounce a fair bit on an uneven road.
Spend a bit more time, however, and the slider starts to shift towards the Nexon EV. For a start, your money gets you a whole lot more equipment – and these are features that buyers absolutely love, like ventilated seats and wireless charging, which are missing in the XUV400, as are more essential stuff, like rear AC vents. Also missing in the XUV is independent regen adjustment, which is a really helpful feature in the Nexon. But what's alarming is the lack of traction control that allows the wheels to spin way too easily. In fact, the XUV400 feels like a bit of a rushed job and, because of the CAFE deadline, we suspect it was.
Models tested
Mahindra XUV400 EL
Tata Nexon EV Max
Price
Rs 18.99 lakh(ex-showroom, India)
Rs 18.99 lakh(ex-showroom, India)
On sale
Now
Now
0-100kph
8.93sec
9.4 sec
Top speed
155kph
137kph
Range
(city/highway) 253/233km
(city/highway) 243/233km
For
Cabin and boot space, Strong performance
Ride and handling balance, Long features list
Against
Dated cabin, Major features missing
Interior ergonomic gaffes, Slow rotary drive selector
The long-established Nexon EV is definitely the more sorted of the two and strikes a happy balance of performance, handling, comfort and easy driveability. Sure, it has its flaws too, like the low-res touchscreen (which will be replaced very soon) and some ergonomic gaffes. But other than that, it does the job well. Mahindra is likely to give the XUV400 an update soon to iron out its bugs, but for now, it's Tata that's the better choice.