BMW has unveiled the new i Vision Dee concept at the ongoing CES (Consumer Electronics Show) 2023 in Las Vegas that previews a radical new tech-focused future for the next-gen 3 Series and other models based on the Neue Klasse platform. The German marque describes it as the "next level of human-machine interaction". This is planned to reach production in 2025 as a successor to the recently introduced Chinese-market BMW i3 electric saloon.
i Vision Dee gets unique colour changing exterior body panels
Ditches touchscreen in favour of full-width head-up display
Set to hit production in 2025
BMW i Vision Dee: what is it?
The four-door saloon concept is based on BMW's Neue Klasse platform – an all-new structure set to underpin a wide range of future internal-combustion-engined, plug-in hybrid and electric-powered BMW models. The name is an acronym for the words 'digital emotional experience'.
The i Vision Dee is the second of three different concept cars intended to showcase BMW's Neue Klasse-platform-based models. The first, the i Vision Circular unveiled at the 2021 Munich motor show, was centred around construction using recycled materials. A third concept car, said to concentrate on battery and drivetrain technology, is expected to be revealed later this year.
BMW i Vision Dee: exterior design
The concept previews a new monolithic exterior styling lineage that the German firm intends to introduce on upcoming production models.
The exterior design, similar to that seen on BMW's i Vision Circular concept, previews a new enclosed front end design with the traditional kidney grille replaced by two separate digital panels, each incorporating LED headlights as 'phygital' (physical-digital) icons.
The headlights alter in shape and size depending on the function they are asked to perform and also provide visual welcome and departure greetings. This gives the new concept, BMW claims, its own facial expressions. Further back, the bonnet of the i Vision Dee receives a deep central scallop, while the flanks feature taut surfacing devoid of any feature lines or adornment.
The side window line of the new BMW concept is set lower than on any of its existing production models. The glass is designed to display personalised welcome messages, digital icons and an avatar of the driver in full colour. The design theme established at the front is mirrored at the rear of the i Vision Dee, with two new-look light panels separated in the middle and incorporated into a high-set boot lid.
BMW i Vision Dee: changing exterior colours
Yes, the i Vision Dee Concept can change its exterior colour, not just wholly, but even for individual body panels that's divided into 240 different segments, effectively allowing it to reskin itself with stripes, patterns or even animations.
This is made possible with the new 'e-ink' technology that allows different patterns and phygital icons to be integrated the segmented exterior panels, including the C-pillar, which provides a digital reimagining of BMW's classic Hofmeister kink design element. The treatment also applies to the digital kidney grille, so you can make them smaller, change their shape or make them disappear completely.
This functionality was first showcased with a colour-changing iX concept at last year's CES show. However, while that could only change from black to white or vice versa, the i Vision Dee concept can play around with 32 different colour options.
BMW i Vision Dee: dimensions
As well as hinting at the appearance of future BMW models, the i Vision Dee's relatively short bonnet, long wheelbase and absence of overhangs also point to subtly altered three-box proportions for upcoming BMW saloons. No official dimensions have been announced, although estimates put the length at around 4500mm – a touch shorter than today's 3 Series.
BMW i Vision Dee: interior and technology
Inside, the i Vision Dee showcases a newly developed operating system that BMW is planning to roll out in its next generation of models. Incorporated into a simplified interior, a new head-up display projected on the windscreen has allowed BMW to completely do away with traditional digital infotainment displays – a feature of its cars since the introduction of its iDrive infotainment platform in the fourth-generation BMW 7 Series in 2001.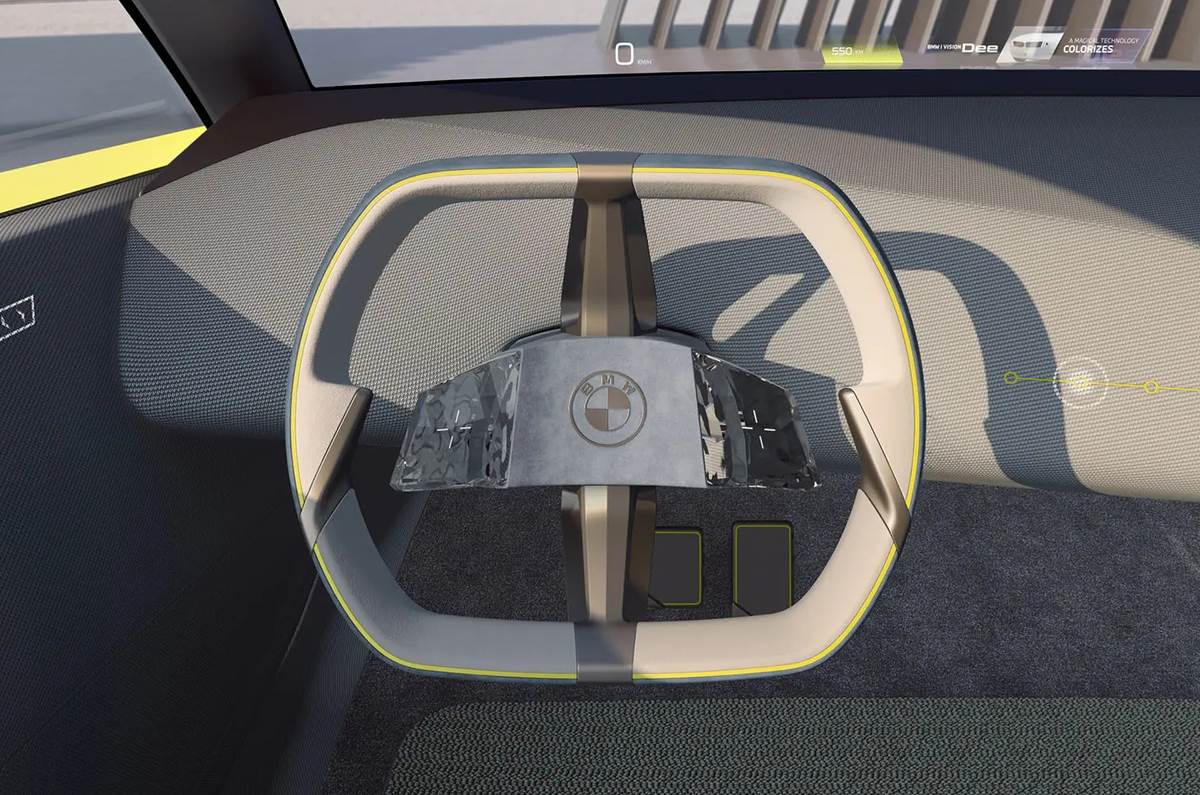 BMW says the system it is working on for its future models will allow the driver to manage the amount of digital content they are confronted with over any given journey. The aim is to make the driving experience more intuitive and immersive. To this end, its latest concept car also includes what BMW calls a 'Mixed Reality Slider'. Using touch sensors incorporated into a fabric-covered dashboard, it allows the driver to determine the amount of digital content shown within the head-up display.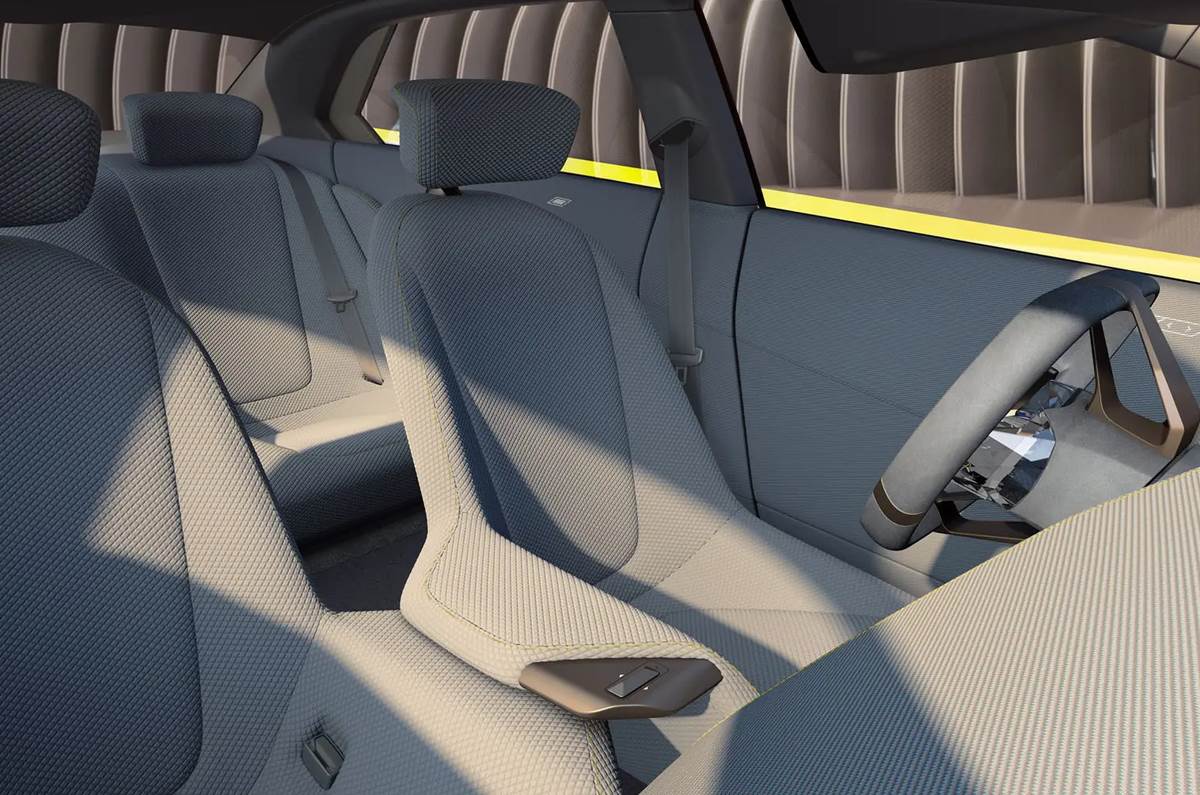 The rest of the interior has a very minimalistic theme where the only thing sticking out is a four-spoke squarish steering wheel. There are also a few seamless touch-sensitive buttons on the door panels, dashboard and centre console; the interior uses monotone colours with sustainable materials and single-piece seats.
BMW i Vision Dee: technical details
No drivetrain details of the Dee have been given, but BMW has already confirmed it is working on advanced new cylindrical battery technology that will dramatically improve the driving range of its Neue Klasse EVs as well as charging speeds.
Meanwhile, a new sixth-generation EV powertrain, being developed in-house, will improve both efficiency and performance – attributes likely to be showcased by the third i Vision concept.
Also See:
SCOOP! BMW 5 Series long wheelbase to arrive in India in 2024
5 new BMWs to launch in January 2023