Does opting for the petrol engine make more sense for BMW's stretched luxury sedan?
The term 'Limousine' has been bandied about by a few luxury car makers lately, but in the case of the BMW 3 Series Gran Limousine, it serves as a point of differentiation. This is because it has been stretched by 110mm between its wheels for a greater focus on rear-seat space, and if that's not your thing, you can still buy the 'regular' car at your nearest dealership. Moreover, there have been changes on the inside to set it apart, and of course, it carries a higher asking price than its SWB counterparts. We've already driven the diesel variant, but now it's time to check out the petrol – the 330Li as its formally known – to see if it's worth considering.
BMW 330Li engine and performance
Let's start with the big change – the engine. '330i' is a badge we've always associated with a fun-to-drive sporty luxury sedan, so does that formula change when you add an L to its name? The engine is as strong and exciting as ever – a turbocharged 2.0-litre, four-cylinder petrol with 258hp and a strong 400Nm; the same as the diesel engine, incidentally. In our performance test, the 330Li did a thoroughly impressive 5.86 second sprint from 0-100kph and its rolling acceleration figures with a kickdown were equally brisk.
2.0-litre turbo-petrol engine puts out 258hp and 400Nm.
The ZF 8HP torque converter automatic impresses as always, with smooth, seamless shifts, and with the performance on offer, if you're at the wheel, you will certainly find yourself stretching it to its redline at every opportunity. You might even want to take manual control, but a quick fumble behind the wheel will reveal this Luxury Line variant doesn't get paddle shifters, so you'll have to rely on the shift lever. So, it certainly can move, but does that make you want to head to your nearest winding road like you would in a standard 330i? We'll answer that question in a bit.
This Limousine can do 0-100kph in just 5.86s.
The real benefit of choosing the petrol engine in a car like this is the added refinement it offers. The 330Li's engine is silent and buttery smooth. Sure, it will let out a bit of a snarl if you open the taps all the way, but in the gentle chauffeur-driven cruise this Gran Limousine body style is intended for, it remains hushed throughout, and a noticeable improvement on the 320Ld diesel.
BMW 330Li ride comfort and handling dynamics
With the stretch in wheelbase has come a change to the suspension. It's been softened considerably compared to the standard car and even appears to be raised a bit, likely to save you from grounding the car's longer belly on big speed breakers. That latter effort has certainly worked, and even the big 'truck stoppers' on the outskirts of Mumbai didn't pose a problem.
Compared to the normal 3, the Limousine gets a softer suspension setup.
The other upside is the ride, which has gone from pretty good to the sort of cushiony waft you'd normally find on a car with air springs. That suits the 3 Series Gran Limousine just perfectly, and combined with 17-inch wheels and a set of tall, 50-profile tyres, you're really isolated from bad roads well. Yes, once you approach highway speeds you might feel a little bit of 'float' over road undulations but it's not too bad.
There's quite a bit of roll in the corners thanks to the soft suspension.
However, this might just be the first ever 330i we didn't want to drive enthusiastically. The soft setup puts a dampener on the dynamics, and you're constantly aware of the added length if you try to corner the 330Li hard. There's a fair bit of body roll and it doesn't dart into corners or change direction the way you'd expect a 3 Series to do. That said, the steering remains great, and it's still more agreeable to drive than some standard-wheelbase rivals. That just goes to show that BMW can make two versions of the 3 Series that feel altogether different from one another, but still have its fundamentals in place.
BMW 330Li interior and features
As with the diesel version, they've trimmed the 330Li slightly differently from the standard 3 Series, featuring dark open-pore wood trim and a bit more chrome peppered around. They've even put ambient lighting on the backs of the front seats. Equipment-wise it's just as generously equipped as, with the notable addition of a Harman/Kardon hi-fi audio system and wireless Android Auto (as you get in the M340i). Though this is the Luxury Line variant, you can also have the 330Li in the M Sport First Edition trim, which gets the sportier exterior body kit and 18-inch alloy wheels, as well as driver-centric added equipment like a heads-up display, gesture control and paddle shifters.
The 330Li Luxury Line comes equipped with a Harman Kardon audio system.
The extended back seat area is, of course, the highlight of this car, and there's ample room for even six-footers to stretch out. Moreover, there's a proper panoramic sun roof and the seat has been thoroughly re-engineered. It's still low but the base is angled upward for better thigh support, and the cushioning has been reworked to be significantly plusher than the regular car's.
Rear seat experience in the L is much plusher than the regular 3 series.
A few things to note, however, like the rear doors are much wider now so you'll have to watch out for them in tight parking spaces, and we wish they'd given them sun blinds to help cocoon rear passengers better.
BMW 330Li price and verdict
It's amazing how this 3 Series is so unlike the standard-wheelbase version in character, and that's a testament to how much work has gone into it. They've sacrificed the 3's famously inviting dynamics in favour of ride comfort, but that's just as well for this Gran Limousine's intended clientele. Fans of the old 3 Series GT (which this car replaces) might miss the big liftback boot, though raised ground clearance appears to be something common to both models. The 330 petrol version isn't the drivers' choice as it would be in the SWB 3 Series, but instead the one you pick if you think refinement is a key tenet of the luxury experience.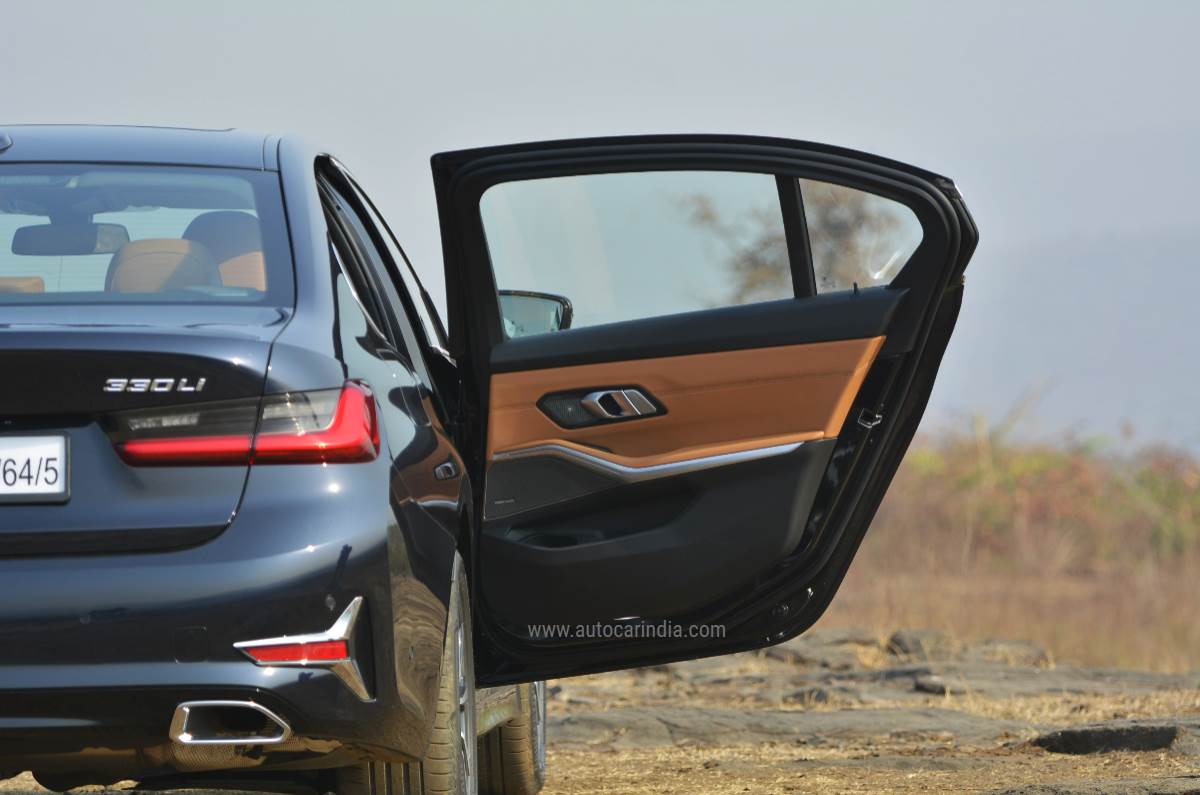 Doors open wider than the regular 3 series, for easier ingress and egress.
What you will have to contend with, however, is a Rs 4-4.5 lakh price premium over the standard car, and at Rs 51.5-53.90 lakh (ex-showroom), that puts the Gran Limousine dangerously close to the 5 Series and its rivals. Still, you have to hand it to BMW for plugging so many different price points in the luxury sedan market, ultimately giving customers more choice.
Also see:
2021 BMW 220i Gran Coupe review, test drive
BMW 840i Gran Coupe video review