With a compact footprint, sportscar specs and great range, this could just be the EV many were waiting for.
The four-wheeler EV market in India, thus far, has been growing at two opposite ends. Mass-market manufacturers have been bringing more affordable EVs to market, like the Rs 12-lakh Tata Tigor EV, while on the other side, you can now get a 761hp electric super-sedan that costs Rs 2.3 crore – the Porsche Taycan Turbo S.
In the middle of the spectrum, there's been a gaping, Rs 70-odd-lakh void that's only now being filled, first by the Mini Cooper SE – priced at Rs 47 lakh – and soon by this, the Volvo XC40 Recharge. But while the former is still very much a niche, lifestyle offering bought more for its looks and driving dynamics, the latter represents the first proper sub-one-crore electric luxury car.
This red paint shade will not be offered on the final car.
As such, it shoulders greater expectations of space, practicality, comfort, features and, most importantly, range. Can it meet all those requirements, and is that enough to make it your first luxury EV?
Volvo XC40 Recharge will be slightly different when it goes on sale
Before anything else, you should know that the car that goes on sale in July will be slightly different to the one you see here. Volvo India brought in these few right-hand-drive models to get the ball rolling, but as the launch was delayed, there have since been changes to the final Indian spec. In fact, the car even underwent a mild facelift in the meantime.
With 408hp, performance is very strong
For one, this attractive shade of Fusion Red will not be available, although five other colour options will. The facelifted version has more angular headlamps with a new iteration of the 'Thor's Hammer' DRL, more aggressive looking bumpers, and an even more minimalist closed-off grille section. Meanwhile, inside, the leather upholstery you see here will be swapped for a more sustainable 'leather-free' option, and wireless Apple Carplay will be added to the infotainment system.
How is Volvo XC40 Recharge different from XC40 T4 petrol?
What sets it apart from the petrol XC40? Not a whole lot. It's 15mm longer, which is only down to the bumpers; the battery pack means it has a slightly lower ground clearance of 175mm, the grille is blanked out, and in the location of the fuel filler cap is the charging port. The wheels are up from 18 to 19 inches as a differentiator, the boot is down from 460 to 419 litres, and the spare wheel also sits in the boot; but you now also get a 31-litre boot under the bonnet where the engine used to be. And, thanks to the heavy battery pack, it weighs a whopping 400kg more!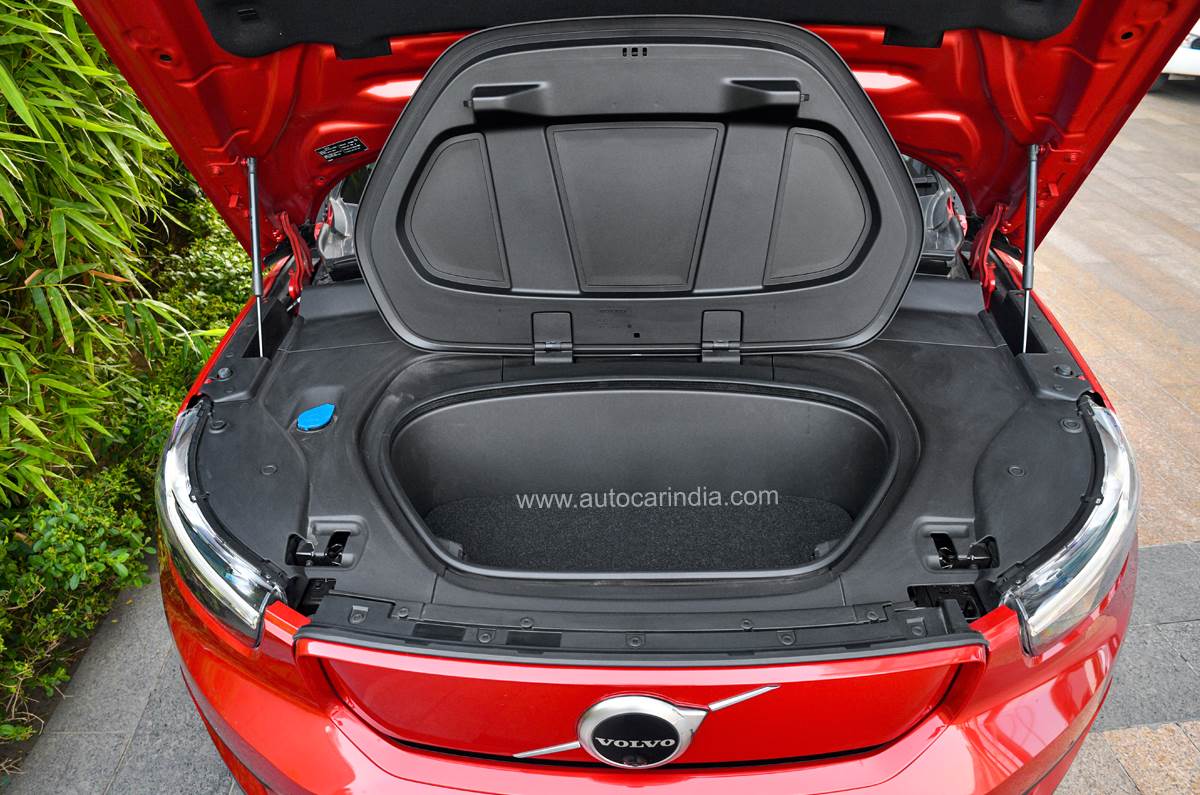 31-litre front boot where engine used to be.
The interior is largely the same, which is mostly a good thing, what with its minimalist look and high-quality construction. The all-black theme can feel a bit claustrophobic, and this is particularly true in the back seat, where the low-set and upright seat, though spacious enough, isn't the most inviting. Seat cushioning all round is a bit firm, but the seats are designed to support your body almost perfectly.
2022 Volvo XC40 Recharge: features and technology
It's inherited the new infotainment and telematics systems from the facelifted XC60, and that means a sharper new set of digital dials, and the new Android-based infotainment system. While the latter is a slick interface with direct access to Google Maps and Assistant, and a number of apps from the Play Store with the help of an onboard e-SIM, it has its caveats.
Range optimiser alters AC, powertrain to let you go further.
For one, your phone has to be linked via a complex login system using the Volvo app and a Gmail account; there is no conventional, 'plug and play' Android Auto as in most cars, and, as mentioned, Apple Carplay will only come later. So for now, you can only link your phone via Bluetooth. Moreover, since it's so reliant on connectivity, if the e-SIM is out of network coverage, it is effectively reduced to a radio, and your phone can't provide data either. And while the interface works well for Google features like maps, music and connectivity, vehicle functions are reduced to a crowded background menu; the old system did this much better.
Seats a tad firm but hugely supportive.
Other standout features in the car are the panoramic sunroof (now with new touch controls), wireless mobile phone charging, a full suite of sensor-based ADAS tech affording Level 2 Autonomous driving, connected car tech, powered front seats with driver-side memory, and an excellent sounding Harman/Kardon audio system.
Volvo XC40 Recharge: battery, motors and range
Volvo hasn't held back on the powertrain for the XC40 Recharge. The 'Twin', as this version is called, has two motors, one on each axle, producing a total of 408hp and 660Nm! For reference, that's the same as the much larger Audi e-tron 55 Quattro. However, don't be fooled by its outright dimensions, as this compact Volvo weighs in at a hefty 2,188kg, which is about as much as a Jaguar I-Pace, and it results in a claimed 0-100kph time of 4.9sec.
'Twin' denotes dual motors and AWD.
The cause of most of that weight is the 78kWh-unit battery, which is not quite as large as what you get in the bigger SUVs that are around 90kWh, but its claimed range of 418km on the WLTP cycle, much like the car's power and torque outputs, sure is comparable to the big boys. In our roughly 200km of driving, most of it on the highway (and with some enthusiastic bursts of acceleration), we extrapolated a total range of about 300km on the full charge.
It's capable of 150kW DC fast charging, and should we ever have these in India, it will do 10-80 percent in 33 minutes flat. On a more accessible 50kW fast charger, Volvo says it was able to charge to 100 percent in about 2.5 hours.
Volvo XC40 Recharge: driving and performance
Like every modern Volvo, the key is now a rectangular fob that you keep in your pocket (in fact, the car comes with three of them), but now you don't even have to push a button to start the car; you simply push the lever into Drive and the vehicle comes to life. It takes some getting used to but works surprisingly well, and if you're concerned about the safety implications of this, know that it only works if someone is sat in the driver's seat, thanks to a sensor. The moment the seat is vacated, the car turns off; which is a bit annoying if you leave your passengers for a few minutes, as the AC switches off too.
Suspension firmed up to compensate for weight.
Still, once you're on the move, it feels very much like the petrol XC40 T4 at first. There's a creep mode, which is a good sign for an EV, and responses to light throttle inputs are correspondingly gentle. You should know right at the outset that there are no conventional drive modes (save for an Offroad mode for low-traction situations), and also no way to control the degree of lift-off power recuperation. Instead, a few sub-menus into the touchscreen is the option of a 'one-pedal driving' mode. Activating this on the move immediately hauls you to a stop if your foot isn't on the accelerator, as the regenerative braking is extremely strong. It takes a lot of getting used to, but it could be quite helpful around town if you like it.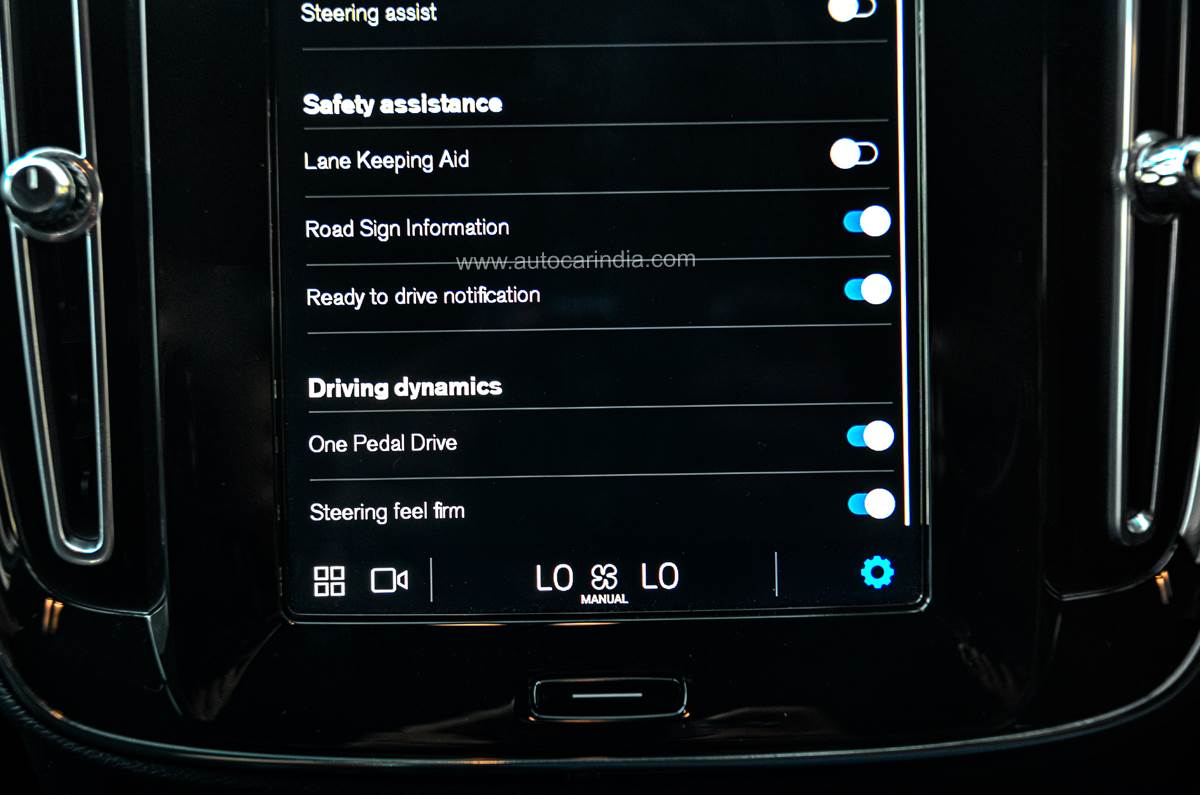 Driver aids buried in sub-menu of touchscreen.
All that aside, the moment you stomp down a bit harder on the accelerator, the XC40 Recharge Twin leaps forward vigorously. It sheds its weight and rockets ahead, to the point that you have to dial things back in order to maintain a respectable pace. On our trip from New Delhi to Neemrana Fort in Rajasthan, overtaking trucks on the highway required only restrained flexes of the right foot. The performance can be addictive, particularly given the small footprint it's packed into, and flooring it all the way will pin you back into your seat, at an almost sportscar level.
Volvo XC40 Recharge: ride comfort and handling
To compensate for the added weight, Volvo has clearly had to stiffen up the suspension, and that's immediately apparent the moment you go over a rough patch of road. You and your passengers will be rocked from side to side, and the larger 19-inch wheels do give it a firmer edge over sharp bumps, although this isn't too bad.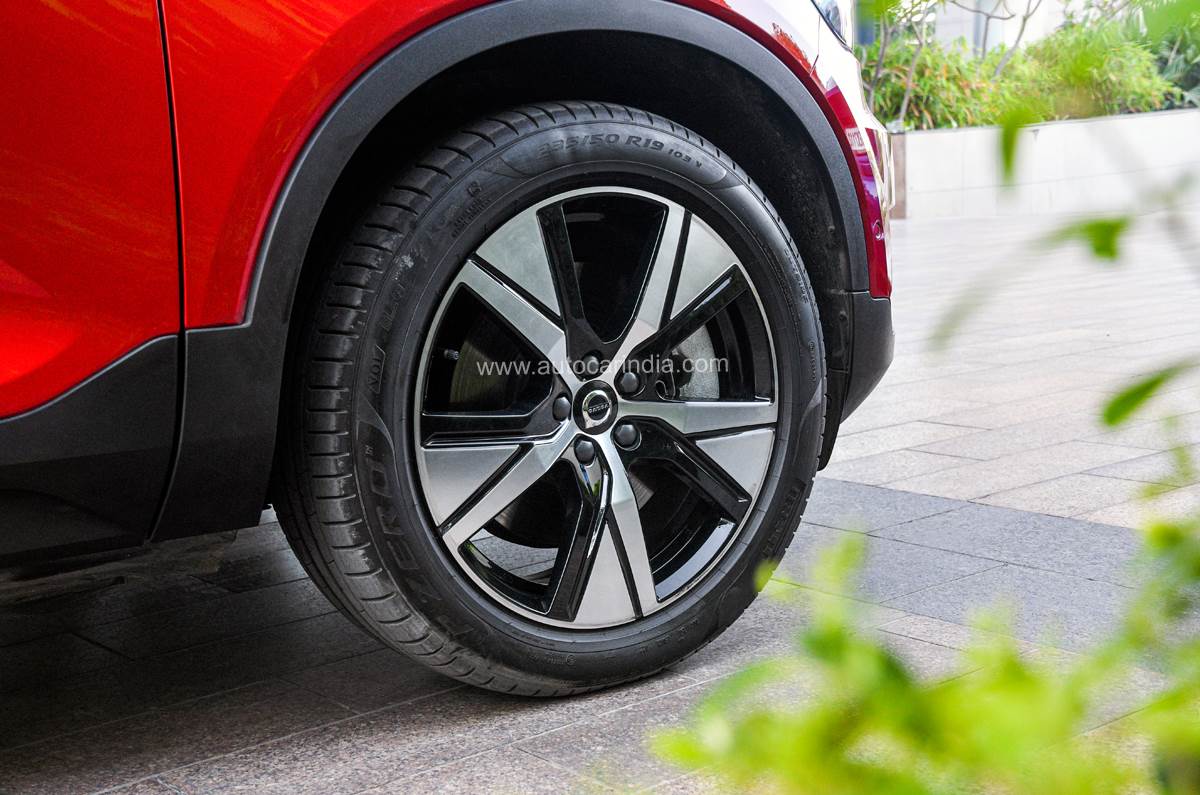 Bigger 19-inch wheels add style and a firm edge.
The upshot is an incredibly planted ride out on the highway. There's almost no pitch or movement over undulations, and should you encounter a pothole at speed, it will simply smother it out of existence.
The steering is that typically light, yet fluid, affair we are used to from Volvos, particularly the XC40. It feels incredibly rewarding to use at low speeds, and while not the quickest, there is a great sense of communication from the road. Helpful this time is a mode to add more steering weight (again buried in a touchscreen menu), which we do recommend for highway use.
Stays composed at speed, ironing out bumps.
The added suspension stiffness and lowered centre of gravity thanks to the underfloor battery pack means the Recharge is a tidier handler than the XC40 petrol. The quick-acting electric AWD system means it's also really good at putting its power down coming out of a corner, and lets you carry more speed with confidence. Still, this is not the sharpest handling SUV out there, and save for a few occasional thrills, is one you'd prefer driving at a relaxed pace.
Volvo XC40 Recharge expected price and verdict
We don't have a price just yet, but we estimate the Volvo XC40 Recharge to fall in the Rs 60 lakh-65 lakh range (ex-showroom), which is something we feel buyers of such a car will be more than willing to pay; the next car up costs a crore, after all.
XC40 Recharge the only compact luxury SUV for now.
EVs are best suited to the city, and this is where the XC40's compact dimensions work to its advantage. What might not work to its advantage is the fact it looks like a Volvo XC40, which is to say handsome but nondescript; many EV buyers like a bit more flash to show off what they've bought. Maybe the C40 Recharge Coupe should be next on the cards!
Still, the XC40 Recharge has this end of the market to itself for the foreseeable future, as while the rest of the luxury brands have started their EV journey at the top end, working their way down, Volvo started at the bottom of its range. If this segment monopoly continues for a while, and Volvo can match demand with supply, it could be the Swedish brand's ticket to move up the luxury ranks and establish itself as the go-to EV maker for Indian luxury car buyers.